If you live in or around Cambridge, I suggest you check under your bed before you go to sleep tonight as police have been searching for a 2.7 metre long snake that "could eat a human". A fully grown reticulated python can open its jaw wide enough [1] to swallow a human, though apparently shoulders can be an issue.
Investors' jaws hit the ground as gold prices continued to rise, hitting their highest point since 2013. Asset class returns in sterling and local currency are below; equities were subdued last week as investors positioned their portfolios ahead of the G20 summit.
Table 1: GBP total returns
Source: Bloomberg

Table 2: Local CCY total returns

Source: Bloomberg
Last week's markets were gripped by anticipation ahead of a meeting between the leaders of the world's two largest economies at the G20 summit being hosted in Osaka, Japan. With 16 months having passed since the US president first requested the United States trade representative investigate placing tariffs on Chinese goods imports, equity markets have remained incredibly sensitive to ever shifting sentiment towards the progress of a US-Chinese trade resolution. Following the collapse of bilateral talks in May this year, the G20 summit provided an opportunity on the world stage for the two presidents to agree terms.
Chart 1: From the extraordinarily low volatility in 2017, markets have plunged multiple times since the US president first threatened trade tensions in March 2018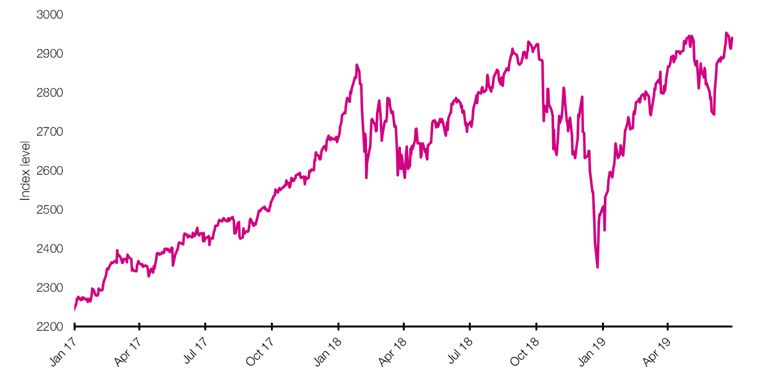 Source: Bloomberg
While sentiment towards US-Chinese trade talks had been oscillating in the days leading up to the G20, volatility was compounded and investors' moods soured as renewed tensions with Iran spooked the markets. In response to a fresh set of sanctions from the US aimed directly at Iran's Supreme Leader Ayatollah Ali Khamenei and other top Iranian officials, Iran said that the path to a diplomatic solution with the US had closed. Both gold and US treasuries, known universally as a safe haven assets, rallied on this response. These developments follow weeks of rising hostilities [2] between the US and Iran which has seen attacks on oil tankers in the Strait of Hormuz and a US surveillance shot down by Iranian anti-aircraft missiles.
Chart 2: Recent developments in the Gulf have threatened to cause instability for global energy markets and safe haven assets such as gold have rocketed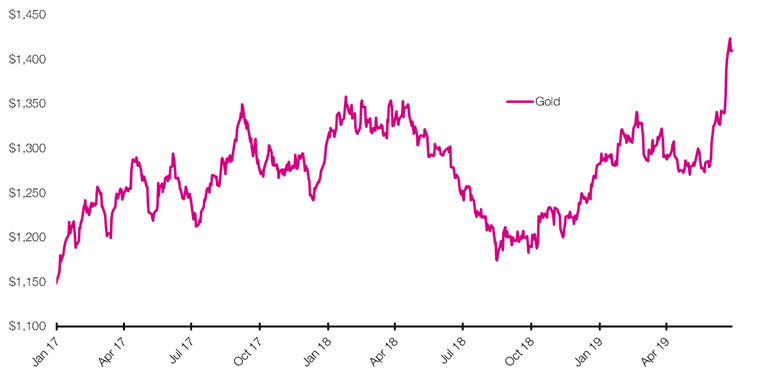 Source: Bloomberg
While uncertainty still surrounds US foreign policy towards Iran, an agreement over the weekend at the G20 between Presidents Trump and Xi to restart trade talks will be interpreted extremely favourable by investors. However, Trump's decision to grant Huawei, a Chinese telecom giant which has been under intense US pressure, some temporary relief from sanctions has drawn criticism back home with Republican Senator Marco Rubio tweeting "If President Trump has agreed to reverse recent sanctions against #Huawei he has made a catastrophic mistake." The question remains whether a material breakthrough in trade negotiations will actually take place.
THE WEEK AHEAD (G7 + China)
Monday: Japan Tankan Large Manufacturers Index, Japan Nikkei Manufacturing PMI, China Caixin Manufacturing PMI, Japan Consumer Confidence, Germany Markit Manufacturing PMI, Eurozone Markit Manufacturing PMI, UK Markit/CIPS Manufacturing PMI, Eurozone Unemployment Rate, US Markit Manufacturing PMI, US ISM Manufacturing PMI
Tuesday: Germany Retail Sales, UK Construction PMI
Wednesday: China Caixin Services PMI, Eurozone Markit Services PMI, UK Markit/CIPS Services PMI, Canada Balance of Trade, US Balance of Trade, US Markit Services PMI, US ISM Non-Manufacturing PMI
Thursday: Germany Construction PMI, Eurozone Retail Sales
Friday: Germany Factory Orders, Canada Unemployment Rate, US Non Farm Payrolls, US Employment Rate, Canada Ivey PMI
STAT OF THE WEEK: 515 million – the number of people worldwide who opened their first bank account between 2014 and 2017 (World Bank).
Data correct as at: 28/6/19