A German nightclub has taken an imaginative step and bypassed lockdown restrictions by hosting a drive-in rave in its car park. Club Index allowed around 250 cars, each carrying a maximum of two people, to attend the event with Dutch DJ Devin Wild livening up the crowd with car horn-based audience participation.
US equities had their own party last week, advancing over 3.5% in local currency terms as the earnings season rolled through. Asset class returns in sterling and local currency are below; while developed markets notched positive returns, emerging markets have failed to capture the upside in the market rebound from March lows.
Table 1: GBP total returns

Source: Bloomberg
Table 2: Local CCY total returns

Source: Bloomberg
Last week was another week of records (and not good ones at that) as the US Bureau of Labor Statistics released the latest employment data. The two charts below show the astonishing magnitude of the change, with the net change in job figures (right) revealing 20 million workers lost employment and the US unemployment rate (left) now standing at 14.7%. This confirms the scale of the current shock is unmatched by any previous scenario in modern economic history.
Chart 1: The US unemployment rate in Apri
l spiked to the highest level on record as over 20 million workers in the US lost their jobs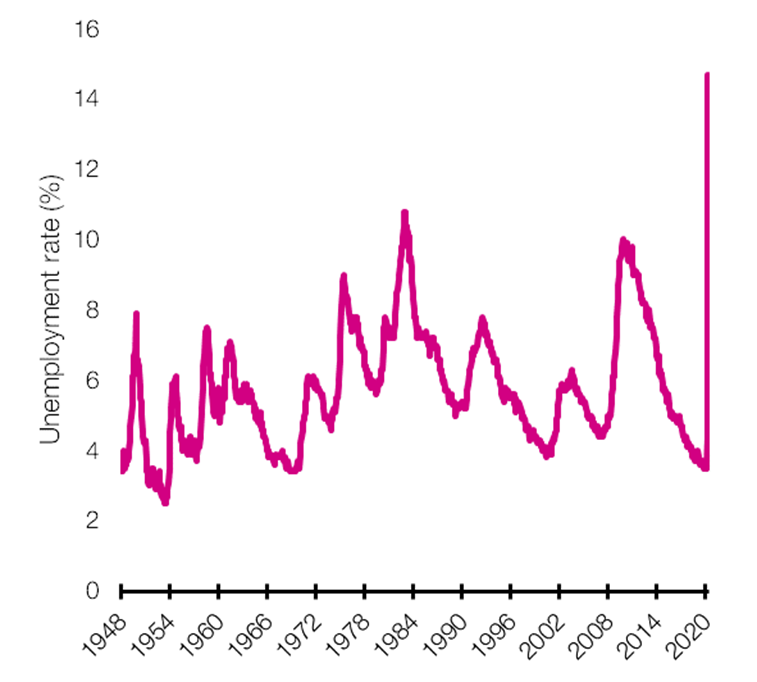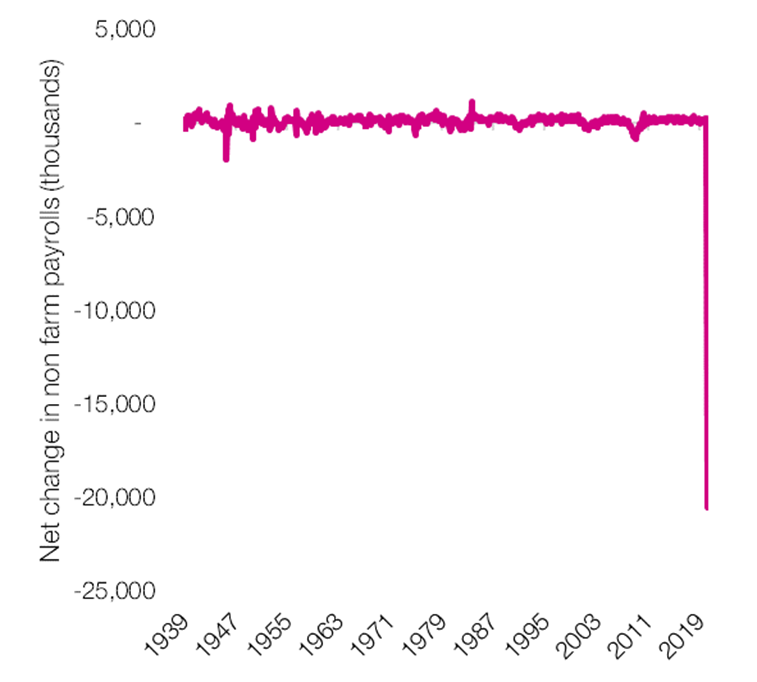 Source: Bloomberg
This historic move in employment data hasn't given th
e market a reason to become any less jubilant with the S&P 500 posting another cracking return last week, in part due to the earnings season currently rolling through. With 434 out of 500 constituents of the S&P 500 having now reported their Q1 results, we can take a moment to decompose the aggregate picture. As we would expect, economically sensitive sectors such as Financials, Consumer Discretionary and Industrials have all suffered double digit declines in their year-on-year earnings, while the more defensive sectors such as Health Care, Utilities and Consumer Staples have seen modest rises.
Chart 2: In the current earnings season, S&P 500 companies have been evenly split leading to an overall year-on-year growth rate in sales of just 1%. Earnings meanwhile have slumped as companies' margins have declined.

Source: Bloomberg
To us, one area that continues to shine brightly is the US Information Technology sector which has seen its growth driven by Software & Services and Semiconductor related industries. We've gained a lot of insight in this area from calls with our fund managers in which we have discussed how underlying companies have been impacted by the economic lockdown. In particular, several of our managers pointed us to comments from Microsoft's earnings call in which CEO Satya Nadella estimated they had seen "two years' worth of digital transformation in two months" as companies have embraced everything digital from remote teamworking to critical cloud infrastructure to keep operations running smoothly.
STAT OF THE WEEK: €750 billion – the value of securities bought up by the European Central Bank for its Pandemic Emergency Purchase Programme (ECB).
DATA CORRECT AS AT: 08    /05/20
Contact
Have a question about investing with EQ [1]? Please email enquiries@eqinvestors.co.uk [2] or call 020 7488 7171, we're always happy to hear from you.