It was a good week for people with big feet as a Romanian cobbler has started selling huge shoes to help people enforce Covid-19 social distancing rules. The pair of shoes, which come in a European size 75, will ensure that two people donning the footwear are 1.5 metres apart when facing each other.
Equities have clearly got their running shoes on as they continue to quickly pare losses from earlier this year. Asset class returns in sterling and local currency are below; stock markets around the world posted gains last week despite a backdrop of rising civil unrest.
Table 1: GBP total returns

Source: Bloomberg
Table 2: Local CCY total returns

Source: Bloomberg
After yet another positive week for returns, US equities have taken a further step towards breaking into a positive year-to-date figure in local currency terms. But with so much dispersion in the economy with some sectors being hit significantly harder than others in terms of default rates [1], it's interesting to break-down exactly what has contributed so much to the S&P 500's bounce-back.
You may already be familiar with at least one variation of the FANG acronym that has been used by market commentators over the years as an all-encompassing term for large US technology companies. Below, we look at a similar subset of stocks which represent the five largest companies in the S&P 500 by market capitalisation. These are Facebook, Amazon, Apple, Microsoft and Alphabet (Google), which are known collectively by the (not so) catchy FAAMGs.
With the FAAMGs up 16% year-to-date versus the rest of the market which is down -7%, we are seeing an accelerated trend whereby the top 5 companies in the S&P 500 now account for over 20% of the index. This could have significant implications going forward, not least of which is that the S&P 500 will be increasingly sensitive to the performance of US technology names if this trend persists.
| | | |
| --- | --- | --- |
| Chart 1: The S&P 500's largest five companies have rebounded significantly faster than the remaining 495 in recent weeks… | | Chart 2: …with the latest outperformance leading to these five companies accounting for over 20% of the S&P 500's market capitalisation |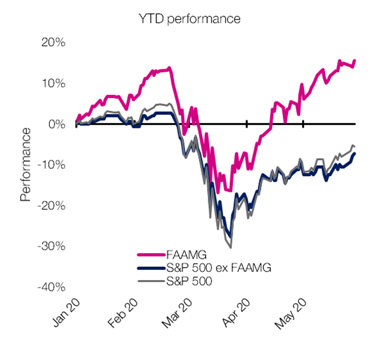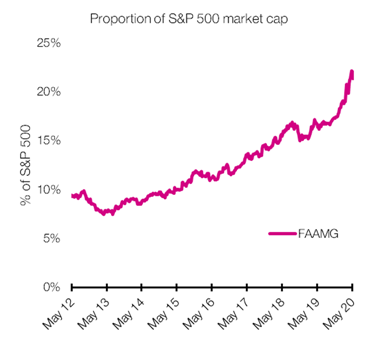 "It's a bubble that will burst soon" I might hear you say… Well perhaps not. Unlike the early 2000s where the market was driven by expectations of future growth which proved to be overly optimistic, the current market is more aware of a business' quality [2]which gives a far more tangible basis for valuation. As such, it's perfectly possible that the FAAMGs could be fairly valued should they continue to grow faster than the broader market (Chart 3). This isn't a totally unreasonable assumption given recent comments from the CEO of Microsoft [3] in which he estimated they had seen "two years' worth of digital transformation in two months".
When extrapolating current earnings using long-term growth expectations, we conclude that almost half of all earnings growth in the next few years will be generated by high-tech sectors which house the FAAMGs: Information Technology (Apple and Microsoft), Communication Services (Alphabet/Google and Facebook), and Consumer Discretionary (Amazon).
| | | |
| --- | --- | --- |
| Chart 3: Long-term growth estimates imply the FAAMGs will grow at double the speed of the broader market… |   | Chart 4: …which results in Information Technology, Communication Services and Consumer Discretionary sectors accounting for almost half on expected earnings growth |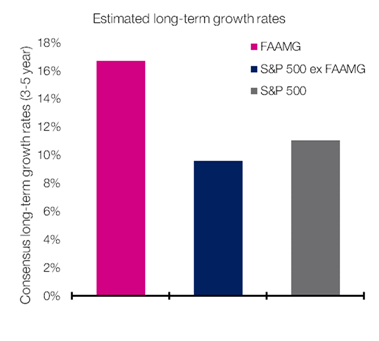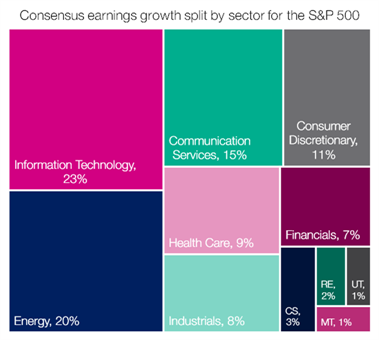 Interestingly, Chart 4 throws up another feature of the current market which is Energy and what expectations are going forward. The sector as a whole was thrown into loss-making territory last quarter as the Saudi-Russian oil price war pushed the commodity into negative price territory [4]. With analysts expecting the sector to embark on a long march back to normality, the sector has secured its spot on the earnings growth podium.
STAT OF THE WEEK: $429 and $48,675 – Hong Kong's GDP per capita in 1960 and 2018 respectively (World Bank).
DATA CORRECT AS AT: 29/05/20
Contact
Have a question about investing with EQ [5]? Please email enquiries@eqinvestors.co.uk [6] or call 020 7488 7171, we're always happy to hear from you.