Police have now identified the Ross Geller lookalike whose alleged robbery triggered a viral sensation as well as prompting the Friends star to provide an alibi [1] proving he was innocent of the crime. Blackpool Police were swamped by fans of the show, some of whom claimed it had "not been [David Schwimmer's] day, his month or even his year!"
Unfortunately, the same lyrics could apply to global equity markets as all regions bar the US slipped further into negative returns year-to-date. Asset class returns in sterling and local currency are below; risk assets suffered across the board as sentiment took a turn for the worse. On the other hand, assets such as government bonds and gold edged a positive return as investors sought safe havens.
Table 1: GBP total returns

Source: Bloomberg
Table 2: Local CCY total returns

Source: Bloomberg
There remain no shortage of explanations for the rout we are current experiencing across global equity markets. These range from 1) concerns that US corporate earnings may be peaking as outlooks accompanying quarterly releases have been less­-than-positive, 2) the picture of synchronised global growth has been weakening in the face of a trade war, and 3) the continued withdrawal of central bank stimulus is beginning to bite. The reality is that all of these are valid explanations and are true to some extent.
As beneficiaries of vast fiscal stimulus following the Tax Cuts and Jobs Act, US corporates had been publishing bullish expectations for their respective operating environments in the preceding quarterly earning periods. It is this buoyed sentiment that had helped to keep the market afloat. The prime example was 2018 Q1 which saw the US market tumble over 4%, only for strong earnings and upbeat forecasts to push equities up close to 10% for 2018 Q2! The difference now is that following two extremely strong quarters (US equities posted a 9% gain in 2018 Q3), a tone down in forecasts has been taken as a warning signal for investors ready to remove risk from their portfolios.
Chart 1: Perceptions around business conditions and the performance of the S&P 500 are closely aligned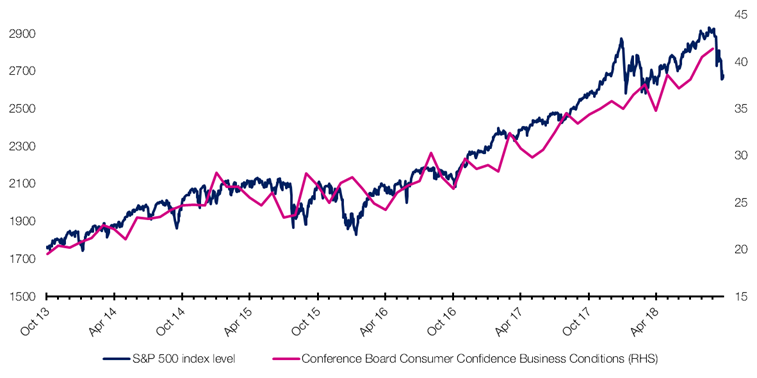 Source: Bloomberg
The cause of this drop in sentiment is linked to the second and third points mentioned above. Caterpillar, the machinery manufacturer often seen as a bellwether for the global macro-economic environment, reported strong earnings for Q3 but expressed caution around higher manufacturing expenses and increases to material and freight costs, citing tariffs as a big headwind. Another significant US manufacturer, 3M, revised down its earnings guidance citing a stronger dollar as a headwind. Thus these outlooks have acted to renew investors' focus on tariffs and monetary tightening as both have significant implications for the global economy. Global markets are being dominated by news flow from the US, sensitive to rhetoric from either US policymakers (with regards to tariffs) or the US Federal Reserve (with regard to monetary tightening and a stronger dollar).
Chart 2: The global economy faces headwinds from a strengthening US dollar (illustrated by rising blue line) and tightening financial conditions (illustrated by falling pink line)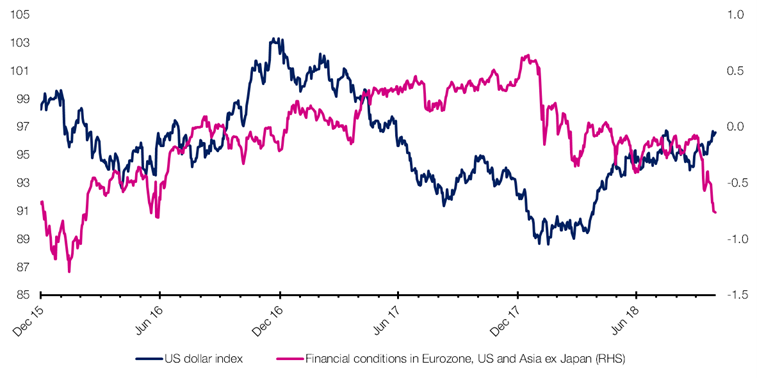 Source: Bloomberg
With the above in mind, it's understandable that last week's relative outperformers were those assets traditionally seen as safe havens. Though government bond yields have been rising more recently in-line with tightening monetary policy in the US, concerns around slower growth and uncertainty around the path of future interest rates put enough downward pressure on yields for the asset class to edge a positive return last week.
Going forward, investors will be keenly watching for any new developments at the G20 summit due to take place at the end of November. Of particular note will be whether President Trump and President Xi decide to hold bilateral talks in which they could address the growing trade tensions.
THE WEEK AHEAD
Monday: US Personal Income, US Personal Spending, UK Autumn Budget 2018, Japan Unemployment Rate
Tuesday: France Q3 GDP, Germany Unemployment Rate, Italy Q3 GDP, Eurozone Business Confidence, Eurozone Q3 GDP, Germany Inflation Rate
Wednesday: UK Gfk Consumer Confidence, China NBS Manufacturing PMI, Japan Interest Rate Decision, Japan Consumer Confidence, Spain Q3 GDP, Eurozone Unemployment Rate, US ADP Employment Change
Thursday: Australia Balance of Trade, China Caixin Manufacturing PMI, Bank of England Interest Rate Decision, US ISM Manufacturing PMI
Friday: Canada Balance of Trade, Canada Unemployment Rate, US Balance of Trade, UN Non Farm Payrolls, US Unemployment Rate
STAT OF THE WEEK: $10,277 – the cost of a mobile phone in 1984 adjusted for 2018 prices (Human Progress).
Data correct as at 26/10/2018.