If you thought the BBC Parliament channel may have shown examples of flagrant disregard for parliamentary process by politicians over the past few months, you've seen nothing yet! Italian MP Flavio Di Muro [1] ask his girlfriend to marry him in the Italian parliament last week during a debate on earthquake aid. Fortunately, the less than enthusiastic Speaker of the chamber was quick to reprimand Di Muro, telling him off for a misuse of an intervention.
Sadly Italian equities didn't erupt with the same level of passion and flare, with most regions notching modest positive gains. Asset class returns in sterling and local currency are below; a long Thanksgiving weekend saw muted trading volumes and quiet markets as investors and traders in the US enjoyed some time off.
Table 1: GBP total returns

Source: Bloomberg
Table 2: Local CCY total returns

Source: Bloomberg
All in all, last week was a pretty boring week for markets in comparison to the recent past as investors and traders in the US took a long Thanksgiving weekend. I found my post from this time last year [2] and I have to say, I'll happily take boring markets over angry ones. Even data released during the week was relatively insignificant for markets as it came in broadly in line with expectations. It wasn't until Saturday that things begun to get more interesting as two bits of data emerged from China showing a modest but unexpected rebound in economic activity. China's National Bureau of Statistics pointed to a pick-up in domestic demand following a number of stimulus measures implemented by Beijing to support growth
Chart 1: November's reading was the highest in seven months and marks a return to expansion within China's manufacturing sector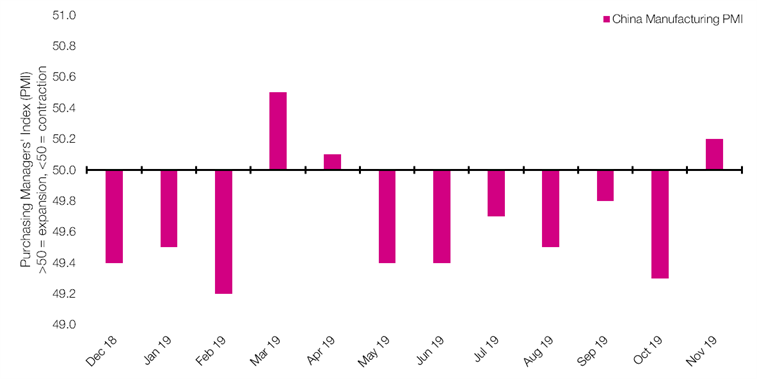 Source: Bloomberg
Despite this glimmer of optimism, weak manufacturing data (discussed last week [3]) across other developed economies has highlighted the rising headwinds for China's manufacturing sector. When we dig into Sunday's data release, we see a growing divergence between new orders (e.g. domestic + external demand) and new export orders (external only) which is being experienced by Chinese factories. The significance of the fall in export orders is shown in the char below where new orders recently contracted at the fastest pace since 2009. Total new orders was only kept afloat by strong domestic demand.
Chart 2: While export orders contracted in March at their fastest rate since the GFC, domestic demand has helped keep total new orders in expansion territory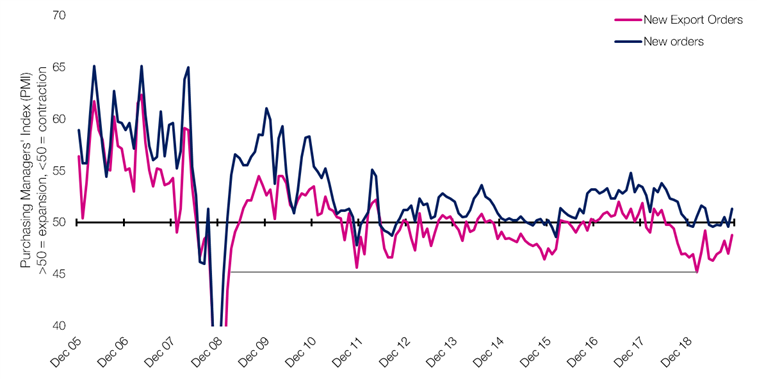 Source: Bloomberg
So what does this all mean? Well in short, China is not about to fall into a recession. With "phase one" of a trade deal between the US and China nearing completion, it is broadly expected that ratification will result in an easing of tensions. That said, both the US and Chinese administrations have been anything but predictable since the trade war began.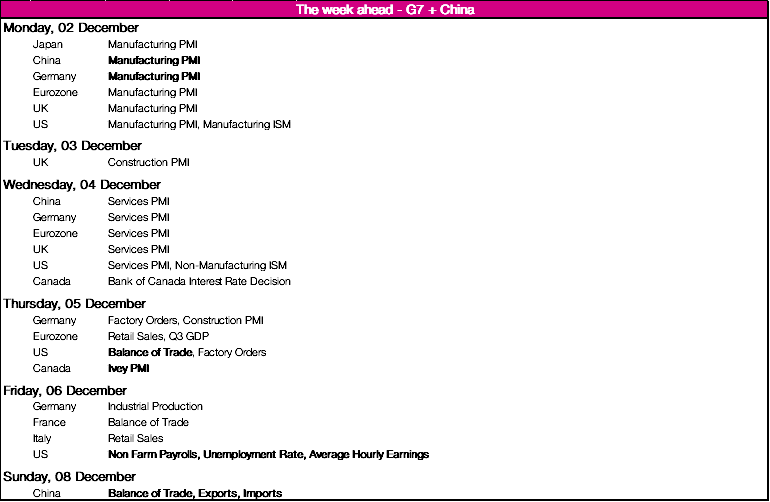 STAT OF THE WEEK: £837 million – the minimum estimate of how much Brits spend on unwanted online subscriptions in 2018 (YouGov).
Data correct as at: 29/11/19