Greece's deputy health minister got into a row with the European Union's Health Commissioner last week after being caught on video holding a cigarette. The commissioner who was in Athens to mark World Cancer Day described the Greek's actions as "shameful" – however he was told to butt out.
Investors' became short of breath least week as they reacted to a slew of downgrades to economic growth forecasts across the developed world. Asset class returns in sterling and local currency are below; government bonds had a strong week, with UK gilts the top performer in local currency terms.
Table 1: GBP total returns

[1]
Source: Bloomberg
Table 2: Local CCY total returns

[2]
Source: Bloomberg
Thursday was a big test for European markets as the European Commission published its growth forecasts. At a euro area level, expectations for 2019 were slashed from 1.9% to 1.3%, with Germany cut from 1.8% to 1.1% and Italy from 1.2% to 0.2%! Italy has already fallen into a technical recession as the economy has registered two consecutive quarters of negative growth, triggered by a worse than expected cyclical slowdown that has been amplified by global and domestic policy uncertainty. Germany, Europe's largest economy and the powerhouse of the Eurozone, is also suffering from weak consumer demand and an uncertain global trade outlook.
Chart 1: European Commission growth forecasts for 2019 show the Euro area heavily revised down, driven primarily by Germany and Italy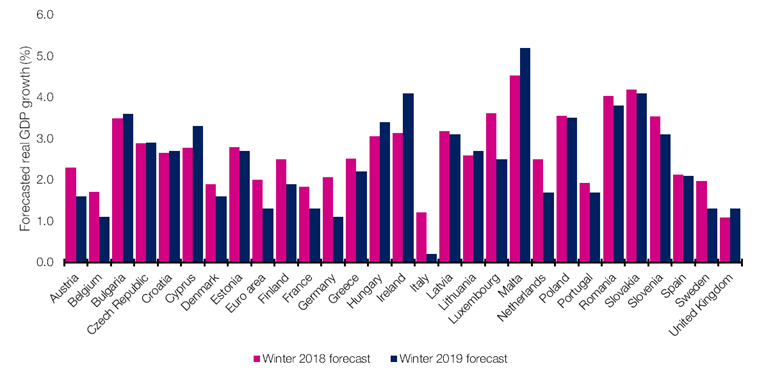 [3]
Source: European Commission
Within a few hours of the commission's forecast release, the Bank of England's interest rate setting Monetary Policy Committee (MPC) met, unanimously voting to keep interest rates on hold. While this was expected by the market, the Bank released an update on its economic outlook for the UK amid a combination of slowing global growth and persistent economic uncertainty around the UK's future trading relationship with the European Union. The BoE slashed its own near-term forecasts for UK growth to 1.2% in 2019 which would make it the weakest level of annual growth in a decade. Commentary from the Bank was significantly more downbeat than economists expected and the BoE has now joined the ranks of most international peers in halting tighter monetary policy, citing concerns around the global economic outlook.
Chart 2: The probability of interest rate rises assigned by the market has dropped markedly in recent months as concerns over the stability of global growth have risen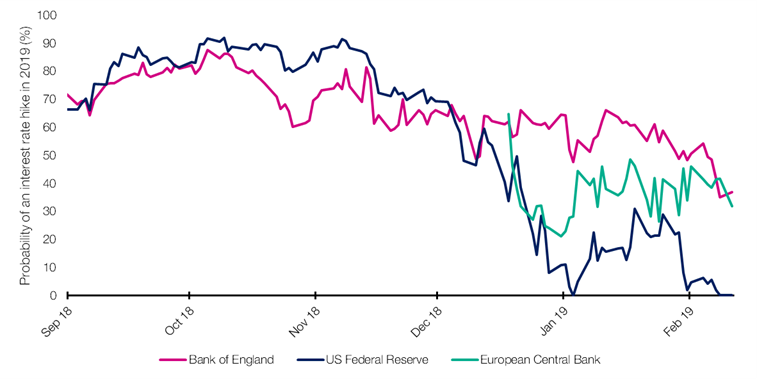 [4]
Source: Bloomberg
The rising likelihood of a more sustained, synchronised economic slowdown across the world means it is perfectly possible that central bankers could U-turn on goals to normalise monetary policy. For example, we mentioned last week that the US Federal Reserve has already signalled it could pause its tightening cycle. While this would be a positive global growth, it remains unclear currently how much headroom central banks will have to implement interest rate cuts or further asset purchase programs as economies reach full employment and inflation pressures begin to build.
THE WEEK AHEAD
Monday: UK Balance of Trade, UK Q4 GDP, UK December GDP, UK Manufacturing Production YoY, UK Industrial Production YoY, UK Business Investment YoY, Eurogroup Meeting
Tuesday: Australia NAB Business Confidence, Australia Consumer Confidence, Eurozone EcoFin Meeting, Saudi Arabia OPEC Monthly Report
Wednesday: UK Inflation Rate, Eurozone Industrial Production YoY, US Inflation Rate, Japan Q4 GDP, NATO Summit
Thursday: China Balance of Trade, Germany Q4 GDP, Eurozone Q4 GDP, US Retail Sales
Friday: China Inflation Rate, Japan Industrial Production YoY, UK Retail Sales, Eurozone Balance of Trade, US Industrial Production YoY, US Michigan Consumer Sentiment
STAT OF THE WEEK: 3.7% and 3.5% – the estimated global growth rate in 2018 and 2019 respectively (IMF).
Data correct as at: 08/02/2019