If you've ever been worried that robots are likely to take your role in everyday life, spare a thought for students at the Business Breakthrough University in Tokyo, Japan where social distancing measures meant that students weren't allowed to physically attend their graduation ceremony. Instead, robots with Zoom conferencing technologies [1] were used to accept the awards. All very bizarre.
Over recent trading sessions, US equities have zoomed from recent lows to post one of their best weeks on record. Asset class returns in sterling and local currency are below; despite millions more US workers filing as unemployed last week, equities rallied following an announcement from the Fed and optimism that the worst of the pandemic may be over.
Table 1: GBP total returns

Source: Bloomberg
Table 2: Local CCY total returns

Source: Bloomberg
In 1797, a man named Frances Baring (founder of what would be known two centuries later as Barings Bank) published a paper titled Observations on the Establishment of the Bank of England in which he described the role of the central bank as "the centre or pivot, for enabling [the monetary and credit] machine to perform its functions". It was in this paper that he coined the term "lender of last resort", a phrase we still use today when describing the role of the central bank. This may appear to be a slightly odd tangent for the beginning of this piece, but given the announcement from the US Federal Reserve last Thursday, it's interesting to see how central banks have evolved their role over the past two to three hundred years [2].
To step up its response to the Covid-19 economic shutdown, the US Federal Reserve announced a series of new measures including: new loans for small and mid-sized businesses, a new support package for US municipals, an expansion of an existing facility to buy highly rated asset backed securities, and a foray into the sub-investment grade corporate bond market. While some of this may sound like gobbledygook, what's important to note is the scale of this operation which is currently estimated to be in excess of $2 trillion; in a statement, the Fed's Chairman Jerome Powell said the Fed was trying to "provide as much relief and stability as we can".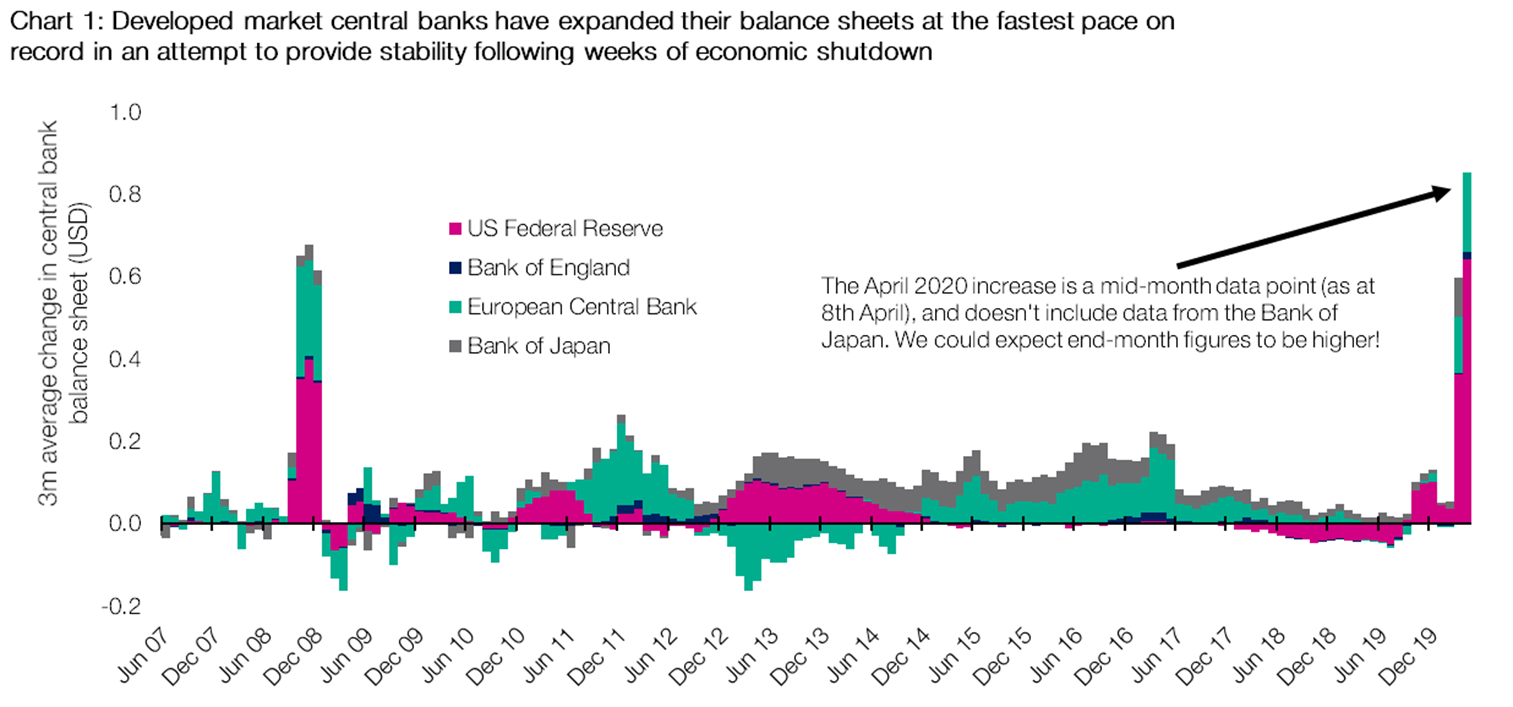 Source: Bloomberg
With its central bank now fulfilling its role as a lender of last resort to not just financial institutions (like in the GFC) but to the entire US economy, risky assets (e.g. equities and high yield bonds) saw prices jump as the perceived risk of mass bankruptcies contracted. Through the combination of this massive stimulus with the optimism amongst some investors that we may be nearing the peak of the pandemic, last week proved an extremely supportive week for equities with the S&P posting one of its best weeks returns on record. But with no approved vaccine and fears that a return to "normality" could cause a second wave of infections, it raises the question as to whether this optimism is premature.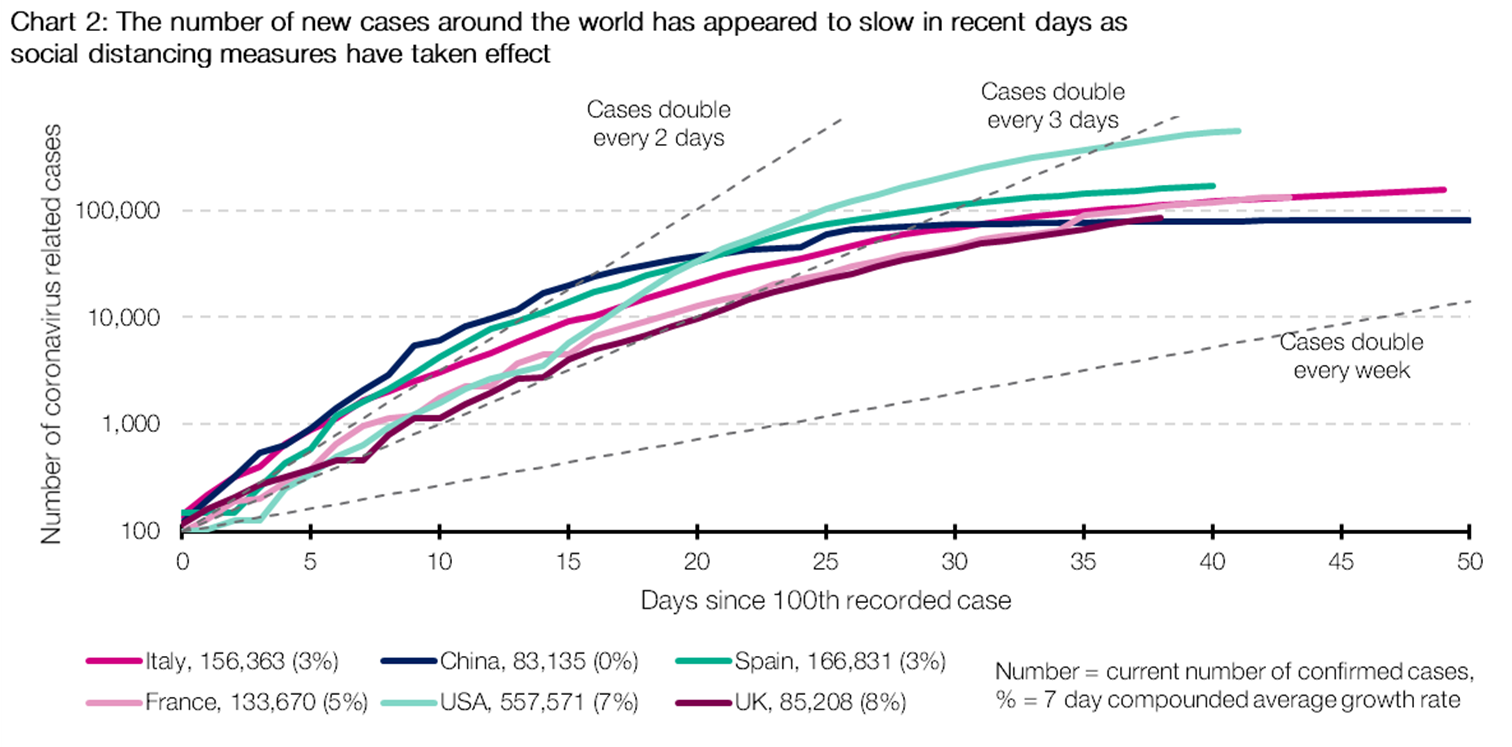 Source: John Hopkins University
A further reason for tempering any optimism is that the damage being inflicted on the global economy from social distancing measures is currently immeasurable. This is illustrated by the huge range in growth forecasts from economists. Market participants will continue to monitor incoming economic data very closely to get a feel for how deep this recession is likely to be. With the market now rebounding, the question is whether investors will look through this period of pain at the recovery, or whether we are likely to see another leg down once more data has emerged.
STAT OF THE WEEK: 25% – the proportion of British adults who think coronavirus was 'probably created in a lab' (King's College London / Ipsos MORI).
DATA CORRECT AS AT: 10/04/20
Contact
Have a question about investing with EQ [3]? Please email enquiries@eqinvestors.co.uk [4] or call 020 7488 7171, we're always happy to hear from you.