Weekly market recap: gambling global growth
The correction we experienced last week was the largest drop in markets since the pullback in early February and, importantly, we view it as a healthy feature of a bull market.









by Tertius Bonnin, 12th October 2018

I took advantage of the sunshine on Saturday and made the two and a half mile journey from home to Covent Garden where I got a sneak-peak inside the newly refurbished Royal Opera House. Before I could prove my (in)ability as a baritone, I was swiftly moved along for a nice long lunch, allowing me to save face and my delicate vocal chords.
Stocks around the world turned red in the face as a dramatic sell-off reverberated throughout equity markets. Asset class returns in sterling and local currency are below; last week was definitively "risk-off", which entailed market participants de-risking their portfolios in favour of safe haven assets such as gold which, while unloved in recent months, definitively emerged as the winner last week.
Table 1: GBP total returns

Source: Bloomberg
Table 2: Local CCY total returns

Source: Bloomberg
Last week saw global capital markets slide further into negative territory as investors moved to minimise the risk in their portfolios. As suggested in a
blog piece by my colleague Kasim published last week, market commentators pointed to a number of factors that facilitated the fall ranging from rising bond yields in the US, seemingly ever increasing trade tensions between the US and China, and algorithmic trading strategies which have accentuated market volatility.
Given warnings at the beginning of last week by the International Monetary Fund (IMF), it is difficult to brush aside one thesis that growing trade barriers are acting as a major driver of the market sell-off. Last week, the IMF warned that the global trade war could take a significant bite out of global growth. They backed this up with newly published estimates, accompanied by comments that there could be a further drop in forecasted growth of circa 0.8% should US President Donald Trump follow through on all of his trade threats against China.
Chart 1: IMF forecasts for global growth have been reduced from autumn 2017 estimates as a result of increasing trade tensions, though they remain within initial forecasted ranges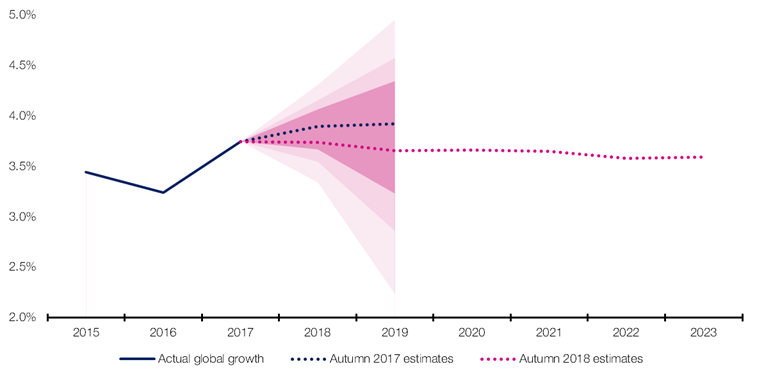 Source: Bloomberg, IMF
While the majority of equity markets globally seem to evidence these geo-political risks, the S&P 500 year-to-date has easily shrugged off the risk of a trade war as US corporates have been prime beneficiaries of significant fiscal stimulus following the Tax Cuts and Jobs Act which was passed in December 2017. One factor that has really contributed to equities has been the tax holiday for cash repatriation which affects companies with operations overseas. With this newly re-domiciled capital, corporate treasurers have eagerly initiated either vast share buybacks or embarked on new capital expenditure projects to boost future growth. This stimulus has been a large contributor to the continued outperformance of US assets.
The correction we experienced last week was the largest drop in markets since the pullback in early February and, importantly, we view it as a healthy feature of a bull market. Investors wishing to take profits on winning positions hit the IT sector hardest given its extremely strong run relative to the rest of the market in recent months. While it was undoubtedly uncomfortable to see the sharp declines in equity markets, the lack of any meaningful news flow indicated no significant change to market fundamentals thus creating a lot of interesting buying opportunities as the initial knee-jerk reaction led to overselling.
Chart 2: US equities have been outperforming year-to-date, with the recent sell-off creating interesting buying opportunities after a knee-jerk reaction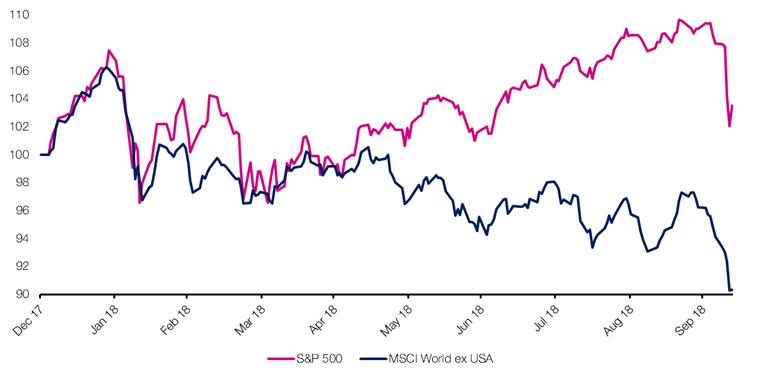 Source: Bloomberg
THE WEEK AHEAD
Monday: US Retail Sales
Tuesday: China Inflation Rate, UK Unemployment Rate, Germany ZEW Economic Sentiment Index
Wednesday: UK Inflation Rate, US FOMC Minutes, European Council Meeting on Brexit
Thursday: Japan Balance of Trade, Australia Unemployment Rate
Friday: Japan Inflation Rate, China Q3 GDP, Canada Inflation Rate, US Existing Home Sales
STAT OF THE WEEK: 42% – the percentage of parents of children up to age 12 who would be willing to sabotage a child's friendship because they didn't like the other parents (Families Online/The Daily Telegraph).
Data correct as at 12/10/18.