Whenever I drive to visit my family in Perthshire, my trip isn't complete without a stop on the way back at a local butcher, Simon Howie, in a small village called Dunning. There, I will stock up on delicious meat pies to fill up my freezer (much to my girlfriend's annoyance). It was a surprise, therefore, to see the Scottish butcher making headlines last week as it launched its haggis to the edge of space using a weather balloon in honour of Burns Night!
But haggis wasn't the only thing unexpectedly going stratospheric. Friday saw the US financial regulator announced it was opening an investigation into whether market manipulation by retail investors drove the share prices of a handful of companies to dramatic highs. Despite this, broader markets fell as the battle between retail and institutional investors intensified. So, what's been causing price spikes for companies like GameStop?
Figure 1. Retail investors jumped on the bandwagon by buying call options on GameStop, driving the price of the company's shares dramatically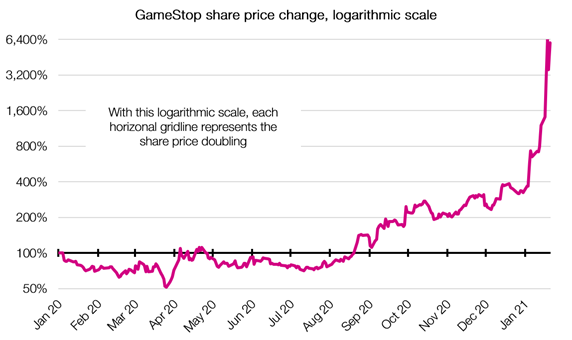 Source: Bloomberg, EQ Investors
To give some context, we have seen some commentators in more recent months linking individuals' stimulus cheques in the US to surging activity on online forums (such as "r/WallStreetBets" on Reddit) dedicated to investment advice and stock tips. This has led to a proliferation in online trading across many platforms such as Robinhood or Interactive Brokers in the US, and IG or CMC Markets here in the UK. But it's not just traditional stocks and shares that are increasing in popularity. These brokerages have presided over an explosion in trading volumes for complex instruments such as options which are quickly becoming the weapon of choice among an army of retail investors.
Very briefly (and without getting too technical), a "call option" is a contract which allows a buyer to purchase an investment at a specific price on a specific date. Conversely, the seller of a call option (usually a bank or brokerage) has the obligation to sell the investment if the contract is triggered. To protect themselves against the potential losses they could incur if the price of the investment were to rise, the party selling the call options will typically buy the underlying investment before the option is due to be executed so they can fulfil their contractual obligations.
Still with me? Don't worry if you're not – here's why the use of options is important though. From a retail investors' perspective, the attraction is that options effectively provide leverage meaning that small changes in the value of the underlying security can result in amplified investment gains (or losses). From a market perspective, option contract sellers will buy the underlying investment, thereby pushing up the price of the shares. Part of the complexity here is that a small investor buying $100 in options may require the counterparty (contract seller) to buy many multiples more than $100 in shares which can accelerate the price rise of the underlying security.
In the case of GameStop – a failing bricks-and-mortar retailer described by investment professionals as being in terminal decline – the impact of retail investors has been phenomenal. Despite these retail investors often being ridiculed as "dumb money", investment professionals have found many of these online communities using sophisticated trading strategies as they target the professional elite. One such casualty is Melvin Capital, a hedge fund whose bet against GameStop's shares blew up spectacularly with a 53% loss reported in January.
One commentator at the Financial Times has described this as "ordinary people […] gatecrashing a community that for nearly two decades has been dominated by big asset managers, pension funds and hedge funds". Either way, the rally in GameStop shares is likely to force many professional investors to reconsider risk management controls and may ultimately cause permanent changes to the way in which hedge funds operate. While the Securities and Exchange Commission are indeed reviewing this episode, many believe it is unlikely that there will be any recourse. Until then, retail investors may continue to be a significant force in markets which clearly should not be underestimated.
STAT OF THE WEEK: 42% – Proportion of UK electricity that came from renewables last year, overtaking fossil fuels as the main source of energy for the first time (Embed and Agora Energiewende).
Data correct as at: 29/01/2021
Contact us
Have a question about investing with EQ [1]? Please email enquiries@eqinvestors.co.uk or call 020 7488 7171, we're always happy to hear from you.