Weekly market recap: gaming the cycle
2019 has already seen the US stock market set off from the starting blocks to achieve its best seven-day start to a year since 2006.









by Tertius Bonnin, 11th January 2019

If you found the first full working week of the New Year difficult to adjust to and are now suffering from 'January blues', spare a thought for Jeff Bezos, founder of Amazon.com and the richest man on the planet, who announced his divorce on Twitter. Proceedings could see him cede up to half of his vast fortune which would catapult his wife of 25 years to the position of the richest woman on earth.
Since the beginning of the year, $800 billion – approximately the value of Amazon.com or 12 times Jeff Bezos's post-divorce net worth – was added to US stock market's market capitalisation! Asset class returns in sterling and local currency are below; a rise in equities represented a risk-on environment in the markets as incoming economic data acted to reduce fears of policy overtightening by the US central bank.
Table 1: GBP total returns

Source: Bloomberg
Table 2: Local CCY total returns

Source: Bloomberg
Following the volatility in December, which led the S&P 500 to its worst annual decline in a decade, 2019 has already seen the US stock market set off from the starting blocks to achieve its best seven-day start to a year since 2006. The positive news for equities last week was the softer than expected US inflation data, meaning the US Federal Reserve has room to take a pause in its tightening cycle before proceeding further. This is likely to abate the fears of some who believe that out of control inflation may force the Fed to aggressively raise US interest rates, thereby tipping the world's largest economy into recession.
Fortunately, economic cycles do not die of old age. Now just a matter of months away from becoming the longest expansion in US economic history, we can draw comparisons between the current cycle and the longest on record which lasted from March 1991 to March 2001 (see the chart below). By the 114th month (August 2000) of the 1991-2001 cycle, survey data began to indicate US manufacturing output had slipped into contraction following a long period of slowdown. By comparison, the 115th month (December 2018) of the current cycle has shown that US manufacturing output is still expansionary! While we have seen a fall in equity markets, current economic fundamentals for the US remain relatively robust and as such we may still see significant equity market gains before we finally move into recessionary territory.
Chart 1: Bear markets without an accompanying recession have historically provided significant market opportunities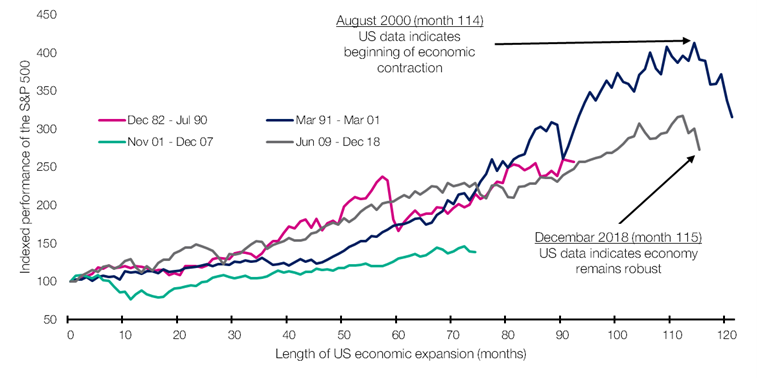 Source: Bloomberg
The probability of a flatter path to interest rises rates in the US has rapidly been repriced in the markets over recent weeks. The chart below shows just how aggressively investors have adjusted asset prices to incoming economic data over recent months, with the lines representing a collapse in the probability of a higher interest rate hike by the end of 2019.
Chart 2: The probability of future interest rate rises in the US has fallen dramatically in recent months as the US Federal Reserve has become increasingly data dependent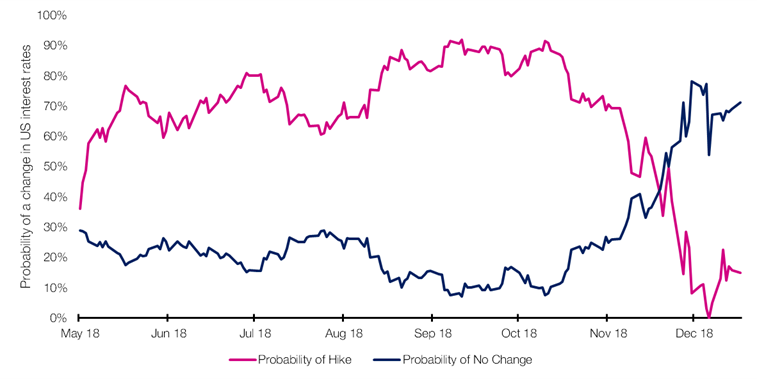 Source: Bloomberg
Any prolonged pause in US monetary tightening, which has the potential to ease concerns around dollar liquidity (and thereby tempering dollar strength), will have profound global implications because of the importance of the US dollar to the global financial system. Not only is a large proportion of trade invoicing done in dollars, but numerous governments around the world lacking full economic credibility also issue dollar-denominated debt to attract overseas investors. Investors will be keenly watching press conferences following every Fed meeting – a new event for economic calendars introduced by the Fed's chair.
THE WEEK AHEAD
Monday: China Exports YoY, China Imports YoY
Tuesday: Germany Full Year GDP Growth, Germany Government Budget, UK Parliamentary vote on Withdrawal Agreement
Wednesday: Germany Inflation Rate, UK Inflation Rate, Australia Consumer Confidence Index
Thursday: Japan Inflation Rate
Friday: Canada Inflation Rate, Michigan Consumer Sentiment
STAT OF THE WEEK: 13 million – the estimated number of meals thrown away in London every month (Real Junk Food Project).
Data correct as at: 11/01/2019