It's reported that the organisers of the Rugby World Cup are now monitoring a powerful typhoon that is forming to the south of Japan. Scotland prop Gordon Reid decried contingency plans being made saying that the weather "does not matter". He amusingly went on to say "we're from Ayrshire and Glasgow and Edinburgh, well they're a bit posh in Edinburgh but rain, shine, snow, whatever, it doesn't matter."
I was going to make a rugby related joke about UK equities underperforming but once you've seen one rugby joke you've seen a maul. Asset class returns in sterling and local currency are below; given the globally sensitive nature of the UK stock market, it is of no surprise that the clouds (or maybe it's a typhoon) above the global economy have seen UK equities fall the hardest.
Table 1: GBP total returns

Source: Bloomberg
Table 2: Local CCY total returns

Source: Bloomberg
Concerns of a stuttering global economy came to the fore once again as a string of weak data indicated that manufacturing and services sectors across major economies have continued either stagnating or contracting. In Germany for instance, the downward trend in manufacturing has been clear for many months [1] with contributing factors stemming from idiosyncrasies over and above the global headwind of a US-China trade war. These have ranged from production bottlenecks caused by a new European emissions regime affecting the auto industry to a heatwave over the summer causing unusually low water levels on the Rhine, an important river for German shipping.
In the US however, the main factor affecting growth prospects is far and away the US-China trade war which is soon to enter its 22nd month. Results from two of the most widely followed industry surveys (referred to as PMIs) were released last week which revealed differing pictures for the US manufacturing sector. While both the Institute for Supply Management (ISM) and IHS Markit revealed activity to be down from their peaks last year, ISM painted a far more severe landscape by indicating the start of what could be a prolonged contraction.
Chart 1: While PMIs from IHS Markit and the Institute for Supply Management have both trended down since their peaks last year, last week's reading shows a diverging picture for the US economy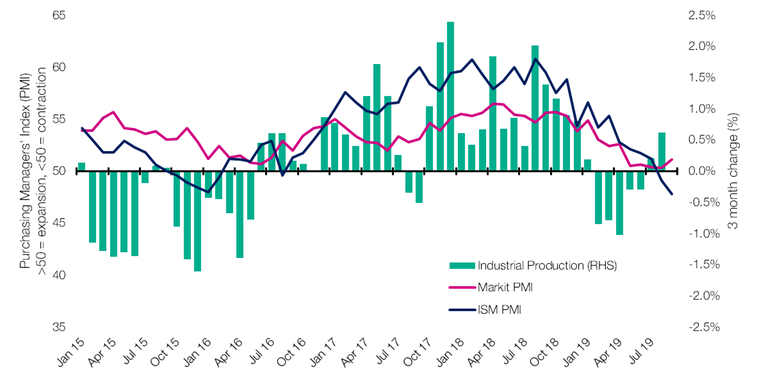 Source: Bloomberg
Importantly though, the two PMIs are not necessarily contradictory as they reflect differing parts of the economy. ISM for example has historically reflected larger multinationals, whereas IHS Markit is more representative of the broader makeup of the economy. ISM also does not ask its respondents to report solely on US based factories meaning that responses could be influenced by US owned factories operating abroad. IHS Markit on the other hand asks its respondents to reflect purely on ac    tivity in US factories. These factors do not render one survey more useful than the other, but instead both together help build a broader picture of manufacturing activity in the US. Thus rebounding data from IHS Markit and weakening data from ISM likely indicates that domestically focused manufacturing in the US has just about remained relatively robust while the more globally exposed ISM shows that it is exporters that have been suffering from the trade war.
Chart 2: Should US exporters continue to struggle in the face of the US-China trade war, the US trade balance could continue to deteriorate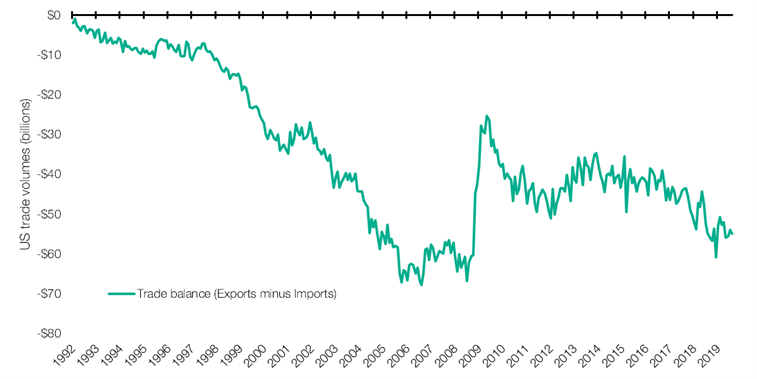 Source: Bloomberg
In recent months, the US president has lambasted the Federal Reserve for tightening monetary policy while other central banks have either not moved interest rates or indeed cut them. This is not only because raising interest rates can effectively act as applying the breaks on the economy thus slowing economic growth, but also because high rates relative to international peers will place upward pressure the currency. In the president's mind, a stronger dollar means exporters will be harmed as the relative value of exporters' goods will increase. This makes what the Federal Reserve does next extremely important. Though upcoming data this week is relatively thin, there will be a number of speeches members of the US's interest rate setting committee who will likely give hints as to where US interest rates will go from here. All eyes will be on them.
THE WEEK AHEAD (G7 + China)
STAT OF THE WEEK: 54% and 16% – the proportion of Americans who have smoked a cigarette in the past week in 1954 and 2018 respectively (Gallup).
Data correct as at: 03/10/19