A club dubbed the "worst professional football team" has finally ended its 73-game losing streak which stretched 840 days! Fort William, who achieved a whopping minus 221 goal difference last season, beat rival Nairn County 5-2 in the North of Scotland Cup last week. Perhaps somewhat unsurprisingly, the part-time club pays its players an average of £20 a week.
Risk-assets were thrashed by safe havens last week as major developments emerged from the US Federal Reserve, the US President and China. Asset class returns in sterling and local currency are below; Japan was the only equity region to post a positive return in sterling terms last week as sterling fell significantly against the Japanese Yen.
Table 1: GBP total returns

Source: Bloomberg
Table 2: Local CCY total returns

Source: Bloomberg
For anyone who was away for the second half of last week, you missed what will perhaps be the most action-packed 72 hours in global capital markets of 2019. Markets were relatively benign in the first half of the week as we approached the highly anticipated US Federal Reserve interest rate decision where it cut interest rates for the first time in a decade. Disruption to global trade has been a key concern of the Fed's for some time with some market commentators speculating that as the US president becomes more hawkish on trade, the Fed has had to become more dovish on monetary policy to compensate for headwinds to global growth.
Chart 1: The 2-year US Treasury yield which is most sensitive to near term policy shifts took a nose dive last week as the Federal Reserve cut rates and the US President got vocal Twitter
Source: Bloomberg
While investors had widely expected an interest rate cut, weakening economic data in the US and concerns around the sustainability of growth had led market participants to believe that the Fed may respond more aggressively towards easy monetary policy leaving some disappointed. Among those left wanting was none other than the US president who took to Twitter [1] to complain that the shift in policy didn't go far enough. Indeed for months, the President has been a vocal opponent of the Fed's Chairman who has repeatedly resisted injecting fresh stimulus into the economy at the behest of the President.
Just prior to the Fed's decision, senior officials from the US and Chinese administrations had been meeting in Shanghai on Tuesday for two days of intense trade talks. This was the first face-to-face interaction between the two superpowers since the G20 Summit in June and market expectations for a breakthrough were relatively muted. Though press briefings from both sides after the first day said the talks were positive they ended with reportedly "no deal in sight". Following a briefing by the US Trade Representative and the Treasury Secretary, President Trump once again took to Twitter [2], this time launching a tirade on China with the announcement of fresh round of import tariffs which sent markets spiralling down.
Chart 2: The S&P 500 has seen three significant downward moves over last week, caused by the US Federal Reserve, the US President and China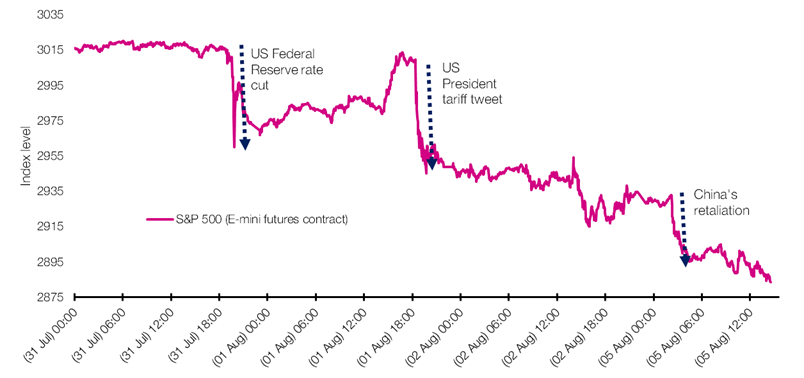 Source: Bloomberg
The Chinese administration was quick to rebuff the US President's threat of fresh tariffs, and vowed it would retaliate firmly: not only were state-owned Chinese firms immediately ordered to halt US agricultural purchases, but the People's Bank of China then devalued its currency to a level not seen in over a decade. Developments to the situation are still hot.
THE WEEK AHEAD (G7 + China)
Monday: China Caixin Services PMI, Germany Markit Services PMI, Eurozone Markit Services PMI, Eurozone Composite PMI, UK Markit/CIPS Services PMI, US Markit Services PMI, US Markit Composite PMI, US ISM Non-Manufacturing PMI
Tuesday: Japan Leading Economic Index, Germany Factory Orders, Germany Construction PMI, US Redbook
Wednesday: Germany Industrial Production, France Balance of Trade, France Current Account, UK Halifax House Price Index, China Foreign Exchange Reserves, Canada Ivey PMI, EIA Crude Oil Stocks, US Consumer Credit Change, ECB Non-Monetary Policy Meeting
Thursday: Japan Current Account, China Balance of Trade
Friday: Japan Q2 GDP, China Inflation Rate, Germany Balance of Trade, Germany Current Account, Italy Balance of Trade, UK GDP, UK Balance of Trade, UK Business Investment, UK Construction Output, UK Industrial Production, Italy Inflation Rate, Canada Unemployment Rate, Canada Average Hourly Wages
STAT OF THE WEEK: 82% – the percentage of Americans who think international trade is good for the US economy, up from 59% prior to Donald Trump's election (The Chicago Council).
Data correct as at: 02/08/2019