Elon Musk made headlines again last week when he appeared on a US radio podcast smoking marijuana and drinking whisky on the same evening that his company's chief accountant resigned due to "the level of public attention placed on the company" exceeding expectations. Shares in Tesla subsequently fell to their lowest point since April as investors dumped the stock.
Equity markets around the world went up in smoke last week, as investor confidence over emerging markets begun to wane. Asset class returns in sterling and local currency are below; most notable is the risk-off sentiment which resulted in a negative return for every major asset class last week, including what are traditionally safe-haven assets such as US treasuries which were pushed lower on the recent strong US jobs data release.
Table 1: GBP total returns

Source: Bloomberg
Table 2: Local CCY total returns

Source: Bloomberg
A primary driver of negative returns in emerging markets (EM) has been an aggressive EM currency sell-off. The reason is multifaceted and includes tighter financial conditions in the US (which has seen a stronger US dollar and higher US Treasury yields), investor confidence being knocked by supposedly idiosyncratic cases in Turkey [1] and Argentina [2], and rising levels of uncertainty around how global supply chains will adapt to rising trade barriers threatened by a US-China trade war.
While the 24 economies that are officially defined as EMs are affected by each of the factors above, their sensitivities vary. Thus, indiscriminate sell-offs across EM assets provide interesting opportunities in markets whose economies maintain strong fundamentals such as improving demographics or programmes for economic reform. One such example is India, whose currency has dropped circa 12% against the dollar year-to-date, marginally outperforming a widely followed EM currency index (simply representing the performance a basket of EM currencies) falling 15%.
Chart 1: MSCI India has advanced 8% year-to-date in local currency terms, while in dollar terms it has retreated circa 4% as the Indian rupee suffers from the EM currency sell-off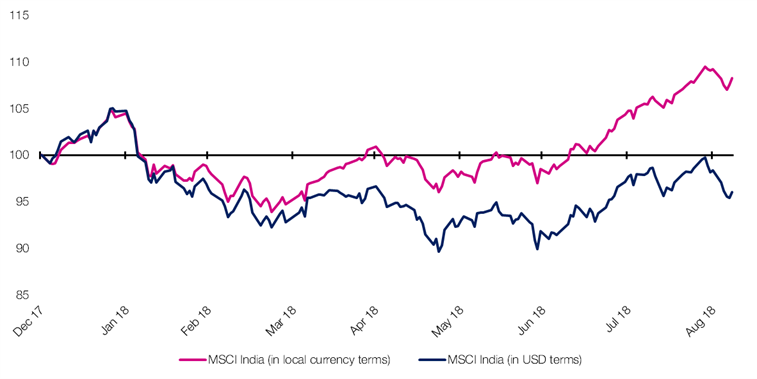 Source: Bloomberg
In the past, economies with the largest fiscal deficits have suffered most severely from tightening conditions in the US. This is because they are largely unable to fund government expenditure through borrowing in domestic currency and are forced to issue bonds in "hard currency" (i.e. US dollars). Thus, when US policy inevitably tightens leading to an appreciating US dollar, the rising cost of servicing US dollar denominated debt reduces these countries ability to raise money which creates a funding gap and increases the risk of default. By considerably shrinking its current account deficit (a surplus is preferable when gauging a country's economic health), India is a prime example of how a handful of fiscally prudent EMs have acted to strengthen their respective economies and improve their ability to issue and service debt in their own currencies, and most importantly independent of the US monetary cycle.
With a relatively low ratio of debt-to-GDP and a dearth of debt denominated in US dollars, the Indian government remains relatively insulated from the effect of a strengthening dollar which would raise borrowing costs in local terms. While Indian corporates have indeed relished the opportunity to issue cheap dollar denominated debt thanks to loose US monetary policy in recent years, many of those companies that have tapped the market have already established dollar revenues streams and are therefore somewhat protected. India is therefore differentiated from those such as Turkey or Argentina who have seen not only significant currency devaluations, but high levels of inflation and deteriorating current account balances.
Chart 2: Though it remains in deficit, India has seen a marked improvement in its current account balance from -5% in 2012, to -1.9% in 2018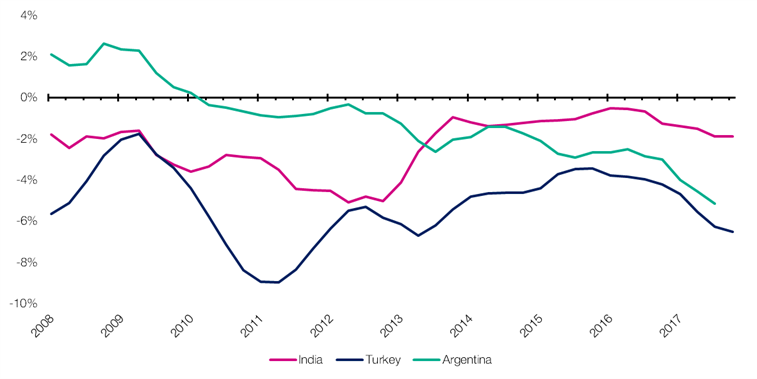 Source: Bloomberg, IMF
Another important factor to consider is India's relatively closed economy compared to other EMs. With economic growth domestically sourced, its equity market is subsequently dominated by consumer stocks which puts it at odds with EM peers whose markets are heavily dominated by exporters, oil & gas, and commodity stocks. Having a more defensive market and little involvement in the global supply chain, it therefore gives India relatively little exposure to potential macroeconomic shocks likely to hurt more open economies. Such events could include a further slowdown in the Chinese economy, or increased trade barriers with the United States. Though the market currently discounts India as just another EM risk, its relative strong fiscal position should underpin it from experiencing more aggressive sell-offs.
THE WEEK AHEAD
Monday: China Inflation Rate, Turkey Q2 GDP, UK Balance of Trade
Tuesday: Australia NAB Business Confidence, UK Unemployment Rate, Germany ZEW Economic Sentiment Index
Wednesday: Australia Westpac Consumer Confidence Index
Thursday: Australia Unemployment Rate, Bank of England Interest Rate Decision, European Central Bank Interest Rate Decision, US Inflation Rate
Friday: US Retail Sales, US Michigan Consumer Sentiment
STAT OF THE WEEK: $2.624 billion and $2.611 billion – the 2017 GDP of the UK and India respectively, putting India as the world's 6th largest economy (IMF).
Data correct as at 07/09/2018.