If anyone thinks the Tory leadership hustings are getting dry or boring, think again! Twitter user @iamsammypanther has introduced a bit of humour by comparing leadership candidates to the Bond villains to whom they look most similar. I recommend a scroll through (link here [1]).
The US market hit an All Time High [2] last week, as the tsunami of dovish central bank policy intentions buoyed prices and created a sea of green prices. Asset class returns in sterling and local currency are below; whether you owned risk assets or sought safe havens like gold, it almost didn't matter what you owned as you would have made money hence "just buy it!"
Table 1: GBP total returns

Source: Bloomberg
Table 2: Local CCY total returns

Source: Bloomberg
The advent of widespread easy monetary policy has had some very strange and indeed very confusing consequences on global markets. Last week, two of the most important individuals in financial markets – the European Central Bank President Mario Draghi, and the US Federal Reserve Chairman Jay Powell – opened the door to further accommodative monetary policy which provoked a head scratching response from the market. Traditional safe havens (e.g. gold and government bonds) rallied alongside those considered risk assets (e.g. equities and oil) thereby further inflating the ever growing asset bubble created by quantitative easing. As bond yields continued to fall globally last week, the market value of *negative yielding* debt reached fresh record highs.
Chart 1: Value of debt with negative yields hit $13 trillion as Austrian and French 10-year government bonds tip into negative territory for the first time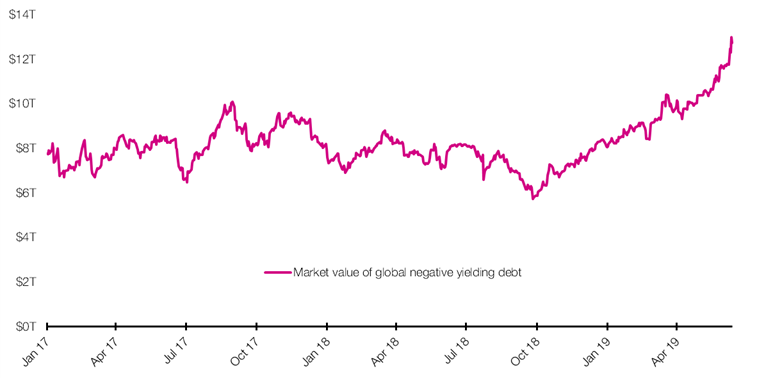 Source: Bloomberg
So what has caused the world's two most influential central bankers to make such dovish pivots? With tight labour markets – the US has multi decade high levels of employment while the Eurozone's unemployment rate is the lowest since the GFC – both central banks have in recent years have forecasted a return of inflation which has not materialised.   This was apparent in a speech by Mario Draghi on Tuesday in which the ECB's President stated that "[in] the absence of improvement, such that the sustained return of inflation to our aim is threatened, additional stimulus [would] be required". Similarly, the Fed's Jay Powell made clear on Wednesday that weak inflation was a key factor behind the central bank's policy shift, along with uncertainty resulting from the US president's trade battles. As such, both central bankers made clear that policy easing in the form of either further asset purchases or interest rate cuts are now firmly on the table.
Chart 2: Long-term (10 year) inflation expectations implied by the market have fallen to multi-year lows in Europe, and their lowest point since 2016 in the US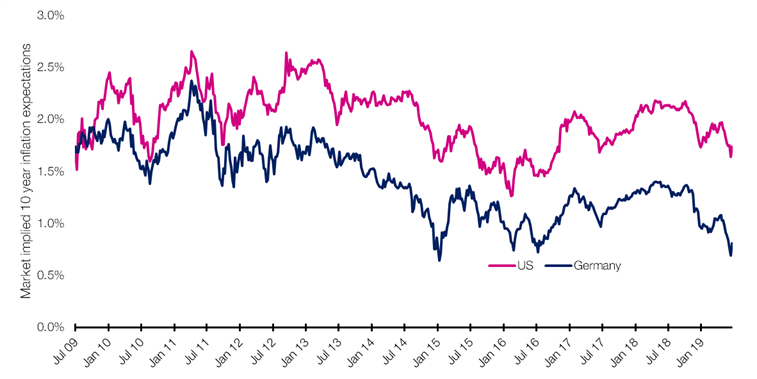 Source: Bloomberg
As the world's largest economy, particular focus falls on the US where some economists have interpreted the low inflation as a signal of weak underlying demand in the economy. These economists believe recent monetary tightening by the Fed risks restricting economic activity which could consequently tip the US economy into recession. However, other market participants point to the US president's trade war as the cause of weakening economic data and explain the current inflation environment through a number of structural economic changes – such as disruptive business models (e.g. Amazon and Airbnb), technology and globalisation, and changes to the workforce – all of which can be considered deflationary. While the debate around why inflation has currently failed to materialise will rage on, rhetoric from central bankers will be the key focus for market participants as they try to second guess the path of short term interest rates.
THE WEEK AHEAD (G7 + China)
Monday: Germany Ifo Business Climate
Tuesday: Bank of Japan Monetary Policy Meeting Minutes, US S&P/Case-Shiller Home Price Index, US New Home Sales, US API Crude Oil Stock Change
Wednesday: Germany Gfk Consumer Confidence, UK Finance Mortgage Approvals, US Durable Goods Orders, US EIA Crude Oil Stocks Change, European Central Bank Non-Monetary Policy Meeting
Thursday: Japan Retail Sales, Eurozone Business Confidence, Eurozone Industrial Sentiment, Germany Inflation Rate, US Q1 GDP (final estimate), European Central Bank General Council Meeting
Friday: UK Gfk Consumer Confidence, Japan Unemployment Rate, Japan Industrial Production, UK Business Investment, UK Current Account, UK Q1 GDP (final estimate), Eurozone Inflation Rate, US PCE Price Index, G20 Summit
Saturday: G20 Summit
Sunday: China NBS Manufacturing PMI, China Non Manufacturing PMI
STAT OF THE WEEK: 35% – percentage of the British public deliberately avoiding the news, of which 71% said Brexit was the main reason (Reuters).
Data correct as at: 21/06/19