Weekly market recap: midterm madness
The US mid-term elections concluded last week without any major upset and as such markets benefited.









by Tertius Bonnin, 8th November 2018

To mark Remembrance Sunday, I travelled to Edinburgh to see my brother parade around a quad as part of his University Officers' Training Corps. The two minutes silence was followed by several people loudly playing the bagpipes. I'm increasingly agreeing with that age old expression, a gentleman is someone who knows how to play the bagpipes but doesn't.
Brexit-related headlines also droned loudly last week, with the British press spelling doom and gloom for the Government's expected withdrawal agreement. Intra-week, the pound was as much as 1.3% stronger versus the dollar, but this dipped on the news that a pro-remain Government minister has resigned over Number 10's current stance. Asset class returns in sterling and local currency are below; investors reacted cheerily to the outcome of the US mid-term elections, with US equities outperforming international peers.
Table 1: GBP total returns

Source: Bloomberg
Table 2: Local CCY total returns

Source: Bloomberg
The US mid-term elections concluded last week without any major upset and as such markets benefited from a consensus view at last coming true – the Republicans kept the Senate and the Democrats took the House of Representatives. This makes a change from investors being wrong-footed by the electorate, such as during the 2016 US presidential election in which President Donald Trump managed to sweep into the White House despite his opposition, Hilary Clinton, being the favourite.
Having now lost the House of Representatives (one of the two US Houses of Congress), it is believed that the Republican Party will struggle pursuing further progress in its legislative agenda advanced by President Trump. Consequently, this is likely to create political gridlock in Washington as it is likely the incumbent Republicans and the newly-emboldened Democrats will clash over many key issues with no compromise being made on either side. However, there are a number of points where President Trump and the Democratic Party see eye to eye. These range from infrastructure (which would be a big fiscal boost for the US economy at a time when it is already booming) to drug pricing (a key social issue that the Democratic leadership is likely to want to address). Either way, failure to find Congressional agreement on aspects such as the Federal budget will leave the US and President Trump in the lurch.
Chart 1: While Republicans appear to have dominated a wider geography, Democrats held a strong lead in densely populated urban areas where Congressional districts are more tightly packed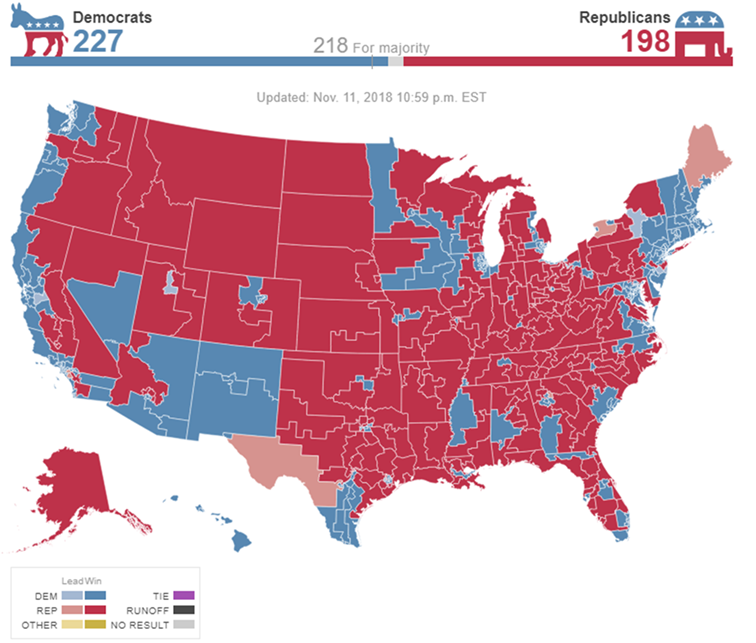 Source: Associated Press (AP), BBC
What does this mean from an investor's stand-point? Democratic Representatives have made it clear that they see this as an opportunity to ensure adequate checks and balances are kept on the US president. In practice, this could take the form of increased scrutiny of US policy through House Committees (controlled by the Democrats) on subjects like trade and foreign policy. As such, we are likely to see heightened political noise and a US president increasingly under pressure domestically should any trade sanctions – such as the US-China trade war – cut into people's living standards. The chart below shows that consumer inflation – a measure of whether consumers are yet feeling the effects of a trade war – remains relatively stable.
Chart 2: Though above the 2015 lows where a weak oil price helped place downward pressure on inflation, US CPI remains close to the stable level of 2%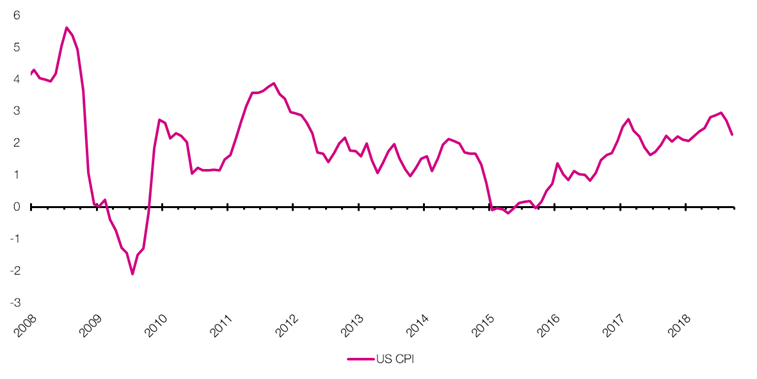 Source: Bloomberg
Easing rhetoric from the US around trade would be a welcome development for emerging market equities which have once again been left as the relative underperformers (see asset return tables above), and whose respective economies are inextricably linked to the global supply chains of US corporates. That said, trade is just one factor putting pressure on the developing world; though the US Federal Reserve kept interest rates on hold last week, it signalled that a rate rise is likely to happen in December. Indeed, it is this continued monetary policy tightening that is taking its toll on EM assets. If Democrats do decide to work with the president on key aims like boosting infrastructure spending, it is possible that the Fed will continue to tighten policy which will have further consequences for emerging markets. All eyes (and ears) will now be on the language coming from the Democratic Party leadership.
THE WEEK AHEAD
Monday: N/A
Tuesday: Australia NAB Business Confidence, UK Unemployment Rate, Germany ZEW Economic Sentiment, Russia Q3 GDP, Australia Consumer Confidence, Japan Q3 GDP
Wednesday: Germany Q3 GDP, UK Inflation Rate, Eurozone Q3 GDP, US Inflation Rate
Thursday: Australia Unemployment Rate, US Retail Sales
Friday: Japan Balance of Trade
Data correct as at:08/11/2019