For those who don't like spoiled surprises, turn away now. Students at the Technical University of Munich have developed an artificial intelligence application to predict survival chances for Game of Thrones characters in order to predict who will emerge to claim the throne. I'll leave the prediction here [1]…
Talking of thrones, the Japanese markets remained closed throughout last week as an extended Golden Week holiday saw the imperial transition in which the new emperor ascended to the Chrysanthemum Throne. Asset class returns in sterling and local currency are below; one of the more significant events last week was US employment data which revealed a hiring surge, pushing the unemployment rate to a 49-year low.
Table 1: GBP total returns

[2]
Source: Bloomberg
Table 2: Local CCY total returns

[3]
Source: Bloomberg
Friday marked a significant point for the US as surprisingly strong hiring numbers pushed the world's largest economy to its lowest unemployment rate in nearly 50 years. Though a 3.6% jobless rate – a level not seen since the very early 1970s – would normally be seen as a significant inflationary pressure and a signal of a "hot" economy, the accompanying undershoot in earnings growth appears to have sent a different picture. As such, the combination of "hot" job and "cool" wage data suggests employment growth may have further to run before the US Federal Reserve is forced to raise interest rates in attempt to battle inflationary pressures.
Chart 1: Having almost reached a half-century low, the US unemployment rate leads its Western peers with the UK only just trailing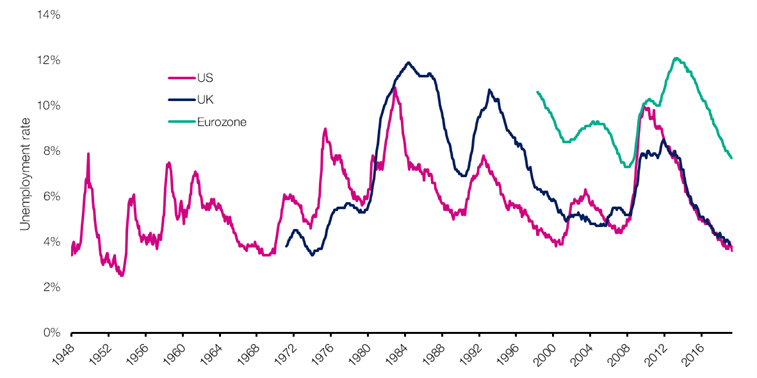 [4]
Source: Bloomberg
So what's the issue? Economic theory teaches that a tight labour market (i.e. low unemployment) gives workers the upper hand as they can command higher wages for their skills. In turn, these higher wages generally lead to a higher inflation rate. The relationship between unemployment and inflation is known as the "Phillips curve", and in recent years has become one of the most hotly debated topics in macroeconomics as low unemployment has failed to generate any significant or sustained levels of inflation.
With muted inflation expectations, Fed officials are now suggesting that the US central bank could move to lower interest rates if inflation remains weaker than its 2% target. This outlook is at odds with recent hawkish monetary policy decisions that led the Fed to hike four times in 2018 before investor angst around overtightening forced a pause in policy. Since December, the Fed's stance has been one of "data dependency" in which monetary policy decisions are led by economic data releases. Thus far, data has been mixed with signs of strength in the economy and labour market, and weakness in activity surveys from the manufacturing and services sectors.
Chart 2: Of the three options (raise, no change or cut), the market has assigned the highest probability to an interest rate cut by the end of 2019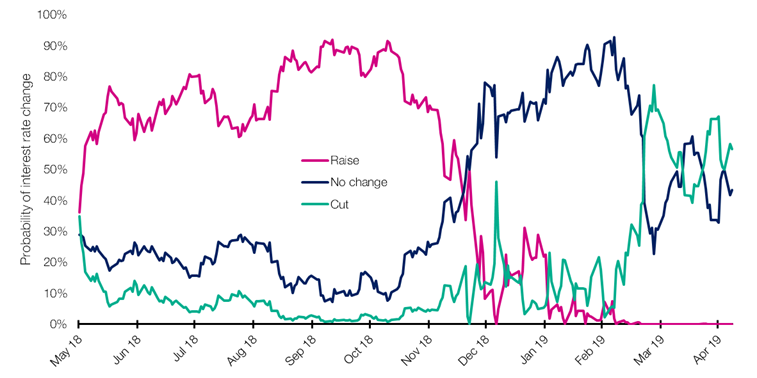 [5]
Source: Bloomberg
The Fed's chairman has faced increased public criticism from the US President to keep interest rates low as he claims that hikes are muting economic growth. Mr Trump is likely to use a booming US economy and a strong jobs market as a key campaign message in the next US election due to take place in 2020. Though the Fed's chairman has broadly avoided a direct response to the President, he has repeatedly stressed the importance of the Fed's independence from political pressure in decision making.
THE WEEK AHEAD (G7 + China)
Monday: China Caixin Composite PMI, China Caixin Services PMI, Eurozone Markit Composite PMI, Eurozone Markit Services PMI, Eurozone Retail Sales
Tuesday: Japan Nikkei Manufacturing PMI, Germany Factory Orders, US Redbook, Canada Ivey PMI
Wednesday: Japan Nikkei Services PMI, China Balance of Trade, Germany Industrial Production, European Central Bank Non-Monetary Policy Meeting
Thursday: China Inflation Rate, Japan Consumer Confidence, US Balance of Trade
Friday: Germany Balance of Trade, France Industrial Production, UK Balance of Trade, UK GDP, UK Manufacturing Production, UK Industrial Production, UK Business Investment, US Inflation Rate
STAT OF THE WEEK: 21.8% and 28.3% – the percentage of UK earners in the top 10% that are women in 2000 and 2015 respectively (Our World in Data).
Data correct as at: 03/05/2019