Weekly market recap: nebulous noise
Sterling hit its highest level since November as chatter and rumours around Westminster pointed to a delay of the UK's departure from the EU.









by Tertius Bonnin, 25th January 2019

For anyone worried about the prospect of robots stealing our jobs and making us all unemployable, you can rest easy tonight knowing we're not yet there! The world's first "robot hotel" in Japan, Henn na Hotel, has been forced to sack many of its mechanical staff because they were "irritating and incompetent". Having reflected on this, I'm hoping my manager thinks I contribute more than just these two attributes.
The word "irritating" might be used to describe the recent moves in sterling which muted returns in foreign assets last week. Asset class returns in sterling and local currency are below; sterling hit its highest level since November as chatter and rumours around Westminster pointed to a delay of the UK's departure from the EU, creating a flurry of excitement in the currency markets.
Table 1: GBP total returns

Source: Bloomberg
Table 2: Local CCY total returns

Source: Bloomberg
We have mentioned before that the pound is incredibly sensitive to news flow regarding the UK's withdrawal from the EU. However, evidence from last week suggests the market is far from just reflecting true fundamentals; since the referendum, sterling has increasingly been driven by political noise (i.e. no real change to the situation) and as such is prone to retracement should sentiment take a turn. If, like me, you follow the news closely, you'll know how very easy it can be to become swept up in headlines specifically designed to provoke reactions – emotional or otherwise. In a world with instant 24 hour news services, it is increasingly important as investors to look through the noise and to consider the true implications on long term drivers of growth.
Chart 1: Despite nothing fundamental changing at each of the political events highlighted below, political noise has meant sterling has had to endured heightened volatility
Source: Bloomberg
These currency market fluctuations can have wide ranging consequences for other related markets, with the clearest example being UK equities in local currency terms (see asset return tables above). With many companies that derive a significant proportion of revenues overseas listed on the London Stock Exchange, investors need to keep up with the implications of translation effects to company income statements. Examples of equity sectors significantly affected by moves in currency markets include energy and mining for which the underlying commodity is priced in US dollars.
Chart 2: Basic Materials and Energy stocks have increased to make up over 25% of the UK market since the referendum, in part due to weaker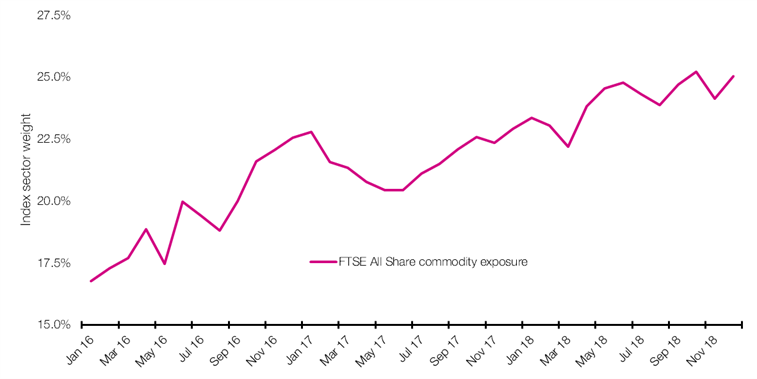 GBP
Source: Morningstar
With another UK Parliamentary vote on Theresa May's withdrawal motion scheduled for Tuesday 29th, it is once again important for us to hold our nerve in the face of ever increasing political noise. Importantly this isn't just a UK phenomenon! Pundits in the US are beginning to express their excitement as numerous candidates are coming out to announce their intention to run for presidential election in 2020!
THE WEEK AHEAD
Monday: ECB President Draghi speech, BOE Governor Mark Carney speech
Tuesday: Australia NAB Business Confidence, UK Parliamentary vote on Government motion
Wednesday: Japan Consumer Confidence, France Q4 GDP, Germany Gfk Consumer Confidence, Eurozone Business Confidence, Germany Inflation Rate, US Federal Reserve Interest Rate Decision, US-China trade talks
Thursday: UK Gfk Consumer Confidence, China NBS Manufacturing PMI, Eurozone Q4 GDP, US-China trade talks
Friday: China Caixin Manufacturing PMI, Germany Markit Manufacturing PMI, Eurozone Manufacturing PMI, US Non Farm Payrolls, US ISM Manufacturing PMI
STAT OF THE WEEK: 24lbs (10.9kg) – the estimated average weight loss in 2017 for Venezuelans aged between 20 and 65 (Encovi).
Data correct as at: 25/01/2019