Welcome to 2019. If you're feeling sick of politics, I'd suggest this is not the year for you! We will see national elections for a third of the world's population including India (over 1.25 billion people), Nigeria (Africa's most populous country), and European Parliamentary elections for the 27 remaining EU states following the United Kingdom's exit, due to take place in just a few months' time.
All in all, 2018 was a miserable year for most assets with the exception for government bonds as investors de-risked their portfolios in the second half of the year. Asset class returns in sterling and local currency are below; sterling ended the year having depreciated around 5% against the dollar which cushioned the blow of the falling US market for UK-based investors.
Table 1: GBP total returns

[1]
Source: Bloomberg
Table 2: Local CCY total returns

[2]
Source: Bloomberg
Last month proved to be one of the worst Decembers on record for the S&P 500 – we have go to back to 1931 before we find a worse end to the year! While December is usually characterised as a quiet time, with many market participants and politicians in the Western world taking time off, the most recent festive period saw: a US federal government shutdown over a congressional dispute over wall funding, volatile energy markets, soft data emerging from the Chinese economy, and daily updates regarding the US-China trade war.
Though the US federal government shutdown is likely to have played a part leading into Christmas period, research shows that over the past 35 years government shutdowns have had a negligible effect on the direction of the stock market. That said, this shutdown is due to become the longest in US history this coming weekend. With this in mind, it is far more likely that the other factors mentioned above (i.e. energy market volatility, soft data from China and the trade war) were the more significant contributors' to market volatility.
Chart 1: December 2018's market move was the second largest December decline in the index's history, and 11% below the average December return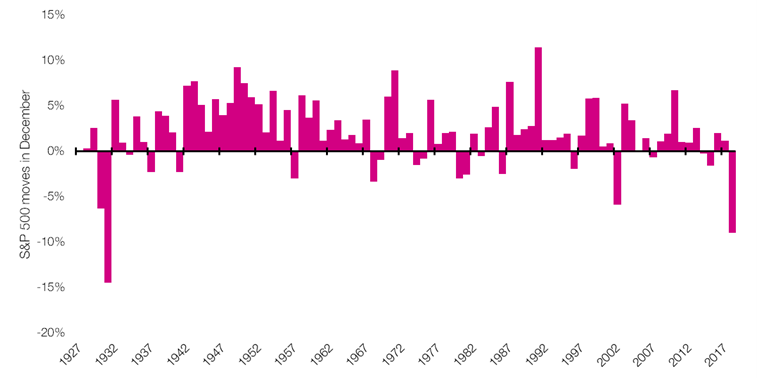 [3]
Source: Bloomberg
In the last update [4] before Christmas, I touched on weakening data emerging from China; subsequently Apple, the world's largest technology company by revenue, has issued a trading update in which it revised down its revenue guidance citing weak iPhone sales in China. Shares dropped as much as -8.5% on this news, bringing the total amount lost from Apple's market cap to $446 billion – equivalent to a little over the value of Facebook's current market cap – from its peak in October.
Chart 2: Apple's fall from grace as the world's most valuable company saw it overtaken by both Microsoft and Amazon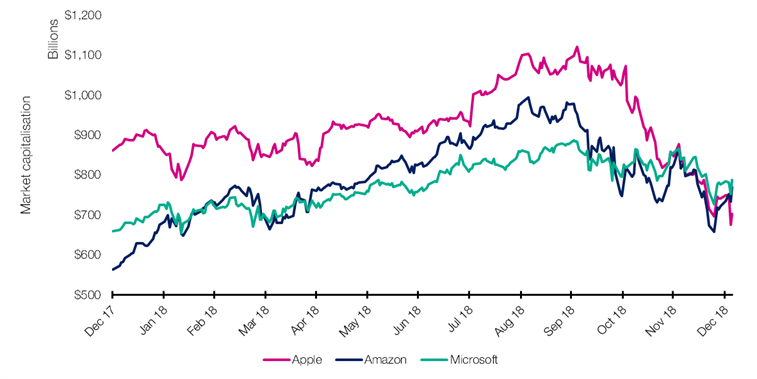 [5]
Source: Bloomberg
Unfortunately for investors, the themes from 2018 – trade wars, confrontation between superpowers, synchronised economic slowdown, and political crises across Europe – have clearly not been resolved over the Christmas break as I perhaps overoptimistically had hoped. We will continue to operate within a challenging macroeconomic environment. I'd recommend reading a piece one of our Portfolio Manager's, Kasim Zafar wrote about the outlook for 2019 [6] in which he highlighted three concerns for us as we move into 2019:
Deteriorating financial conditions caused by the US Federal Reserve and its path to policy normalisation
How consumer and corporate sentiment will be affected by the US-Chinese trade war
The damage to performance if we become too defensive too early in a late cycle economic environment
THE WEEK AHEAD
Monday: Canada Ivey PMI, ISM Non-Manufacturing PMI, US-China Trade Talks
Tuesday: Australia Balance of Trade, Japan Consumer Confidence, Eurozone Business Confidence, Canada Balance of Trade, US-China Trade Talks
Wednesday: Germany Balance of Trade, US Federal Reserve Minutes
Thursday: Australia NAB Business Confidence, China Inflation Rate, European Central Bank Monetary Policy Meeting Accounts
Friday: UK Balance of Trade, US Inflation Rate
STAT OF THE WEEK: $10,571,382,521,856 – the value shed by developed equity markets from peak to trough in 2018 (Bloomberg).
Data correct as at: 04/01/2019