If you've been cooped up at home for the last few months and are desperate for the taste of escape, it looks like you're almost in luck! An airline in Finland is offering those who miss the taste of airline food a chance to enjoy it at home by making their food available in supermarkets across Finland.
Traders may have found themselves in need of a holiday as frantic repositioning ahead of the US election saw US equities pare some gains. Asset class returns are below; equities retreated last week as hopes of a US stimulus package arriving before the election faded.
Figure 1: Asset class total returns in base currency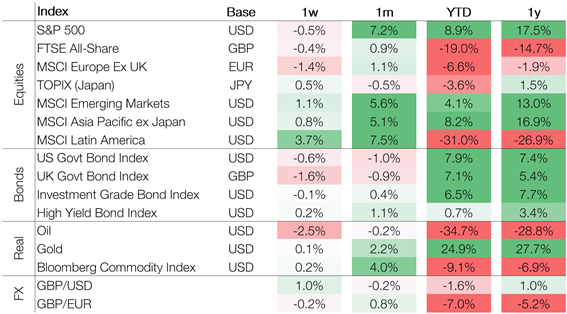 Source: Bloomberg, EQ Investors
When asked about key themes impacting markets, you would be forgiven for considering what is happening at the moment. Almost 50 million people worldwide have now been infected by Covid-19 with deaths totalling over one million and a second wave now hitting Western Europe [1]. Government responses to this crisis have been staggering with trillions (a word that has now lost its significance to me) being spent both to battle the spread of the virus and to catch collapsing economies. Meanwhile, the US government's pandemic response represents a major issue for an election that is now just a week away [2].
This election is set to change the course of the current geopolitical landscape, with the foreign policy of the world's largest economy set to either be cemented or recrafted depending on its outcome. The effect of this plebiscite will no doubt have important ramifications closer to home. Contrary to the incumbent, the Democratic presidential candidate has made clear his proud Irish roots could form a significant hurdle for a UK government intent on delivering upon its election pledges: to deliver Brexit and to champion global trade through a series of newly negotiated free trade agreements.
However, the pandemic, the US election and Brexit are just distractions from some of the bigger structural issues that gain little traction in the media. Even prior to 2016 (the year in which the UK electorate voted to leave the European Union and the US electorate elected President Trump), Western countries have faced structural issues that have only intensified with time. Stagnant growth, an inflating government and corporate debt balloon, a lack of inflation and financial markets severely distorted by 'unprecedented' or 'unconventional' monetary policy – which itself has become the convention due to the precedent set by policymakers in recent years. The following four charts alone only begin to illustrate this ill-health.
| | |
| --- | --- |
| Figure 2: Government debt-to-GDP levels have exploded with Covid-19 stimulus packages… | Figure 3: … and with trend growth so low in the developed world versus emerging markets, debt ratios are likely to stay high… |
| | |
| Source: European Commission, White House, EQ Investors | Source: Bloomberg, EQ Investors |
| | |
| --- | --- |
| Figure 4: … and central banks are likely to keep interest rates low in order to keep borrowing costs low… | Figure 5: … so we are likely to continue facing a dearth of positive yielding assets |
| | |
| Source: Bloomberg, EQ Investors | Source: Bloomberg, Barclays, EQ Investors |
Yet despite this gloom, we are seeing some bright areas of the market that are creating investment tailwinds for investors, no matter the result of the US election or Brexit. One such area is the transition to a net zero carbon emission economy as per the Paris Climate Agreement. With many Western economies pledging to meet net-zero by 2050 and China, the world's largest polluter, committing to a 2060 target, a post-Covid world is likely to see a renaissance period for clean technology.
Figure 6: While the US has exited the Paris Climate Accord, the Biden Campaign is wanting to commit the US to a 2050 target for net zero carbon emissions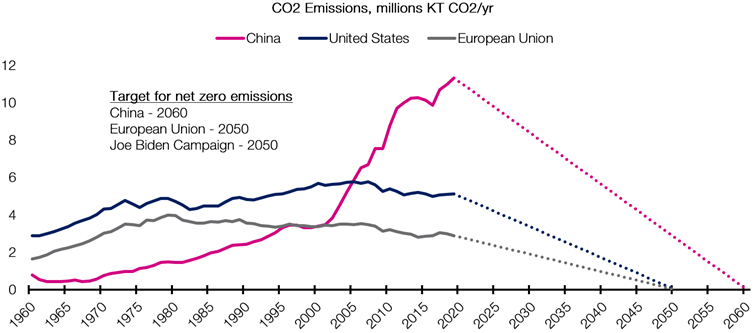 Source: World Bank, European Commission, EQ Investors
STAT OF THE WEEK: 6.8 million km2 – the area of ocean within the UK's Exclusive Economic Zone, making it the fifth largest maritime estate on the planet (CapX).
DATA CORRECT AS AT: 23/10/2020
Contact us
Have a question about investing with EQ [3]? Please email enquiries@eqinvestors.co.uk [4] or call 020 7488 7171, we're always happy to hear from you.