A US politician received a vicious lesson in irony last week as he was interviewed by a reporter about a messy problem at a Chicago Transit Authority stop dubbed "pigeon poop station". During the interview, the Democratic state Representative rubbed the top of his head and said "I think they just got me." The pigeon, which was only too happy to demonstrate why the stop had attracted the nickname, has been said by some commentators to be expressing its opinion on the lawmaker's ideas for a clean-up operation.
The oil price soared to recent highs last week as an aerial attack – reportedly from unmanned vehicles – hit a Saudi Arabian oil processing facility. Asset class returns in sterling and local currency are below; while the move in oil was the major story last week, another surprise came from UK inflation figures which were significantly below expectations which sent UK government bond yields sharply lower.
Table 1: GBP total returns

Source: Bloomberg
Table 2: Local CCY total returns

Source: Bloomberg
The attack on Saudi Arabian oil facilities resulted in one of the largest oil price surges in history as 5.7 million barrels a day of output was taken offline. By comparison, total world oil production in 2019 has averaged 80.6 million barrels a day meaning the attack risked bottlenecking close to 8% of the world's crude oil production. The attack highlighted not only the severe vulnerability of the Middle East's largest oil exporter, but also that of global energy markets which were rattled in the immediate aftermath. Having fallen close to $56/barrel in early August on fears that the US-China trade war would dent global, the price for Brent crude oil spiked over 15% before settling closer to $65/barrel.
Chart 1: The price of Brent crude had been trending down recently as fears of the US-China trade weighed on the outlook of global economic growth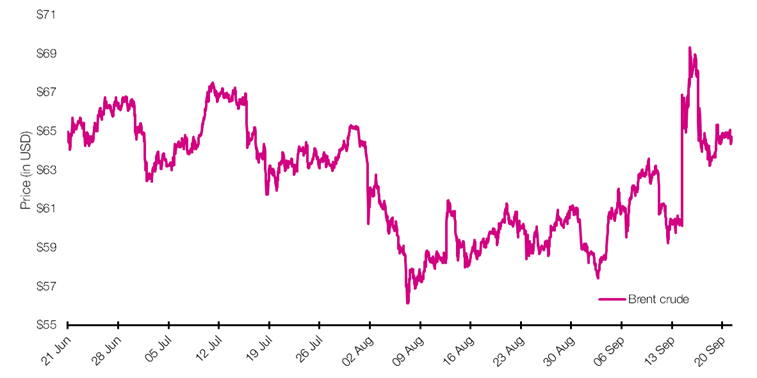 Source: Bloomberg
Though Iranian backed Houthi rebels in Yemen initially claimed responsibility for the attack, US and Saudi forces instead pointed the finger at Iran. Despite an initial angry stance from the US President in which he said the US was "locked and loaded", Washington since toned down the rhetoric easing fears in the region of a retaliatory strike. This represents only the very latest in a string of events in which Iran is purportedly involved in the Middle East, with others including Israeli air strikes on Iranian military sites [1] in Syria, and oil tankers being seized [2] by Iranian forces in the Gulf of Hormuz. This heightened uncertainty and the risk of major disruption to global energy has helped add upward pressure to gold, often seen as a safe haven asset, which spiked in recent months.
Chart 2: The price of gold has surged in recent months – briefly overtaking US equities – as uncertainty and fears have shrouded the global economy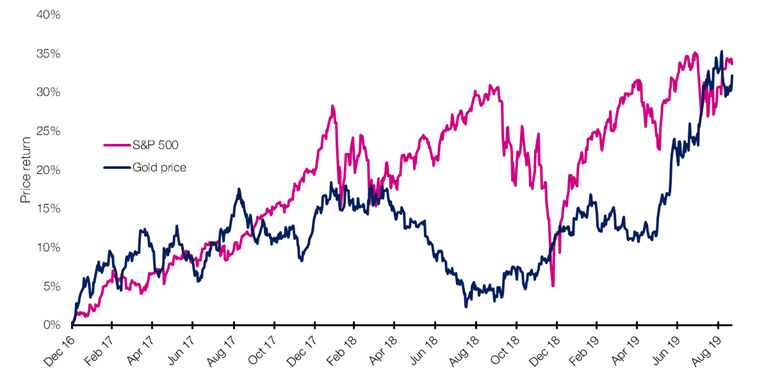 Source: Bloomberg
With the UN General Assembly convening this week, the Iran crisis will be a key point of debate amongst world leaders. The US president has been looking to increase sanctions on Iran in light of these events, so the summit will provide an opportunity for the US to find support from key European allies.
THE WEEK AHEAD (G7 + China)
Monday: France Markit Manufacturing PMI, Germany Markit Manufacturing PMI, Eurozone Markit Manufacturing PMI, Eurozone Markit Services PMI, Eurozone Markit Composite PMI, Germany Bundesbank Monthly Report, US Markit Manufacturing PMI, US Markit Services PMI
Tuesday: Japan Jibun Bank Manufacturing PMI, Japan Jibun Bank Services PMI, Germany Ifo Business Climate, UN General Assembly
Wednesday: Bank of Japan Monetary Policy Meeting Minutes, UK Mortgage Approvals, UN General Assembly, European Central Bank Non-Monetary Policy Meeting
Thursday: Germany Gfk Consumer Confidence, Eurozone M3 Money Supply, US Q2 GDP, UN General Assembly, European Central Bank General Council Meeting
Friday: UK Gfk Consumer Confidence, China Industrial Profits, France Inflation Rate, Eurozone Business Confidence, US Durable Goods Orders, US Personal Income
STAT OF THE WEEK: $22,000 and $400,000 – the Chinese and US presidential salaries that Xi Jinping and Donald Trump are entitled to respectively.
Data correct as at: 20/09/2019