Weekly market recap – On a Huawei to hell
Chinese officials call "abuse" after US adds Huawei to Entity List.









by Tertius Bonnin, 24th May 2019

Britain's politics has been saved! The Tower of London is now the location of a new generations of ravens which are set to safeguard the nation against collapse. According to 17th century legend, if the resident ravens ever leave the Tower, both the castle and the kingdom will fall.
Unfortunately, the ravens were so busy saving the kingdom that they instead let equity markets fall. Asset class returns in sterling and local currency are below; all major regions (except for Latin America) fell last week as the US-Chinese trade war continued to morph into a matter of US national security.
Table 1: GBP total returns

Source: Bloomberg
Table 2: Local CCY total returns

Source: Bloomberg
As UK domestic politics has once again come to the fore, you'll be excused for taking your eye off the re-emergent rift between Washington and Beijing following a collapse in trade negotiations. In its struggle with China, the US has taken the severe step of adding China's Huawei and nearly 70 of its affiliates to an "Entity List", which means US corporates could require a license in order to export products deemed a national security risk. Huawei is one of three significant global telecommunications equipment manufacturers (along with Nokia and Ericsson), and its involvement is vital to a low-cost roll out of the 5G mobile network in Western countries. To put the scale of its global operations into perspective, Huawei sold more mobile phones in 2018 than Apple!
Chart 1: Huawei's global significance is again highlighted by the magnitude of its research & development spend, placing it ahead of US technology behemoths such as Apple or Microsoft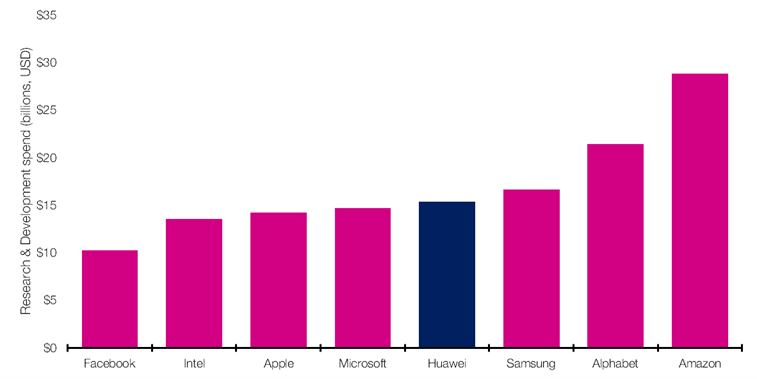 Source: Bloomberg
Huawei's reliance on US products for its network equipment stretch from advanced semiconductors to mobile software, making it extremely sensitive to US export controls. As the US Commerce Department defines "US products" as anything with more than 25% of its components originating from the US its reach is cross-border, thus there is an enormous amount of pressure on European and Japanese manufacturers to comply with US controls. With China's semiconductor industry not as advanced and unable to compete with international peers, these US controls have the potential to put a company key to China's modern industrial strategy out of business.
Markets have been given limited breathing space to hope for a resolution as the US Commerce Department has allowed a 90-day relief period for certain US broadband companies and wireless customers using Huawei equipment in order to soften the blow. However, this hasn't stopped downward pressure on the share prices for a number of US semiconductor manufacturers as shown in the Philadelphia Semiconductor Index below.
Chart 2: The Philadelphia Semiconductor Index has taken a dive in recent weeks as the US-China trade war has become a matter of US national security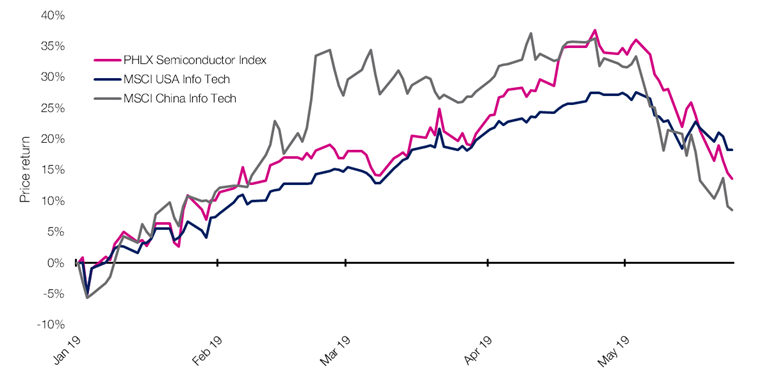 Source: Bloomberg
Chinese officials have criticised what they call abuse by the US of the national security review process and have vowed to take necessary countermeasures to protect what they see as the legitimate rights and interests of Chinese companies. However, the Chinese policy toolbox remains relatively small and ineffective given its exposure to a significant trade surplus with the US, a need to appear business friendly, and its plans to achieve credibility in the long-run for the renminbi as a global reserve currency. Pundits will be keenly watching both President Trump and President Xi at the 2019 G20 Osaka summit in a month's time.
THE WEEK AHEAD (G7 + China)
Monday: China Industrial Profits
Tuesday: Eurozone Loan Growth, Eurozone M3 Money Supply, Eurozone Business Confidence
Wednesday: Germany Unemployment Rate, France Q1 GDP, France Inflation Rate, Bank of Canada Interest Rate Decision
Thursday: Canada Average Weekly Earnings, US Q1 GDP
Friday: UK Gfk Consumer Confidence, Japan Unemployment Rate, Japan Retail Sales, China NBS Manufacturing PMI, China Non Manufacturing PMI, Germany Retail Sales, Italy Q1 GDP, Italy Inflation Rate, Germany Inflation Rate, Canada Q1 GDP, US Personal Consumption Expenditure Index
STAT OF THE WEEK: 2020 – the year Asia's economy will be bigger than the rest of the world combined (Financial Times).
Data correct as at: 24/5/19