It is claimed that today (A.K.A. Blue Monday) is the most depressing day of the year. This is based on a (pseudo)scientific formula which takes into account many factors including weather conditions, increased debt levels post-Christmas, the amount of time passed since the holiday period, low motivational levels, and the increasingly high probability that you've already broken any New Year's resolutions. I myself have found the perfect way to combat one of these: if you don't set any New Year's resolutions, you can't break them!
Fortunately equity markets still appear to be on a New Year high, having turned over a new leaf shortly before the end of 2018. Asset class returns in sterling and local currency are below; the prospect of easing trade tensions – a key risk in the current macroeconomic environment – has helped lift sentiment towards risk assets such as equities.
Table 1: GBP total returns

[1]
Source: Bloomberg
Table 2: Local CCY total returns

[2]
Source: Bloomberg
Stock prices leapt on Thursday last week following reports that US officials were considering scaling back tariffs on Chinese imports. Optimistic market commentators hope this is the beginning of the two sides paving a way for an end to the trade impasse that we have seen escalate rapidly over the last year. Friday then saw a further uplift to equities across the board on reports that China was preparing to make new trade concessions in which it would begin a buying spree of US goods so as to close the ever widening trade gap.
Chart 1: The US trade gap with China has increased considerably over the last 30 years, and shows no signs of slowing soon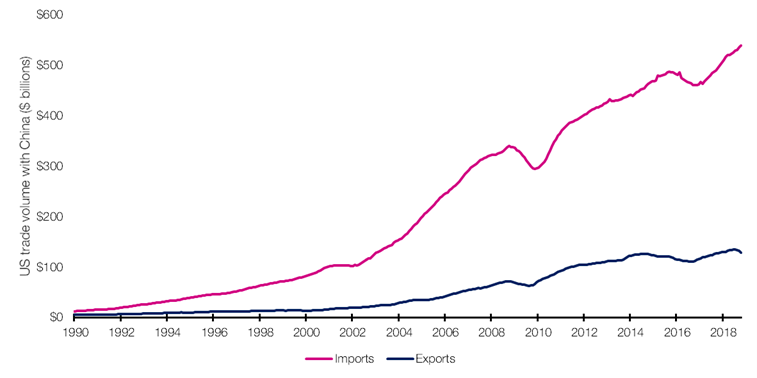 [3]
Source: US Census Bureau
Despite this positive news flow, internal politics within the current US administration may remain a key stumbling block for a trade resolution, as a deeper war between pragmatism and dogmatism continues to wage. This risk was highlighted by the Wall Street Journal in which it was reported that US Treasury Secretary Steve Mnuchin – a supporter of the resolution – did not see eye to eye with more hawkish characters with whom the US president has sought to surround himself. One such hardliner is US Trade Representative Robert Lighthizer, who reportedly views any compromise on US trade policy as a sign of weakness.
Meanwhile, the US Federal Government shutdown has officially become the longest in US history, as the House of Representatives controlled by the Democratic Party continues to deny the US president's demand for wall funding . With neither side looking as if it is going to budge, commentators are now pointing to the potential economic impact that the shutdown is having on the US economy; the White House's Council of Economic Advisers has estimated that each week reduces economic growth by 0.13 percentage points! Some economists also believe that an extended shutdown may have wider implications on consumer confidence, thus increasing the risk of a US recession.
Chart 2: S&P Global estimate that the government shutdown could shave approximately $1.2 billion off real GDP each week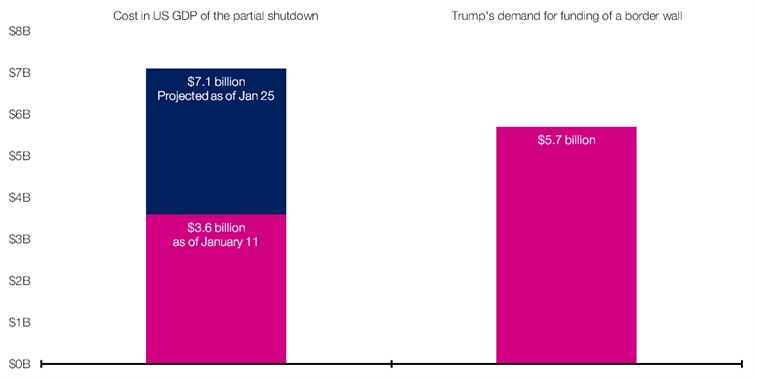 [4]
Source: S&P Global Rating
While the markets have broadly ignored the potential impact of a shutdown (the S&P 500 is up over 10% since it started), any dampening of economic growth will surely factor into future interest rate decisions by the US Federal Reserve which will have wide ranging consequences over bond yields. With no end in sight, this is sure to become a significant risk to the US economy.
THE WEEK AHEAD
Monday: China Q4 GDP
Tuesday: UK Unemployment Rate, UK Average Earnings, Germany Economic Sentiment, Japan Balance of Trade
Wednesday: Eurozone Consumer Confidence
Thursday: Germany Markit Manufacturing PMI, Eurozone Markit Manufacturing PMI, European Central Bank Interest Rate Decision, US Market Manufacturing PMI
Friday: Germany Ifo Business Climate
STAT OF THE WEEK: 230 – the margin by which UK MPs voted against the Prime Minister's Withdrawal Agreement.
Data correct as at: 18/01/2019