The makers of Corona Beer have seen interest in their brand rocket over recent weeks as people have dashed to check its coronavirus content, according to Google Trends [1].
Emerging markets were left with a pretty bad hangover last week as manufacturers' vulnerabilities to supply chain shocks intensified. Asset class returns in sterling and local currency are below; despite a few weeks of easing fears, the coronavirus has once again grappled markets sending gold sky high and equities into a downward spiral.
Table 1: GBP total returns

Source: Bloomberg
Table 2: Local CCY total returns

Source: Bloomberg
Last week's surge in coronavirus cases outside of mainland China has intensified investor concerns around the impact to the global economy from the virus. In South Korea, a surge in new cases has led to its fourth largest city, Daegu, becoming isolated by a number of regional airlines while Iran, which announced its first two cases on Wednesday, has now gone on to confirm a further 41 cases and eight deaths associated with the virus. Meanwhile, Japan has seen a spike in cases following the Diamond Princess cruise ship being quarantined in the Port of Yokohama where over 600 of the 3,700 passengers tested positive making it one of the highest concentrations of infected people outside mainland China.
Perhaps due to its proximity to home, markets were also rattled by Italy whose health authorities had recorded just three infections on Friday and by the end of the weekend had seen this number increase to over 150 cases with four deaths. While the Italian government has acted swiftly to try and contain the spread of the infection, the porous nature of the European Union's internal borders has stoked concerns that the virus could have already spread into bordering countries such as Austria or Slovakia.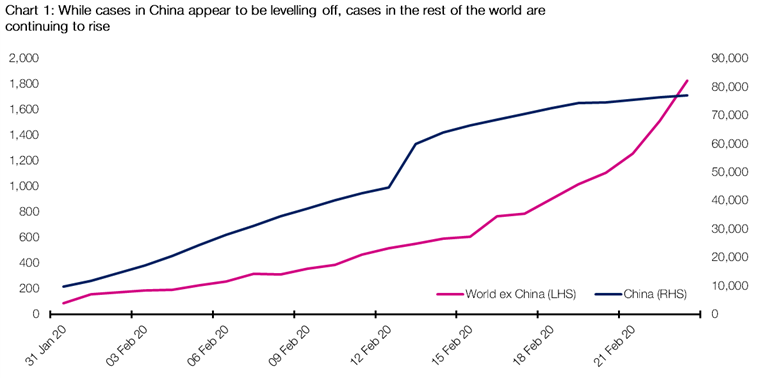 While estimating the economic impact of the virus is still difficult, we can look at a number of less traditional data sources to get a rough idea of the drop off in activity. In China, for example, where the intensity of cases has been most severe, containment efforts are reflected through numerous regional airlines having cut down the number of services along previously bustling routes. The two images are snapshots of flight data before (left) and after (right) the outbreak; the difference between the two is quite stark. With China now accounting for a fifth of the global economy, the slowdown will be difficult to mitigate given the integrated nature of global supply chains.
Chart 2: The intensity of regional flights over China at midday on 22 November 2019 and 14 February plummeted indicating a significant drop in activity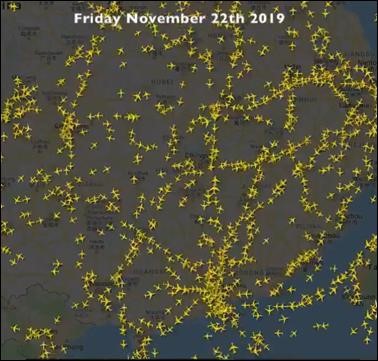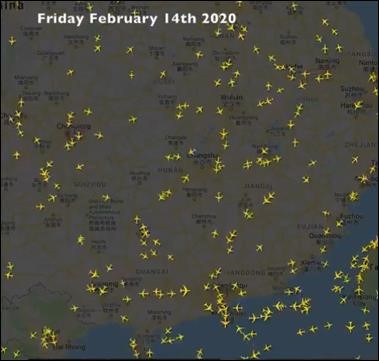 Source: @Trumpery45 [2] (Twitter), FlightStatus24
There is increasingly little doubt that 2020's first quarter growth numbers across the world will be significantly impacted by governments' containment attempts. While the 2002 SARS outbreak was estimated to have cost China 1% in GDP, the unprecedented steps of the Chinese government in quarantining entire cities combined with the importance of China to global supply chains suggests the effects will be amplified.
STAT OF THE WEEK: £512 – the UK average weekly wage, the highest level since before the financial crash once adjusted for inflation (ONS).
DATA CORRECT AS AT: 21/02/20
CONTACT: Have a question about investing with EQ [3]? Please email enquiries@eqinvestors.co.uk [4] or call 020 7488 7171, we're always happy to hear from you.