The Indian Army's mountaineering expedition team has tweeted [1] photos of mysterious footprints found in the Himalayan snow that they claim belong to the mystical Yeti beast! A rather tall colleague with shaggy hair has recently returned from Nepal, so I think we can debunk this one…
Though equity markets in Europe and Emerging Markets appear to have lost momentum last week, the US market has gone on to reach new peaks! Asset class returns in sterling and local currency are below; the standout move last week was in US equities with the S&P 500 setting new all-time highs, justified by bumper economic data and a fresh earnings season that has underpinned the year-to-date rally.
Table 1: GBP total returns

[2]
Source: Bloomberg
Table 2: Local CCY total returns

[3]
Source: Bloomberg
Helping drive the market to new record highs, US technology titans responsible for a disproportionate share of wealth creation in recent years once again proved their might with their latest set of quarterly results. Amazon drew particular attention, with strong revenue growth and a 47% year-on-year increase in sales from Amazon Web Services, its cloud computing business. Microsoft also surpassed expectations, pushing the software giant's market capitalisation briefly over the $1 trillion market cap before slightly retreating back under the milestone. Success was not just limited to the technology sector where 24 of 25 companies have beaten profit expectations. Of the 230 S&P 500 companies having reported first quarter results on Friday, 77% had beaten expectations with an aggregated average beat of 5.45%.
Chart 1: The S&P 500's Information Technology sector led the way with 24 of 25 companies beating earnings expectations, while Energy saw just 58% of companies beat expectations following last year's fall in the oil price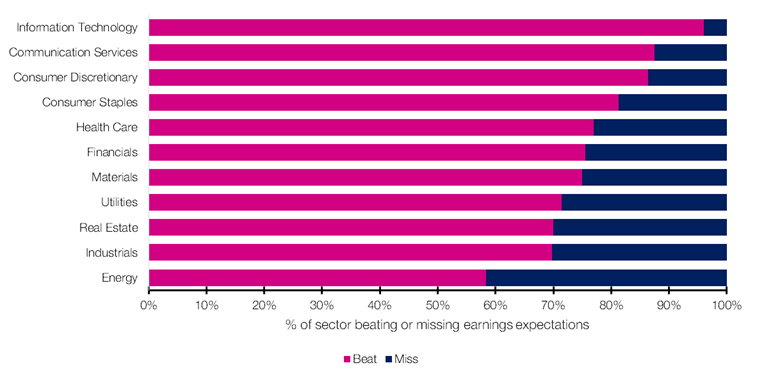 [4]
Source: Bloomberg
Outside of earnings, last week also saw what should be an improved economic environment with a significantly higher than expected Q1 GDP release in the US (annualised at 3.2% vs 2.3% expected) along with relatively muted inflation figures which emerged earlier in the month. While this overshoot appears to go against the narrative of weakening global growth in the coming years, market participants have noted that the largest contributors to the beat came from a surge in inventories and government spending, as well as a large contribution from net trade (i.e. exports minus imports) which was due to a drop in import growth. None of these factors is particularly sustainable over the long-run, and as such investors have been more focused on the dominant component of US economic growth – personal expenditure – which has remained soft, hence the muted market response.
Chart 2: Net trade made a significant contribution to US GDP growth in Q1, while personal expenditure weakened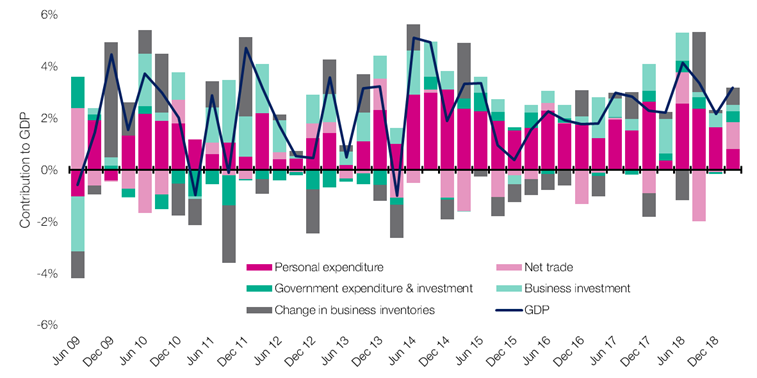 [5]
Source: US Bureau of Economic Analysis
Though investors will be closely monitoring the remaining quarterly earnings due over the coming weeks, there will be particular attention placed on the accompanying guidance from management teams with regards to the global economy. An example of how this commentary can be more important than actual earnings figures is microchip-giant Intel which reported income 2.3% higher than anticipated but whose share price dropped over 7% as it reported that future microchip demand from Chinese data centres are likely to remain soft.
THE WEEK AHEAD (G7 + China)
Monday: Eurozone Business Confidence, Eurozone Economic Sentiment, US Personal Income, US Personal Spending
Tuesday: UK Gfk Consumer Confidence, China NBS Manufacturing PMI, China Caixin Manufacturing PMI, Germany Gfk Consumer Confidence, Germany Unemployment Rate, Eurozone Unemployment Rate, Eurozone Q1 GDP, Germany Inflation Rate, US-China Trade Talks
Wednesday: UK Markit/CIPS Manufacturing PMI, US Markit Manufacturing PMI, US ISM Manufacturing PMI, US Fed Interest Rate Decision
Thursday: Germany Retail Sales, Germany Markit Manufacturing PMI, Eurozone Markit Manufacturing PMI, UK Construction PMI, BOE Interest Rate Decision
Friday: UK Markit/CIPS Services PMI, Eurozone Inflation Rate, US Non Farm Payrolls, US Unemployment Rate, US Markit Services PMI, US Non-Manufacturing PMI
STAT OF THE WEEK: 1% – the proportion of the $53 trillion global bond market made up by green bonds (Bloomberg).
Data correct as at: 26/04/2019