While I like to think of myself as a relatively avid fan of apocalypse films, I am a little disappointed to now know that they all suffer from the same devastating flaw within minutes of the opening scenes. Who knew that during outbreaks, populaces make mad dashes past the tinned goods aisles in the supermarkets and instead scramble for toilet roll and hand sanitisers?
Negative sentiment amongst investors has spread like a virus as market participants have aggressively sold stocks they see as vulnerable to a dip in global trade. Asset class returns in sterling and local currency are below; a roller-coaster ride for equity markets saw the US notch a small gain last week while Europe ended firmly in the red.
Table 1: GBP total returns

Source: Bloomberg
Table 2: Local CCY total returns

Source: Bloomberg
For those of you keeping a close eye on the markets last week, you would be forgiven for being slightly awestruck by the magnitude of the daily moves: on Monday alone, the US market was up a whopping +4.6%! We have analysed the magnitude of this move using a statistical measure called a "Z-score" drawing upon the last 70 years of market data which, when combined with a few basic assumptions, gives us an indication of how much of an outlier that +4.6% move was. Where in theory we can expect a one day move of that size to occur once every 1,347 years, the odd state of the current market environment was shown on Wednesday with another gigantic move of +4.2%.
This intra-week volatility could easily be missed from the tables above, as could the diverging performance of the underlying sectors that make up each region's index. The chart below splits out the sectoral performance for the US and Europe in an attempt to highlight some of the brighter areas of the market in what otherwise feels like deep impending gloom. While Energy stocks were the worst performers (driven by the fall in the oil price shown above), the shining stars of the market were the classically defensive sectors like Utilities, Consumer Staples and Healthcare.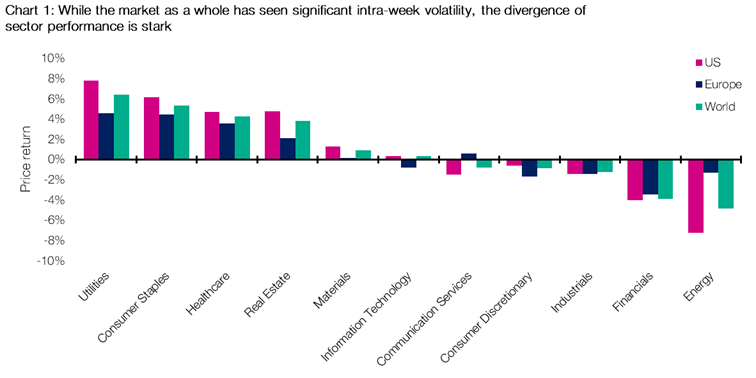 Source: Bloomberg
It would be wrong to expect that manufacturing industries with complicated global supply chains will be most impacted by the virus; travel restrictions and mass quarantines are very likely to take their toll on more services orientated industries (such as restaurants, hotels, concerts etc.) as businesses act more rapidly than governments to contain the spread. As these businesses suffer cash flow issues from reduced travel and tourism, the question is whether the labour market will be impacted as companies look to rapidly cut costs.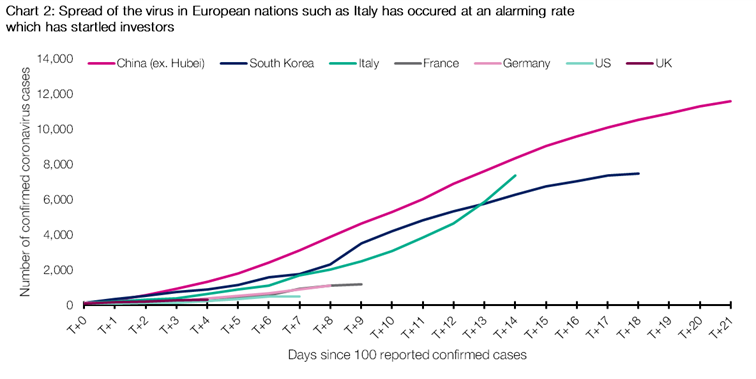 Source: Bloomberg
Unfortunately, there may be more temporary pain before we start to see markets begin to turn. The number of new reported cases in China (ex. Hubei) and South Korea have only begun to slow following extreme measures being implemented by government to stop the spread of the virus. Though Italy has indeed announced its own measures (including travel bans, quarantines and school closures) in an attempt to contain the disease, the market is expecting significant short-term economic pain from the disruption.
STAT OF THE WEEK: 7.4 miles per hour – the average road speed in central London (Citylab).
DATA CORRECT AS AT: 06/03/10
Contact
Have a question about investing with EQ [1]? Please email enquiries@eqinvestors.co.uk [2] or call 020 7488 7171, we're always happy to hear from you.