For anyone who is superstitious, I'd be keen to have your take on this phenomenally rare occurrence: a couple in the US have given birth to a baby weighting 9lbs and 11oz, on 11th September (or 9/11 for our American cousins) at 9:11pm.
To add to the superstitious theme, Friday 13th saw a small fall in the S&P 500 though this was more than outweighed by gains from earlier in the week. Asset class returns in sterling and local currency are below; for the most part, markets traded with expectations of where monetary policy ahead of a string of central bank meetings.
Table 1: GBP total returns

Source: Bloomberg
Table 2: Local CCY total returns

Source: Bloomberg
All eyes last week were on the European Central Bank (ECB) as it made its decision on whether to implement a fresh stimulus package which it hoped might offer some support to its slowing economy. This has come at a time where economic data emerging from the Eurozone has pointed to the bloc approaching the edge of a recession, brought on by a number of factors including new automotive emissions standards which have acted as a production bottleneck, lower water levels than expected in the Rhine which has slowed chemicals exports, economic uncertainty from the UK's impending departure from the European Union, and ongoing concerns around the US-China trade war.
While the ECB's interest rate cut was in line with expectations, the prescient question was whether the central bank would restart its quantitative easing programme which it had brought an end to just nine months before. As such, the ECB's announcement to start €20 billion of asset purchases per month was the main talking point for markets. That no end date was set for this rekindled programme was of particular importance, as this has effectively committed the ECB to buy hundreds of billions of euros worth of bonds when its balance sheet is already bloated and interest rates are at record lows.
Chart 1: The European Central Bank's balance sheet has swelled in recent years to 40% of the Eurozone's GDP. If current rate of GDP growth persists the new asset purchase programme will take the Bank's assets close to 45% of the Eurozone's GDP, or €5.5 trillion, in the next five years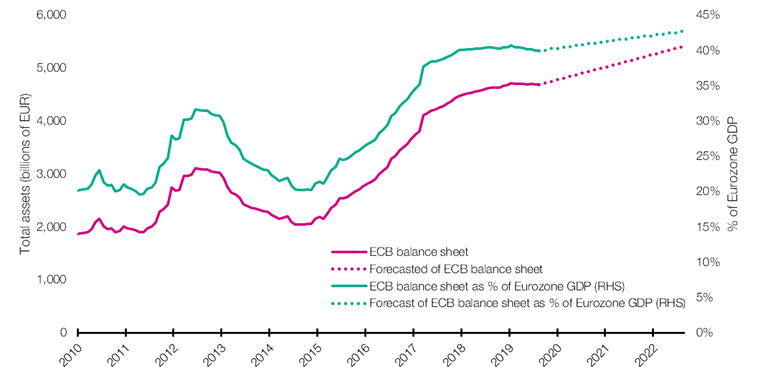 Source: Bloomberg
The shift back toward policy easing by the ECB is in line with a broader trend amongst central banks globally (both for developed and emerging economies) which are positioning for clouds that are forming over the global economy. Notably, the US Federal Reserve has also made a pivot in more recent months in which it cut interest rates and ended its balance sheet tapering (i.e. stopped selling off assets on its balance sheet). It is expected that if the UK leaves the European Union without a deal, the Bank of England could follow suit.
Chart 2: Central Banks globally have moved to cut interest rates or become more dovish in outlooks this year as clouds have begun to form over the global economy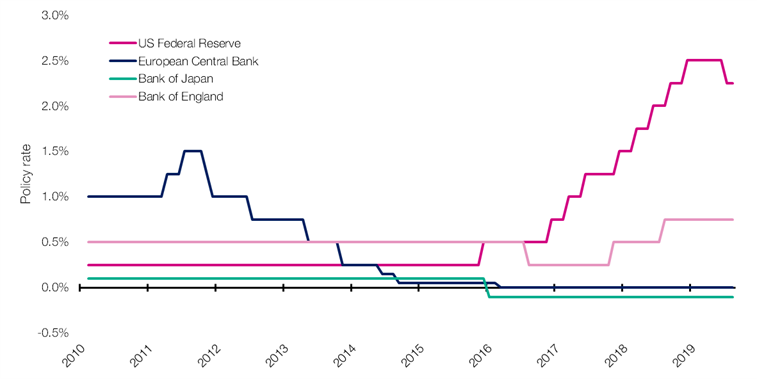 Source: Bloomberg
As ever, there are a number of roads that the global economy can go down where uncertainty clears and the current economic cycle is extended. But for now, investors' focus will be on a potential resolution for the US-China trade war, whether a withdrawal agreement is likely between the UK and the European Union, and whether the Eurozone will escape recession. We continue to have bated breath.
THE WEEK AHEAD (G7 + China)
Monday: China Fixed Asset Investment, China Industrial Production, China Retail Sales, Italy Inflation Rate
Tuesday: China House Price Index, Eurozone ZEW Economic Sentiment, Germany ZEW Economic Sentiment, US Industrial Production, US Manufacturing Production, US Redbook, US Capacity Utilisation
Wednesday: Japan Balance of Trade, UK Inflation Rate, Eurozone Inflation Rate, Canada Inflation Rate, US Federal Reserve Interest Rate Decision
Thursday: Bank of Japan Interest Rate Decision, Eurozone Current Account, UK Retail Sales, Bank of England Interest Rate Decision
Friday: Japan Inflation Rate, Canada Retail Sales, Eurozone Consumer Confidence
STAT OF THE WEEK: $44 billion – the amount the IMF has loaned to Argentina since 2018, making it is biggest bailout ever (IMF).
Data correct as at: 13/09/19