In today's uncertain times, the Telegraph [1] has reported that April Fool's Day jokes have actually had to be banned for fear of triggering Brexit related riots and panic buying…
Last week saw yet another turbulent week in Westminster accompanied by a slew of headlines worthy of a 1st April joke. Asset class returns in sterling and local currency are below; the difference in returns between GBP and local currency tables below highlights sterling's fall following yet another defeat for the UK Government as it attempted to pass the Withdrawal Agreement.
Table 1: GBP total returns

[2]
Source: Bloomberg
Table 2: Local CCY total returns

[3]
Source: Bloomberg
Readers can rest assured that our cunning Parliament has come together and found a majority for a solution to end this Brexit mess once and for all… only joking – April Fool's!
In fact, last Wednesday saw Parliament reject eight Brexit options which ranged from a no deal exit to a customs union, and a second referendum to a total revocation of Article 50. No, this really is not an April Fool's joke. Parliament then went on to reject the Withdrawal Agreement for a third time on Friday, burying any hopes that Theresa May's deal could be passed by the original 29 March date upon which the UK was supposed to leave the European Union.
Fortunately/unfortunately (dependent on the severity of your Brexit fatigue [4]), an immediate exit from the block without a deal was prevented by two extensions granted by the EU – one which moves the UK's official withdrawal date to 12 April, and the other contingent on the Withdrawal Agreement being passed by Parliament on or before 29 March to allow sufficient time for ratification. With the Withdrawal Agreement now firmly rejected, a new countdown has started to 11pm on 12 April.
Chart 1: Key upcoming dates for the UK's withdrawal from the European Union

[5]
Source: House of Commons Library
The only way we can now avoid a no deal exit on 12 April is 1) the Withdrawal Agreement passing through UK Parliament, 2) Article 50 being extended again, or 3) the UK unilaterally decides to reverse its withdrawal. As the Withdrawal Agreement's ratification now seems unlikely in the time available and the Government has already ruled out a revocation of Article 50, it is increasingly likely that the Article 50 process may now suffer a lengthy extension. Should such an extension go beyond 23-26 May, the UK would be required under EU law to hold European Parliamentary elections; as such, it is possible that the UK would be offered an extension of Article 50 way into 2020 in order to take us up to the end of the European budgetary period (2014 – 2020).
Chart 2: Sterling's intra-week decline begun after the indicative votes revealed that there is still no Parliamentary majority for any Brexit outcome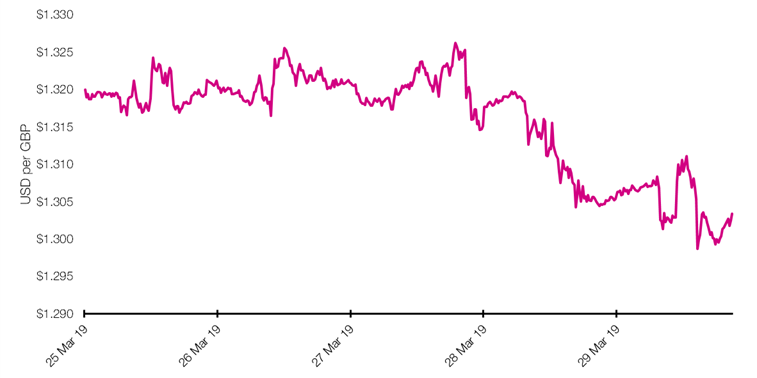 [6]
Source: Bloomberg
Up until the indicative votes on Wednesday, sterling traders were steady with the pound moving within a relatively tight range versus the dollar. However, investors begun to take a more pessimistic view as it turned out Parliament is no closer to deciding what comes next in the Brexit saga. With the risk of a no deal scenario still on the table, market participants will keenly be watching a second round of indicative votes due to take place this week to see if any ground has been made. Fingers crossed they find a cure of Brexit fatigue soon.
THE WEEK AHEAD
Monday: Japan Tankan Large Manufacturers Index, Australia NAB Business Confidence, China Caixin Manufacturing PMI, Germany Manufacturing PMI Final, UK Markit/CIPS Manufacturing PMI, US Retail Sales, US ISM Manufacturing PMI
Tuesday: UK Construction PMI, Eurozone Unemployment Rate, US Durable Goods Orders
Wednesday: Australia Balance of Trade, Eurozone Markit Services PMI, UK Markit/CIPS Services PMI, Eurozone Retail Sales US ISM Non-Manufacturing PMI
Thursday: Germany Construction Orders, European Central Bank Monetary Policy Meeting Accounts, Canada Ivey PMI
Friday: US Unemployment Rate, US Non Farm Payrolls, US Average Hourly Earnings, Eurogroup Meeting
STAT OF THE WEEK: 24% – the increase in the risk of a heart attack the Monday after the clocks go forward according to a 2014 US study (Frankel Cardiovascular Centre).
Data correct as at: 29/03.2019