With the start of December, I've been thinking about just two things: chocolate advent calendars and roast potatoes. After a cursory google search, I've found out the average person in the UK will consume nearly 7,000 calories on 25 December, eclipsing our American cousins who average only 4,500 on Thanksgiving!
US investors feasted on news last week that the US Federal Reserve intended to moderate further monetary tightening which resulted in a plump return for the S&P 500. Asset class returns in sterling and local currency are below; having been the relative under-performer the week before, US equities had their best week since 2011.
Table 1: GBP total returns

[1]
Source: Bloomberg
Table 2: Local CCY total returns

[2]
Source: Bloomberg
US Federal Reserve's chair Jerome Powell delivered a speech to the Economic Club of New York in which he stated "interest rates are still low by historical standards, and they remain just below the broad range of estimates of the level that would be neutral for the economy—that is, neither speeding up nor slowing down growth". Though seemingly obvious that interest rates remain low relative to history, it was the phrase "just below […] neutral" that swung global financial markets. Investors took these words as an indication that the US central bank may soon pause its monetary tightening, delivering respite to not only US equities but also emerging markets which have struggled in the face of a stronger dollar and tightening financial conditions globally.
Chart 1: Emerging markets have historically suffered (declining blue line) in the face of a stronger dollar (rising pink line), so with future US monetary tightening looking uncertain, emerging assets are able to take a sigh of relief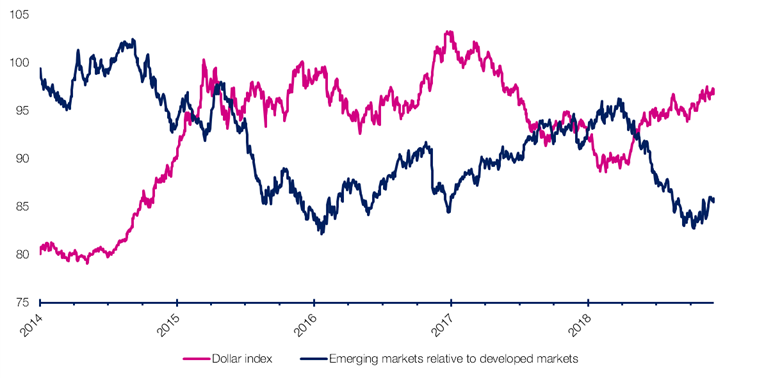 [3]
Source: Bloomberg
During the speech, Powell also suggested the possibility of adjusting the Fed's natural rate of unemployment and its view of the neutral interest rates based on incoming data. So what does this technical statement mean in practice? Complex financial models used by the Fed to achieve price stability use inputs such as these; the current unemployment rate versus the natural unemployment rate (i.e. the unemployment rate when everyone able and willing is employed), and current interest rates versus the estimated neutral interest rate (explained above as a rate that is neither speeding up nor slowing down economic growth). Thus, changes to estimates in either of these factors from incoming economic data will have implications on where the Fed is likely to pause in its monetary tightening cycle.
This increase in data dependency for future policy implies both heightened flexibility and growing caution in the face of fading fiscal stimulus from the US president's tax cuts, escalating trade tensions and slower global growth. Though economic growth in the US has indeed enjoyed strong momentum throughout 2018, the importance of international pressures – notably the unfolding US-China trade negotiations – cannot be overstated with regards to its influence on the path of monetary policy.
Chart 2: With the US trade deficit widening to historic levels, the US president believes has sufficient political ammunition to confront China over unfair trade practices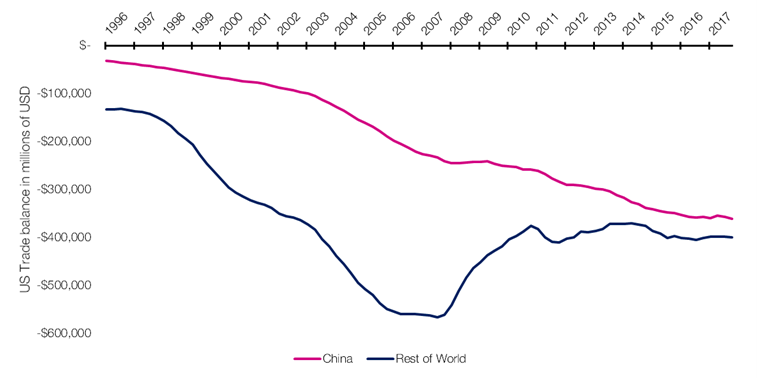 [4]
Source: Bloomberg
Weekend news has seen positive news flow emerge from the G20 summit as Washington and Beijing agreed to a temporary trade truce in which new tariffs will be postponed for up to 90 days. In exchange for not imposing new tariffs, China has agreed to buy an increased volume of US goods to narrow the trade gap. The hope from investors is that this will allow trade negotiators more time in which further disputes can be resolved. Sentiment towards risk-assets will now be running high, but pessimism still remains in the market towards a timely resolution.
THE WEEK AHEAD
Monday: China Caixin Manufacturing PMI, US ISM Manufacturing PMI
Tuesday: N/A
Wednesday: US ISM Non-Manufacturing PMI, European Central Bank Non-Monetary Policy Meeting
Thursday: Australia Balance of Trade, Canada Balance of Trade, US Balance of Trade, Canada Ivey PMI
Friday: US Non Farm Payrolls, US Michigan Consumer Sentiment
STAT OF THE WEEK: 95% and 50% – the US share of global venture capital investment in 1995 and 2017 respectively (Centre for American Entrepreneurship).
Data correct as at: 30/11/2018