A shock study from the journal Current Biology has revealed that overworking your brain with either physical or mental exercise may lead to poor decision-making on what you eat and buy. Participants were asked whether they would prefer $10 now or $50 in six months; the study found that athletes who had been put through a more intense training program had reduced abilities to resist temptation. I've never been so happy to hear that less exercise is better for you than more.
Gilts appeared to have gone a through intense training program last week as UK government bonds outperformed all major asset classes in local currency terms. Asset class returns in sterling and local currency are below; it was a good week for UK assets, with UK equities and UK government bonds taking the top two spots in local currency terms.
Table 1: GBP total returns

Source: Bloomberg
Table 2: Local CCY total returns

Source: Bloomberg
It was a torrid week for sterling last week as both politicians and central bankers added to the uncertainty currently surrounding the UK's economy. In what was a colossal blow to the UK Government, the Supreme Court ruled last week that the Prime Minister's advice to the Queen to suspend Parliament was unlawful. To make matters worse for Mr Johnson, the Court went further and declared that the prorogation was  null and of no effect. While on a basic level this may appear to be positive in terms of Parliament blocking an exit from the European Union without a withdrawal agreement in place, traders were clearly in two minds about the fresh wave of uncertainty the ruling would bring as sterling gave up its gains.
Chart 1: September has been a rollercoaster ride for sterling investors as landmark court cases and dovish central bankers have played tug of war with the prospect of the currency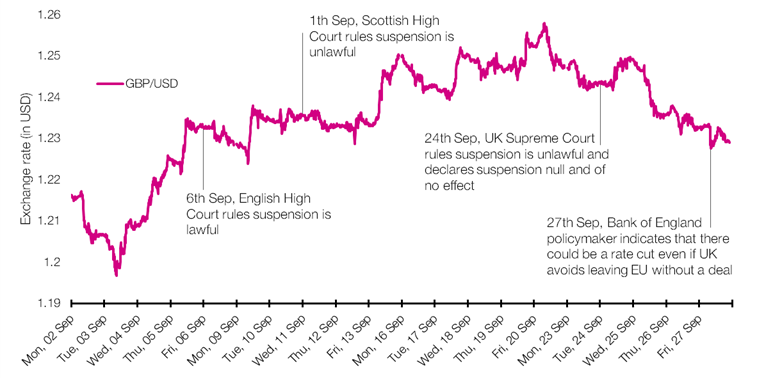 Source: Bloomberg
As if the announcement of court case wasn't too much excitement for one week, markets were then forced to respond to comments made by a Bank of England policymaker on Friday who gave the first indication that the central bank is considering a rate cut. The central banker then went on to say that even if the UK were to avoid a no-deal Brexit, uncertainty was likely to remain high especially if global growth remains disappointing. Though this pessimistic commentary is not a total shock – central banks globally have cut rates 95 times year to date – the UK's central bank is just the latest to adopt a dovish tone.
Chart 2: Central banks globally have cut rates 95 times this year as policymakers have adopted a dovish tone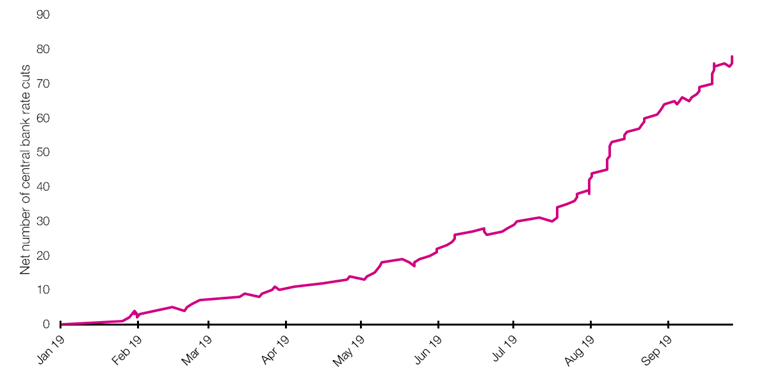 Source: Bloomberg
The Bank of England policymaker added that simply waiting to see what happened with the UK's withdrawal from the European Union risked leading to inappropriate monetary policy and that the cost of reversing a rate cut if the outlook became more optimistic would be low. Current guidance from the Bank of England is that a limited and gradual increase in interest rates would be needed over the medium term should uncertainty begin to clear. However, with the Battle for Brexit in Westminster now hotting up ahead of the Halloween deadline, it is likely that any consideration of a UK rate rise will be pushed into the long grass.
THE WEEK AHEAD (G7 + China)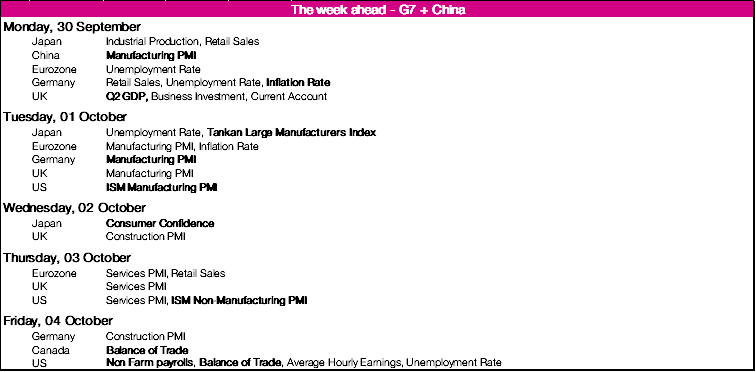 STAT OF THE WEEK: 42% ­­– increase in foreign direct investment in India since 2014-15, the year Narendra Modi came to power (Indian Ministry of Commerce and Industry).
Data correct as at: 27/09/19