Alarmingly, Switzerland announced plans to abolish the nation's emergency stockpile of coffee after declaring the beans not vital for human survival. Opposition to the move is brewing.
The US President let off some steam on Twitter last week as he blasted the Chinese for reneging on months of negotiations. Asset class returns in sterling and local currency are below; equities in all regions took a nose dive last week following fresh tensions in the US-Sino trade war.
Table 1: GBP total returns

[1]
Source: Bloomberg
Table 2: Local CCY total returns

Source: Bloomberg
Last week's battleground centred on a tariff threat from the White House as a diplomatic cable from Beijing arrived in Washington revealing systematic edits to the nearly 150-page draft trade agreement agreed upon between the two superpowers over the last few months. Changes to the text have included the removal of Chinese commitment to change domestic law which has been a core demand from the US demands due to years of what officials describe "empty reform promises". Trump's threat of a 25% import tariff on $200 billion of Chinese goods pushed markets into turmoil, with the widely watched CSI 300 which contains blue-chip Chinese equities listed in Shanghai and Shenzhen falling 5.8%.
Chart 1: South Korea's KOSPI index, a bellwether for the health of global trade, approached its December lows as tweets send from the White House caused panic amongst investors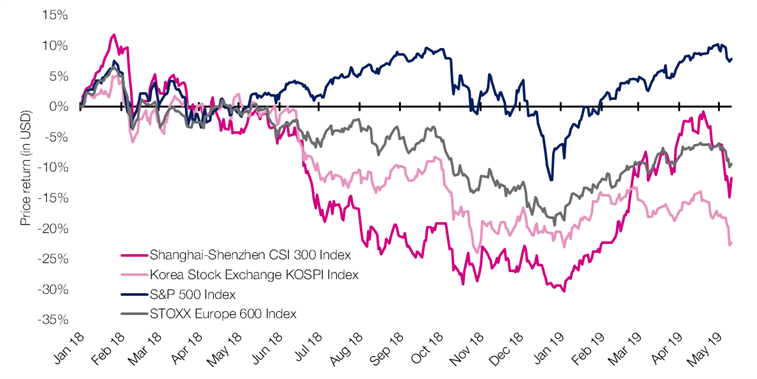 Source: Bloomberg
Though it is not difficult to understand why the US and China might want a deal – the US President seeks re-election and China seeks to advance its role on the global stage – it is likely that recent economic and market data will have emboldened either side to push for further concessions. In the US for instance, the equity market (see chart above) has fully recovered from last year's trade related sell-off while muted inflation [2] and strong economic data have given the Federal Reserve sufficient breathing room for a pause in monetary tightening. Meanwhile, China has seen stability in its export order book and a less negative than expected impact from US tariffs.
As the US President keeps a particularly close eye on equity markets as a gauge of investor sentiment, some market participants have begun to assume that Mr Trump will concede in negotiations if US stock prices drop far enough. But with markets trading on this assumption and not on fundamentals, a correction may actually still be some way off therefore increasing the risk of intensifying rhetoric and threats from the US. The chart below plots the appreciation of the US dollar versus the Chinese currency; a stronger dollar will partially offset any further increase in US tariffs as the relative competitiveness of Chinese import rises.
Chart 2: The US dollar strengthened dramatically in mid-2018 versus the Chinese renminbi as trade fears mounted, eventually easing into 2019 as trade talks were underway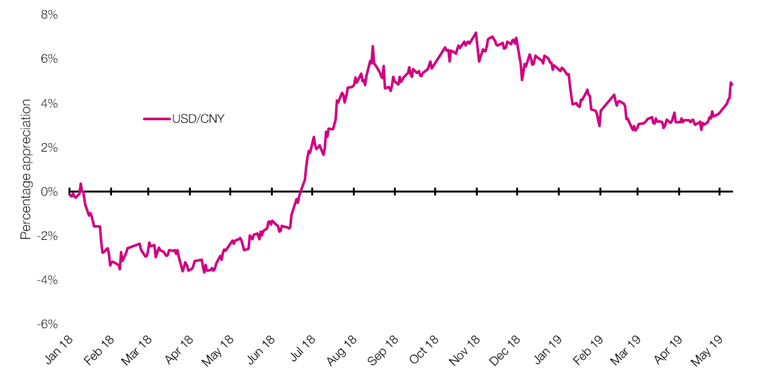 Source: Bloomberg
Many participants are now worrying that the an increase in the time it takes for markets to react to negative news could see less pressure being placed on the US President to tone down rhetoric and consequently result in permanent changes being made to the global economy. Though this is just a small (but growing) risk presently, investors will be monitoring the tone of communications between Washington and Beijing to gauge whether talks can get back on track.
THE WEEK AHEAD (G7 + China)
Monday: Japan Leading Economic Index, China Vehicle Sales
Tuesday: Japan Current Account, China Foreign Direct Investment, Germany Inflation Rate, UK Average Earnings, UK Unemployment Rate, UK Labour Productivity, Eurozone Industrial Production, German Economic Sentiment, US Redbook
Wednesday: China Fixed Asset Investment, China Industrial Production, China Retail Sales, Germany Q1 GDP, France Inflation Rate, Eurozone Q1 GDP, US Retail Sales, US Manufacturing Production, US Industrial Production
Thursday: France Unemployment Rate, Italy Inflation Rate, Eurogroup Meeting
Friday: Eurozone Inflation Rate
STAT OF THE WEEK: 85%, 78%, 68% and 35% – the support in 2019 amongst the general public for high-skilled immigration in the UK, US, France and Italy respectively (Pew Research).
Data correct as at: 10/05/2019