Weekly market recap: tumbling gilts
An increasingly optimistic picture for the UK has seen investors selling safe-haven government bonds.









by Tertius Bonnin, 1st March 2019

In what is a remarkable step for the private US space industry, Elon Musk's SpaceX successfully docked its Dragon capsule with the International Space Station. Employing its reusable Falcon rockets to propel the capsule into orbit, SpaceX is on the cusp of dropping the price of space exploration by what Musk claims will be a factor of 100!
Last week saw "lift-off" in gilt yields as sentiment towards the UK economy begun to rise. Asset class returns in sterling and local currency are below; while the UK government bond index fell, sterling saw a significant move of circa 1% versus the US dollar and the euro.
Table 1: GBP total returns

Source: Bloomberg
Table 2: Local CCY total returns

Source: Bloomberg
Though muted in comparison to the likes of equities, one of the more significant moves last week was in UK government bonds. With no significant economic data releases, politics once again took the market's attention ahead of yet another series of indicative parliamentary votes last Wednesday. MPs voted overwhelmingly to back moves which would allow a vote on extending the Article 50 process.
The upward shift in yields over the last few days (shown below) would suggest that recent lows can be attributed to the market pricing in a worst-case scenario for the UK's pending withdrawal, and that an increasingly optimistic picture for the UK has seen investors selling safe-haven government bonds. German and US government bonds – considered as risk-free assets in the Eurozone and US respectively – also saw rising yields (though not as significant as the UK) as investors begun pricing a reduced risk of a disorderly UK departure from the European Union.
Chart 1: UK government bond yields spiked last week as the implied probability of a "no deal" exit from the EU fell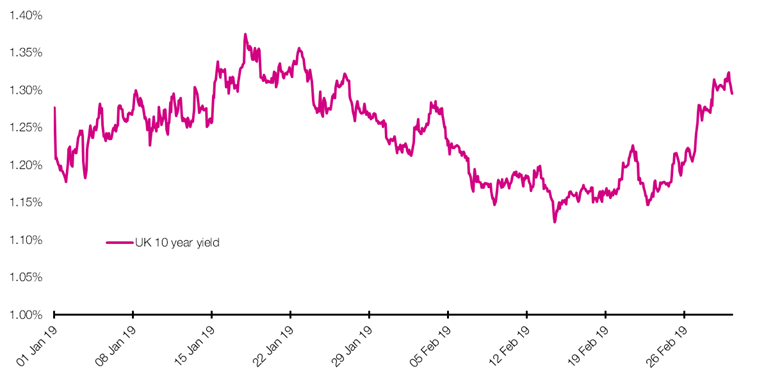 Source: Bloomberg
Last week's votes followed a statement by the UK Prime Minister last Tuesday in which she outlined the parliamentary timetable for the next few weeks: should she fail to get approval for her deal on 12 March, MPs are to be given a further vote on 13 March on whether to leave without a deal. If this no deal is rejected, another vote will be held on 14 March which would instruct the Prime Minister to request a "short, limited extension" of Article 50.
While sterling also reacted positively following the PM's statement (shown below), it is important to come back to the fact that a no deal exit from the European Union on March 29 is still on the table and can only be blocked by one of three ways: 1) the Withdrawal Agreement passing through the UK Parliament, 2) Article 50 being extended, or 3) the UK's withdrawal being reversed. With options 2) and 3) likely to raise the probability of the UK's ruling Conservative Party splitting in half, the PM's current aim is to get her Withdrawal Agreement passed by Parliament.
Chart 2: The pound strengthened against the euro as the UK Prime Minister promised votes on both a "no deal" exit and an extension to the Article 50 process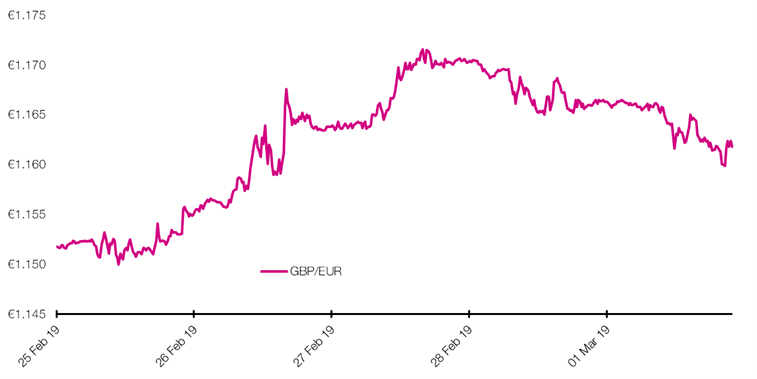 Source: Bloomberg
Bar the use of further extraordinary monetary policy by the Bank of England, UK yields may have a lot further to rise from here. On one hand, a scenario in which the Prime Minister's Withdrawal Agreement (or a version of) is approved will likely see a return of a degree of certainty to the UK economy, and the likes of consumer spending and business investment picking up. This would in turn encourage the Bank of England to continue down its path towards more normal monetary policy, namely by raising the UK base rate. However on the other hand, a scenario in which the UK leaves without a deal could very likely see the UK's credit rating reviewed downwards, which in turn would result in higher borrowing costs for the UK as the associated risks of lending to the UK rise.
THE WEEK AHEAD
Monday: UK Construction PMI, South Korea Q4 GDP, South Korea Inflation Rate
Tuesday: Eurozone Markit Services PMI, UK Markit Services PMI, Eurozone Retail Sales, US ISM Non-Manufacturing PMI, China National People's Congress
Wednesday: Germany Construction PMI, Canada Balance of Trade, US Balance of Trade, Canada Ivey PMI
Thursday: Australia Balance of Trade, Eurozone Q4 GDP, European Central Bank Press Conference
Friday: China Balance of Trade, US Non Farm Payrolls, US Average Hourly Earnings
STAT OF THE WEEK: 20% – the boost to the value of wind energy produced by Google's DeepMind algorithm (DeepMind).
Data correct as at: 01/03/2019