Within my personal life, I took planning for a potential 'no deal' Brexit scenario one step further this weekend while celebrating my younger brother's early birthday. This involved widening my palate and becoming more accustomed to English sparkling wine. I begrudgingly admit, we Brits give the French a run for their money.
Though I avoided any alcohol induced blushes, global stock markets appear to have had one too many. Asset class returns in sterling and local currency are below; volatility returned to the fore as equities were led into the red by technology stocks, with EM and Asia experiencing the most aggressive moves.
Table 1: GBP total returns

Source: Bloomberg
Table 2: Local CCY total returns

Source: Bloomberg
A number of stories broke almost in tandem last week, each with the potential to significantly move markets in their own right. Events kicked off on Wednesday last week, when data emerged from the US indicating that economic activity in the non-manufacturing sector had expanded at its quickest rate since August 1997.
Immediately, this prompted a sell-off in US treasuries as investors began to price in the prospect of higher levels of economic growth and subsequent heightened inflation expectations. To add pressure to the move, the chair of the US Federal Reserve said later that day he favoured a continuation of gradual rate rises in the US. While this did not amplify moves in the bond markets in itself, the relatively hawkish rhetoric from the Fed's chair did act to underpin the case for higher US yields. Though equity markets appeared not to react too violently to the abrupt jolt in government yields, emerging market currencies once again entered the crosshairs of investors wishing to de-risk portfolios by selling EM in favour of US assets.
Chart 1: The 10 year US treasury yield moved to its highest point in seven years last week, spurred by stronger than expected data releases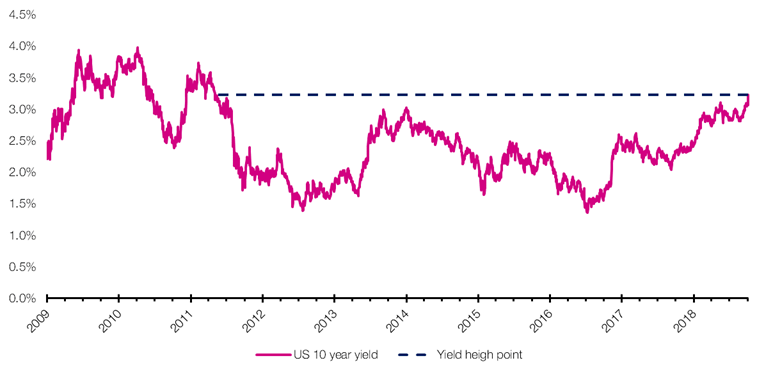 Source: Bloomberg
Notably, the move in US treasuries affected the widely monitored "2s10s" which measures the difference in yield between the 10 and the 2-year US government bonds. This is frequently cited by market participants as a way of predicting recessions; when the 2 year yield rises above that of the 10 year, the yield curve is said to be "inverted". It is an inverted yield curve that has preceded every recession of the past 60 years! Comfortingly, the US yield curve steepened last week as investors begun to reprice more positive expectations around longer term growth and inflation.
Chart 2: The difference between the US 10 year and the US 2 year yields has widened to its steepest point since early this year, easing investor concerns of a recession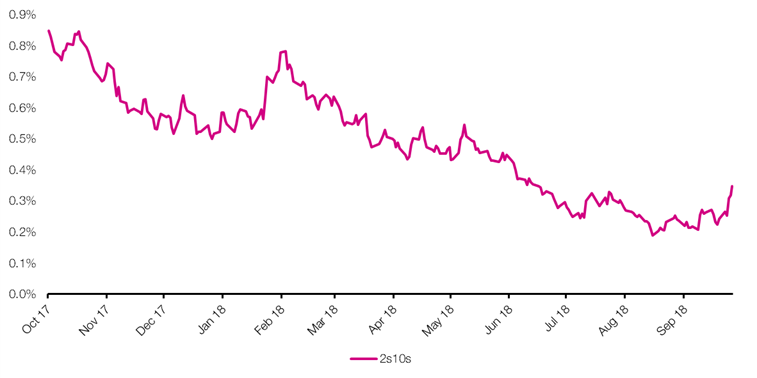 Source: Bloomberg
Though higher yields contributed to a volatile week in the equity markets by virtue of raising borrowing costs for corporates, another large destabilising factor was a news story from Bloomberg which revealed 30 large US corporates – including both Amazon and Apple – had been the victim of a large-scale Chinese hack. Investigators found microscopic chips had been inserted during the manufacturing process in China into equipment destined for the US. This had the effect of knocking investor sentiment towards technology stocks on both sides of the Pacific; an ETF tracking Chinese technology stocks ended the week -7.8%, while mega-cap US peers closed -4.2%. The ramifications of this story are huge given the increasingly tense US-Chinese relations, and we are sure to get more news flow around this in the coming weeks.
THE WEEK AHEAD
Monday: N/A
Tuesday: Australia NAB Business Confidence, Germany Balance of Trade
Wednesday: Australia Consumer Confidence, UK Balance of Trade, European Central Bank Non-Monetary Policy Meeting
Thursday: European Central Bank Monetary Policy Meeting Accounts, US Inflation Rate
Friday: Reserve Bank of Australia Financial Stability Review, China Balance of Trade, US Michigan Consumer Sentiment
STAT OF THE WEEK: 259 – the number of selfie-related deaths worldwide from 2011 to 2017 (Journal of Family Medicine and Primary Care).
Data correct as at 05/10/18