Weekly market recap: Turkish turbulence
Two major ratings agencies, Standard & Poors and Moody's, downgraded Turkey deeper into junk status.









by Tertius Bonnin, 21st August 2018

As I type this, I am sat on a train on my way back from Edinburgh to London having spent a few days north of the border. Besides proving myself the best at shooting and archery amongst my family members, one of the highlights of the trip was seeing ten piping bands parade through Crieff, Perthshire, as they marked the start of the town's 2018 Highland Games. Included in the events at the games were Kilt Racing, Highland Dancing and Caber Tossing.
Like a falling caber, market participants tossed emerging market equities as last week's sell-off intensified following the political turbulence in Turkey. Asset class returns in sterling and local currency are below; most notable from the tables is the positive return in US equities despite the broader risk-off sentiment.
Table 1: GBP total returns

Source: Bloomberg
Table 2: Local CCY total returns

Source: Bloomberg
North American equities were supported last week, in part, by reports that Beijing had confirmed that it would restart talks with Washington to ease the ongoing trade tensions. After months of tit-for-tat, equity markets have remained broadly sceptical of a resolution despite the S&P 500 edging out the positive gain for the week as the two sides remain a way from avoiding further tariffs. Part of investors' cynicism is due to the fact that the talks which have been arranged for November will only include low level officials, though they hope to achieve a bilateral summit between the two countries' leaders. Unfortunately, the prospect of averting trade barriers wasn't enough to keep wider equities afloat, as markets outside of the US took a knock.
Headlines around the Turkish crisis remained the focus of the financial press as news flow begun to dry following a winding down in the US earnings season. Most notably, last week saw comments from Berat Albayrak, the Turkish Minister of Treasury and Finance and son-in-law of President Erdoğan, setting out measures he hoped would shore up support for the lira; the initial reaction was positive. Most welcome were promises which emerged regarding plans to rein in fiscal policy with a view to bringing Turkey's inflation (currently 16%) down to more manageable levels.
Chart 1: Turkey's CPI inflation is beaten only by Argentina amongst its G20 peers, the latter of which received an IMF bailout earlier this year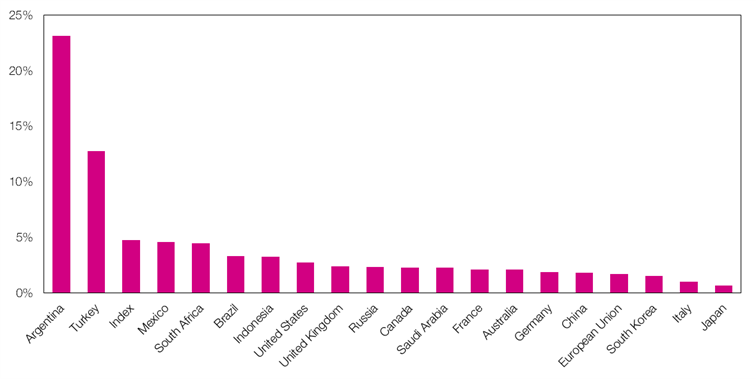 Source: Bloomberg
The Turkish administration ruling out the use of capital controls was also welcome, with several market commentators warning this would likely result in total loss of faith in the government's economic credibility. Volatility in the currency last week was relatively muted as Turkish regulators clamped down on speculative short selling which was placing excessive downward pressure on the currency. However, a key policy that was missing from the announcement was a commitment towards ensuring central bank independence. This is an important feature of an economically credible government as it separates out the potentially conflicting interests of controlling inflation (through monetary policy) and the size of a country's national debt relative to its economy (fiscal policy).
The crunch came on Friday as two major ratings agencies, Standard & Poors and Moody's, downgraded Turkey deeper into junk status despite the favourable commitments mentioned above. Citing extreme volatility in the lira, analysts at Standard & Poors noted that the sharp devaluation Turkey had experienced would be unfavourable for the country's existing trade deficit and would continue to weigh on economic growth. Moody's went further, pointing to the turbulent political scene in the country which has most notably resulted in increasingly weak public institutions (for instance its central bank). As credit ratings are widely used by investors to gauge risk sentiment, the ensuing capital out-flow and sinking lira was of no surprise.
Chart 2: As of Friday, Turkey now has the worst credit rating among its G20 peers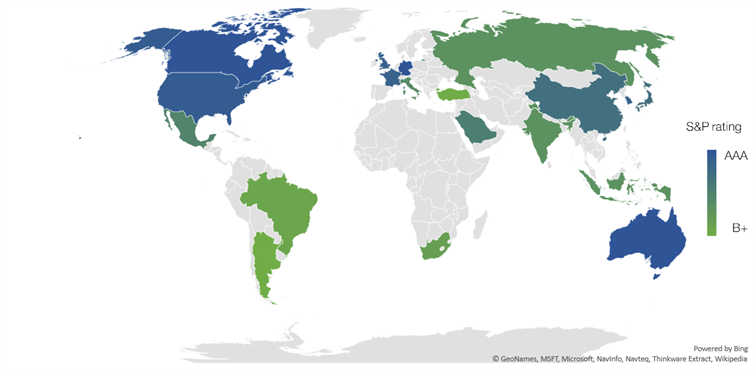 Source: Standard & Poor's
Economists will consider how the Turkish government responds to any future developments in fiscal policy for a sense of economic credibility, while market participants will have broader geopolitical issues on their minds such as the imprisonment of a US pastor and the consequent economic sanctions imposed by the US president. Should Turkey continue to fall short of broaching key topics such as central bank independence, it is unclear how turmoil will not worsen which will be positive for safe haven assets such as US treasuries.
THE WEEK AHEAD
Monday: N/A
Tuesday: Reserve Bank of Australia Meeting Minutes
Wednesday: US Existing Home Sales, US FOMC Minutes
Thursday: Germany Markit Manufacturing PMI, Eurozone Consumer Confidence, US New Home Sales
Friday: Japan Inflation Rate, US Durable Goods Orders
STAT OF THE WEEK: 1975 – the last time the UK's unemployment rate was lower than its current level which stands at 4% (ONS).
Data correct as at 17/08/2018.