I treated myself to a trip to the barber last week for the first time in five months. Now that I look about 10 years younger, I might need to take a lesson from a group of teenage TikTok'ers [1] who are using coronavirus masks to pretend to be elderly and buy alcohol without identification. Kids have been rubbing white powder into their hair to make it grey and have been donning older-style clothes before heading to the off-license.
Investors will have cause for a booze-up of their own if the rebound continues as equities begin to touch positive year-to-date figures. Asset class returns are below; UK equities surged ahead of their global peers last week as positive news flow hit the wire.
Despite being one of the worst hit markets year-to-date, UK equities saw a slight revival last week spurred on by positive vaccine news flow and by optimism that EU leaders are close to an agreement over the size of a new coronavirus recovery fund. On vaccine news, headlines have been focused on two sets of trials, the first run by the University of Oxford in the UK and the second run by US biotech firm Moderna. Widely seen as the frontrunner in the vaccine race, it is rumoured that the University of Oxford's vaccine which it is co-developing with AstraZeneca has continued to show promising results in the second phase of its human testing on which it is shortly due to publish.
Before we get too excited about the results and the prospect of a vaccine being rolled out globally, we should consider where the vaccine is in the context of its clinical trial. Figure 3 breaks down the phases that a drug must complete before being approved by a regulator. As a side point, during clinical trials a drug can complete phases simultaneously, i.e. it may be complete Phase 1/2 or Phase 2/3 at the same time. This has proved to be particularly important in the current environment as it helps to speed up the overall approval process. Having completed Phases 1 and 2, the Oxford vaccine is now progressing to Phase 3 which requires mass trials. By comparison Moderna is slightly behind Oxford in its clinical trials having just published a paper on its Phase 1 trials which also proved somewhat effective.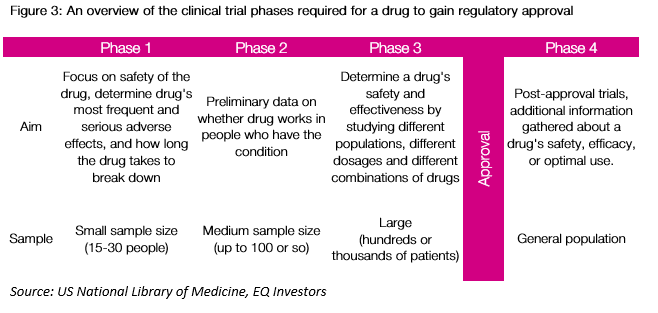 [4]
The other major story for the last week has been the (lack of) developments at a European summit at which EU leaders have been negotiating a coronavirus recovery fund. After days of marathon summit talks, there are large divisions among member states around the who will receive what proportion of the emergency funds. While more frugal countries – such as Austria, Denmark and the Netherlands – have wanted to limit how much cash would flow to Southern Europe, others have taken this opportunity to try and lay restrictions on Hungary's Viktor Orban who opposes any attempt to tie a recovery plan to his domestic policy. Nevertheless, many of the bloc's leaders have expressed their desire for a deal which is increasingly being seen by markets as Europe's path out of economic crisis.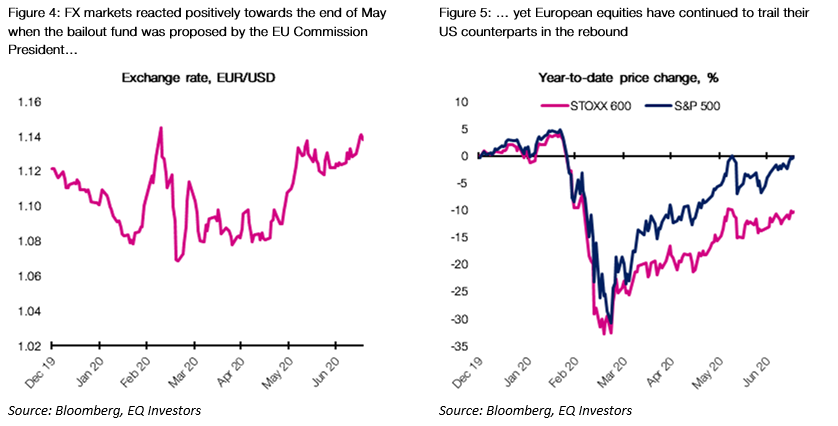 [5]
STAT OF THE WEEK: 38%, 84% and 90% – how many of us wear a mask when in public in the UK, Italy and Singapore respectively.
DATA CORRECT AS AT: 17/07/2020
Contact us
Have a question about investing with EQ [6]? Please email enquiries@eqinvestors.co.uk [7] or call 020 7488 7171, we're always happy to hear from you.