A woman has hatched three ducklings from eggs she bought in Waitrose. To pass the time during lockdown after being furloughed, Charli Lello, 29, from Hertfordshire, put the Clarence Court eggs in an incubator as an experiment. After they hatched, she said the ducklings would live "a very happy life" with her pet chickens.
Investors with all their eggs in the equities basket would have been left reeling last week as the market fell on an uptick in new coronavirus cases. Asset class returns in sterling and local currency are below; while risk assets fell, save havens such as government bonds or gold benefited from the flight to quality assets.
Figure 1: GBP total returns

Source: Bloomberg
Figure 2: Local CCY total returns

 Source: Bloomberg
Welcome to 2002! Of course, we're not actually that lucky as to have escaped 2020. Instead, recent figures released by the ONS reveal that UK GDP has taken such a hit from the coronacrisis that the economy as of April was the same size as it was in August 2002 (see Figure 3). Statisticians at ONS commented that this was the largest fall in GDP the UK has ever seen, with virtually all areas of the economy hit. Drilling down into the data, there is no surprise that accommodation and food related industries – two areas where revenues have dropped to negligible levels – have been some of the worst affected areas with growth rates reaching an eyewatering -40.9%.
As we've mentioned over recent weeks, there is currently an unintuitive debate amongst economists as to which letter they believe best represents the shape a recovery will make on a graph. The most bullish are pointing to a V-shape (a sharp return to normal), while the most bearish point to a L-shape (flat growth indicating a depression). At this point, you might well be thinking "enough of the economics jargon, what does this actually mean for the economy?"
To illustrate what a recovery might look like, we've created a rather crude chart (Figure 4) with three theoretical scenarios going forward. We add as a caveat that these scenarios make no assumptions as to whether we will see a second outbreak of the virus in the coming months.
Scenario 1 might represent an overly fanciful scenario whereby all businesses can return to normal, there is a return of all furloughed workers back to employment, and that consumer demand returns to pre-crisis levels.
Scenario 2 could then represent a moderate bounce back in economic activity but would recognise that there has been large scale damage to some industries which could take longer to recover than those which have remained productive through the crisis.
Scenario 3 would then represent a weak recovery where consumers fail to deliver on expectations that there is pent up demand, and normal life more broadly has a slow return.
| | | |
| --- | --- | --- |
| Figure 3: UK GDP suffered its largest fall on record in April as the lockdown intensified | | Figure 4: Current debate centres around whether we are likely to see a sharp rebound in economic growth, or a more protracted return to "normal" |
| Source: Office for National Statistics, EQ Investors | | Source: EQ Investors |
But as we just said, the hotly debated recovery paths illustrated above have presupposed no second outbreak of the virus! Therefore, it's no surprise that fragile market sentiment was shattered last week as fears of a second outbreak in both the US and China began to resurface. In the US, a jump in infections across Texas and Florida were reported after the reopening of state economies, while Chinese officials have moved to lockdown Beijing after 80 new infections were recorded over the weekend.
Figure 5: Having stemmed the number of daily new cases at the end of March, the two states have seen a resurgence in infection numbers as economies have reopened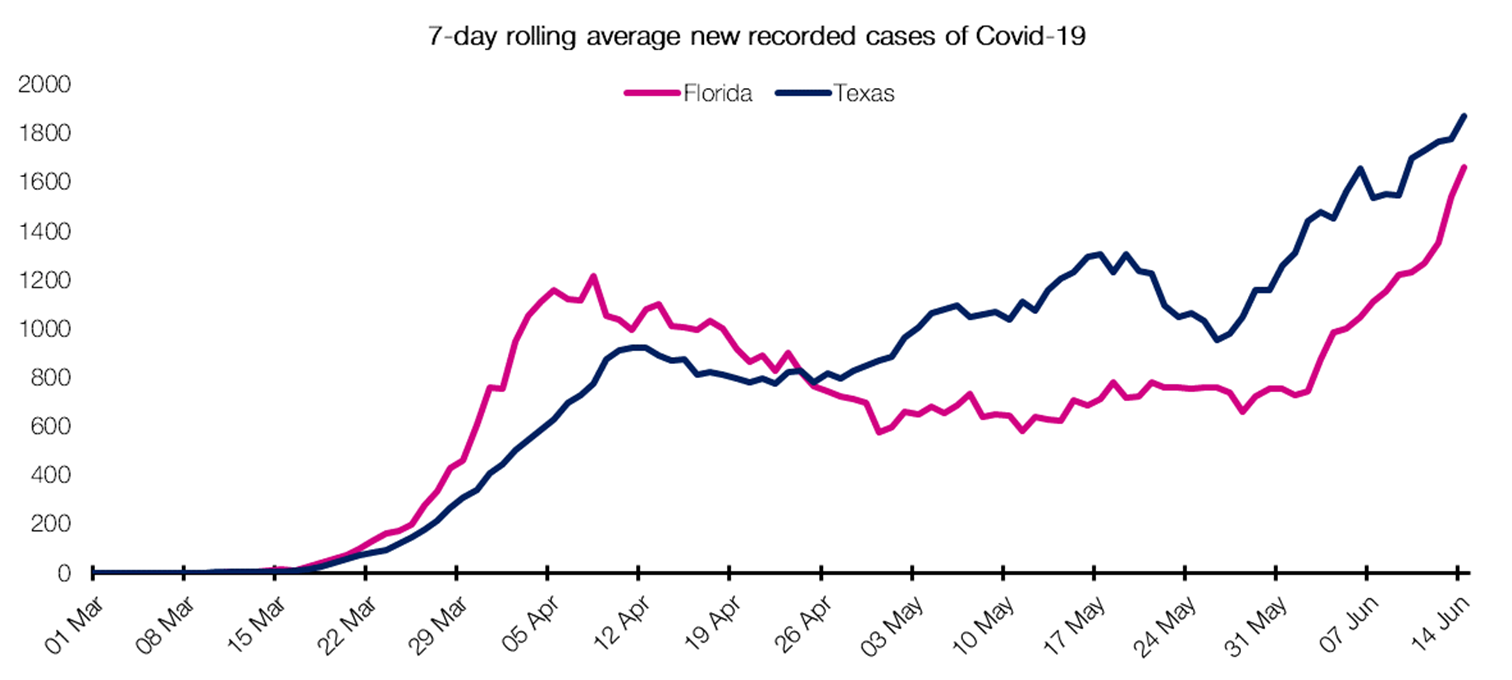 Source: Bloomberg, EQ Investors
So, what now? There is no doubt that investors and economists will be revisiting their previous assumptions around which shape a recovery will take. But in reality, the heightened levels of uncertainty make second guessing how events are likely to pan out over the next six to 12 months very difficult.
STAT OF THE WEEK: 19.7% – the projected fall in remittance payments to low and middle-income countries in 2020 (World Bank).
DATA CORRECT AS AT: 12/06/20
Contact
Have a question about investing with EQ [1]? Please email enquiries@eqinvestors.co.uk [2] or call 020 7488 7171, we're always happy to hear from you.