Having failed to get into the spirit of Christmas so far this year, I smiled when I read an article about a Principal of an Elementary School in the US who sent a memo [1] to staff advising them on what would be deemed acceptable/unacceptable over the festive period. Among the banned items were singing Christmas carols, red/green items and reindeer.
In defiance of the Principal's ban, the asset class tables below are lit up in red (risk assets) and green (safe haven assets) as markets de-risked into the Christmas period. Asset class returns in sterling and local currency are below; clearly my piece last week jinxed [2] markets, as equity markets slipped into negative territory, while safe haven assets on the other hand enjoyed a strong run.
Table 1: GBP total returns

[3]
Source: Bloomberg
Table 2: Local CCY total returns

[4]
Source: Bloomberg
Visible across the equity indices in the tables above, there were renewed worries over the US-China trade war that rippled through the markets as the chief financial officer of Huawei, a Chinese telecoms equipment group, was arrested in Canada. A global leader in next generation 5G telecommunication networks, the company is strategically important to China's modern industrial policy. Consequently, the company is likely to draw fire from any nations wanting to curb Chinese ambitions of economic supremacy due to its sensitivity to rising trade barriers.
Chart 1: The rise of China over the last 20 years puts the enduring dominance of the US economy into question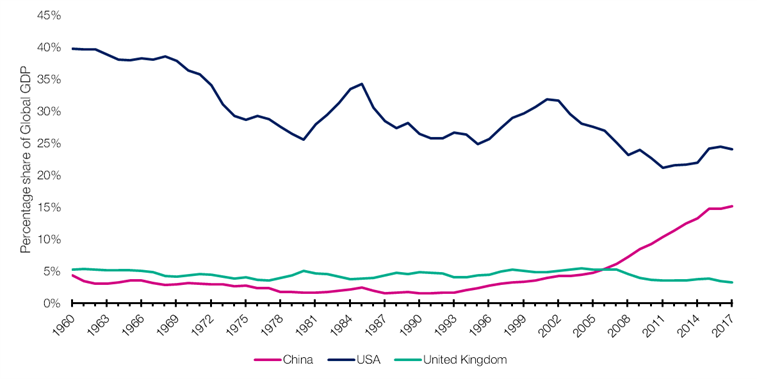 [5]
Source: World Bank
The arrest came about as part of a US probe into allegations that the Chinese company violated US economic sanctions against Iran. Though this is not officially linked to the trade skirmishes, Beijing has been quick to accuse Washington of ordering a politically motivated arrest so as to gain negotiating leverage in trade talks. In China's view, by attempting to cripple Huawei, the US has put at risk the Chinese push to lead the global development of 5G mobile networks. Indeed, some commentators have drawn similarities to ZTE, another Chinese telecommunications giant, which was forced to cease major operations earlier this year following the implementation of US export controls. It is these export controls that represent the USA's most potent trade weapon; Chinese technology firms getting on the wrong side of the US administration risk losing access to key semiconductor components.
Chart 2: Chinese technology companies have come under pressure from deteriorating US-Chinese relations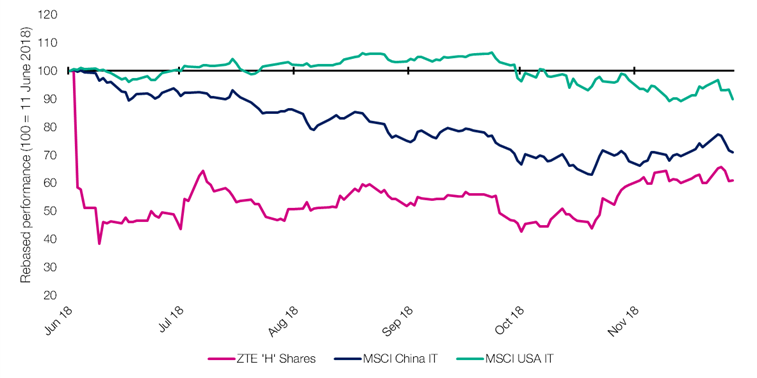 [6]
Source: Bloomberg
Though Huawei itself is a privately owned company, the implications of a deepening void between Washington and China will have lasting consequences for trade negotiations. Further, of Huawei's 150 core suppliers, around 30 are US based companies – such as Qualcomm, Intel and Microsoft – whose top lines are set to be impacted should the Chinese firm falter.
THE WEEK AHEAD
Monday: Germany Balance of Trade, UK Balance of Trade, UK Oct GDP (monthly)
Tuesday: Australia NAB Business Confidence, UK Claimant Count Change, Germany ZEW Economic Sentiment, UK Commons Vote on Brexit, Australia Westpac Consumer Confidence
Wednesday: US Inflation Rate
Thursday: Australia RBA Bulletin, European Central Bank Press Conference, Japan Tankan Large Manufacturers Index
Friday: Germany Markit Manufacturing PMI, US Retail Sales
STAT OF THE WEEK: 1% and 7% – the percentage of Brits who describe themselves as Vegan in 2015 and 2018 respectively (Financial Times).
Data correct as at 07/12/2018.