I hope you all had a hoppy Easter. Though I had a cracking time, I'm physically egg-hausted following the long weekend. Glad to say I thoroughly beat my cousins hunting for chocolate in the woods by using my eggs-ray vision!
While Europe had an egg-cellent run last week, the stand out move was the crack beginning to appear in US equities' eggs-tremely strong start to the year. Asset class returns in sterling and local currency are below; though last week's trading session was cut short by the bank holiday, all equities generated a positive return in sterling terms.
Table 1: GBP total returns

[1]
Source: Bloomberg
Table 2: Local CCY total returns

[2]
Source: Bloomberg
Recently, we have looked at the growing divergence between European [3] and UK [4] economies; though data is showing Europe to be in the midst of a deep manufacturing recession, the UK continues to meet or beat expectations across metrics such as real wage growth, purchasing manager surveys and GDP growth. Last week for instance saw UK retail sales growth hit its highest level since October 2016, which itself was the highest point in nearly 15 years. By comparison, the chart below shows the US also to be in a disappointing period for economic data with its economic surprise indicator firmly in negative territory.
Chart 1: The Citi economic surprise index shows how economic data releases match up with the consensus forecasts; a positive score indicates an overshoot versus consensus while a negative score means an undershoot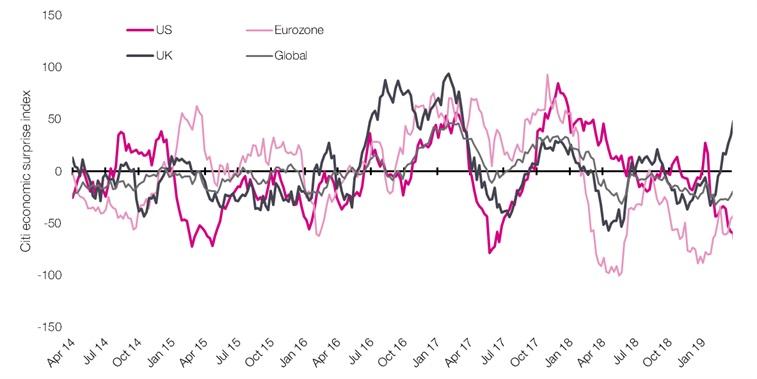 [5]
Source: Bloomberg
Having looked at Europe and the UK in closer detail over previous weeks, it is interesting to dissect the data from the US to build out a picture of what is happening to manufacturing activity in the developed world. When we previously looked at Germany's manufacturing sector, we noted that the lack of pressure on capacity from a decline in new orders had caused a drop in employment across the sector. Facing the same global headwinds, the US manufacturing sector is actually facing the opposite problem to Germany: its slowdown has been attributed in part to capacity constraints, notably in terms of skills shortages. To be clear though, while the manufacturing sector is identified as the main drag on economic growth in the US, data reveals the sector to be in expansion territory.
Chart 2: The fall in US Manufacturing PMIs may indicate that official industrial production figures have further to fall from current levels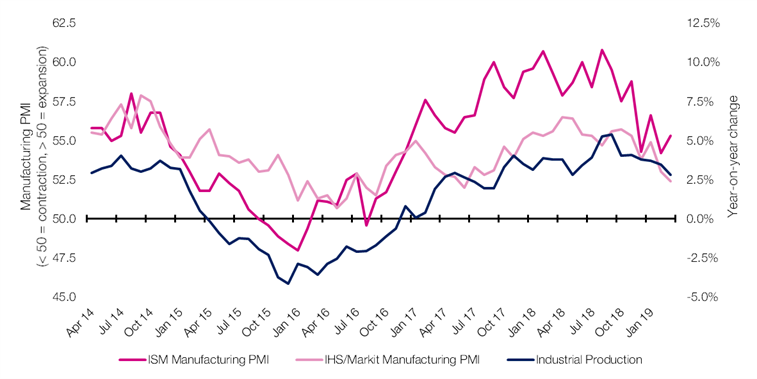 [6]
Source: Bloomberg
With the US Federal Reserve having raised interest rates four times in 2018, a pause in tightening for the time being will allow the effect of these rate rises to propagate through the economy. Despite the extremely tight labour market – clearly illustrated by the skills shortages in the manufacturing sector – which is seen as a key inflationary pressure, US inflation expectations remain relatively subdued thereby adding to an element of uncertainty in future Fed policy. Market participants will be weighing up the significant uncertainties over the US and global economy versus how close the economy is to full capacity.
THE WEEK AHEAD (G7 + China)
Monday: US Existing Home Sales
Tuesday: Eurozone Government Budget to GDP, Eurozone Government Debt to GDP, Eurozone Consumer Confidence Flash, US New Home Sales
Wednesday: France Business Confidence, Germany Ifo Business Climate, UK Public Sector Net Borrowing, Bank of Canada Interest Rate Decision
Thursday: Bank of Japan Interest Rate Decision, European Central Bank Economic Bulletin, UK CBI Business Optimism, US Durable Goods Orders
Friday: Japan Unemployment Rate, Japan Retail Sales, Japan Industrial Production, US Q1 GDP, US Michigan Consumer Sentiment
Saturday: China Industrial Profits (YTD)
STAT OF THE WEEK: 259 – the number of selfie-related deaths recorded between 2011 and 2017 (Journal of Family Medicine and Primary Care).
Data correct as at: 19/04/2019