Weekly market recap: yo-yo yields
Fears around global growth slowing further are now coming through in economic data.









by Tertius Bonnin, 22nd March 2019

Once again friendships, families and offices across the United Kingdom have been split by a divisive and controversial topic. Some have commented that it must be a "sick joke", while others have said it's the "most exciting" thing to happen since 1902. Treading carefully and not wanting to show any bias, I'll let you make up your own minds: "love it or hate it" Marmite is bringing the deadly combination of yeast extract and peanut butter to supermarkets near you.
From an investors' perspective, bonds and equities suffered from love it and hate it last week as weakening economic data continued to show a slowdown in global growth. Asset class returns in sterling and local currency are below; a risk-off environment for the markets helped push government bond yields lower with the German bund moving into negative territory for the first time since 2016.
Table 1: GBP total returns

Source: Bloomberg
Table 2: Local CCY total returns

Source: Bloomberg
Despite headlines constantly emerging from Westminster throughout last week, the focus of the markets on Wednesday lay squarely with the US Federal Reserve. Recent weakness in economic data led them to lower interest rate projections for both 2019 and 2020. This was accompanied by downgrades to growth and inflation expectations, with the Fed Chairman expressing that "growth is slowing somewhat more than expected" and "financial conditions remain less supportive". Further, the Fed also announced that from May it would reducing the net asset disposals from its balance sheet from $30 billion a month to $15 billion, with a view to revisiting its policy over the course of the year.
With a significantly more dovish stance than the market had expected, we saw big shifts in some sections of the US treasury curve while other sections remained relatively anchored. So what does this actually mean? The dots on the chart below indicate the yields of varying duration US treasuries. In a "normal" environment, we should expect an upward sloping curve whereby longer duration bonds command a higher yield than short duration. As the Fed's announcements highlighted risks in the medium term, this section of the curve fell furthest, thereby causing an inversion. Inversions are often feared by investors as a recession warning as it effectively means market participants are losing confidence in the economy.
Chart 1: Over the past three months, the shape US treasury curve has moved from relatively upward sloping (pink) to an inversion (blue)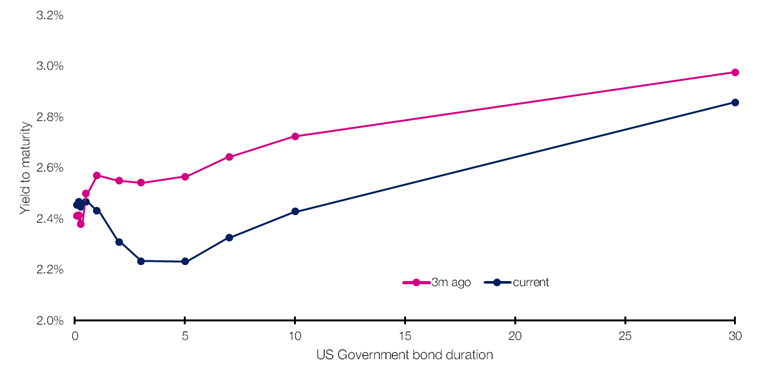 Source: Bloomberg
On top of this, Friday also saw investor attention refocused towards a slew of European data releases which included the widely tracked German manufacturing PMI. Revealed to now be in its ninth month of consecutive slowdown and its third consecutive month of actual contraction, the German manufacturing sector – seen of by many as the engine of Eurozone growth – has begun to falter. In part, this can be attributed to the Eurozone's high sensitivity to global trade which has slowed in recent months due to the ongoing US-China trade spat. With significant negative momentum in activity now building, some market commentators believe there is more weak data to come and that the single currency may be placed under further pressure as the European Central Bank seeks to remain proactive.
Chart 2: German yields have dropped back into negative territory as weak economic data has persisted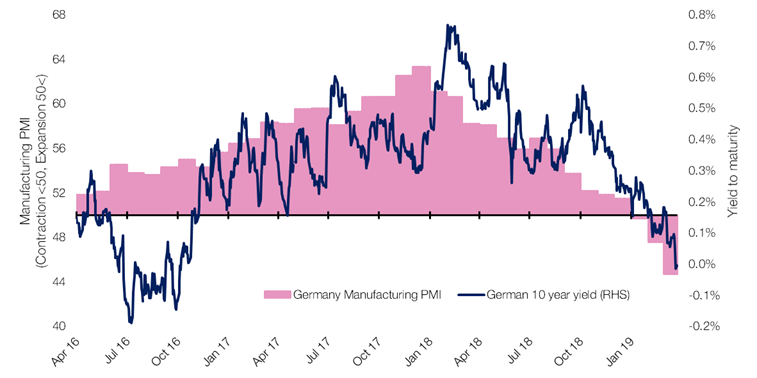 Source: Bloomberg
While these two events appear to be a boon for fixed income investors (as yields fall, the price of a bond rises), the reality of the situation is that fears around global growth slowing further are now coming through in economic data. This has the potential to have significant negative effects on other areas of the markets such as equities and corporate debt. With central banks increasingly data dependent in how they set future monetary policy, we can be increasingly sure that any further signs of an economic slowdown will be met with easing of financial conditions.
THE WEEK AHEAD
Monday: Germany Ifo Business Climate
Tuesday: Germany Gfk Consumer Confidence, France Business Confidence
Wednesday: Canada Balance of Trade, US Balance of Trade
Thursday: Eurozone Business Confidence, Germany Inflation Rate, Japan Unemployment Rate, Japan Industrial Production, Japan Retail Sales
Friday: UK Gfk Consumer Confidence, Germany Retail Sales, UK Current Account, US PCE Inflation, US Personal Income
Saturday: N/A
Sunday: China NBS Manufacturing PMI
STAT OF THE WEEK: 71% – the share of US employment taken up by services jobs; 145% – the increase in the overall US trade surplus in services since 2000 (Federal Bank of St Louis).
Data correct as at: 22/03.2019