We can understand the appeal of crypto assets as alternatives to cash or gold. In the specific case of bitcoin, it is programmed to never exceed 21 million coins and so is finite in a world of ever greater printing of fiat currencies (currencies issued by governments that are not backed by a commodity such as gold),
Since abandoning the gold standard in the 20th century, where the monetary system was based on a fixed quantity of gold, central banks have been free to print money to stimulate or temper demand. This effectively means that as investors, if we hold assets denominated in a fiat currency, we are at the mercy of central banks and changes in their monetary policy.
Doesn't this make Bitcoin an attractive store of value, you might ask? Our current answer is no for several reasons and I will highlight a few below.
Price volatility
The first is it has been extraordinary volatile, which is incompatible with the notion of a safe store of value. Bitcoin has had numerous drawdowns (reduction in price from the peak) of over 40% and two drawdowns of 80%. This volatility is more akin to a highly speculative asset rather than a store of value, which makes evaluating its benefit in a portfolio difficult.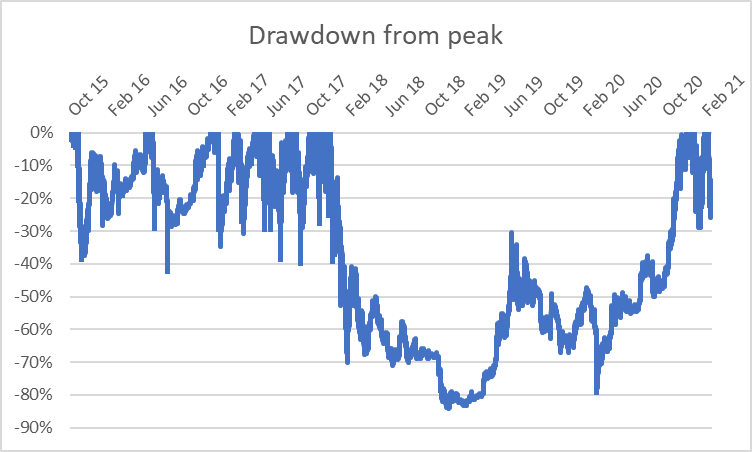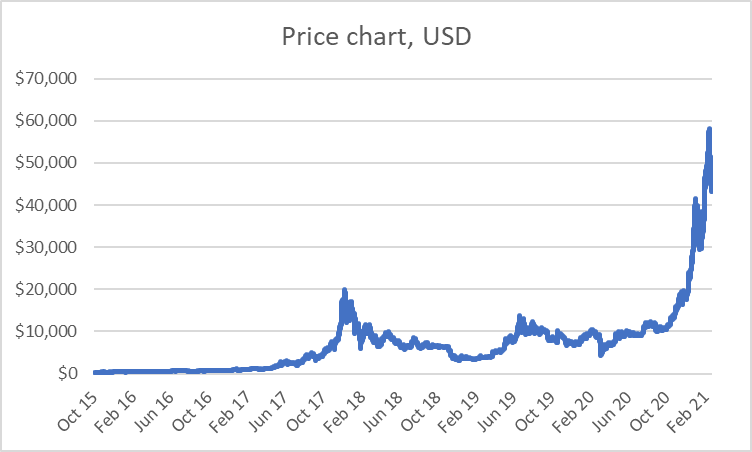 Regulatory concern
The second is that from a regulatory standpoint, we believe it is not appropriate for us to purchase them for your portfolios. In October of 2020, the UK's Financial Conduct Authority (FCA) banned the sale of crypto derivatives to retail consumers. The FCA also clarified in January 2021, that if consumers invest in these types of products, they should be prepared to lose the entire value of the investment and will unlikely have access to the to the Financial Ombudsman Service (FOS) or the Financial Services Compensation Scheme (FSCS).
Environmental impact
Finally, crypto assets, and Bitcoin specifically, are notorious climate culprits. A recent study published by Deutsche Bank showed that Bitcoin's annual electricity consumption would roughly be equal to that of Pakistan. The study goes on highlighting that one Bitcoin transaction requires the same amount energy as around 500,000 Visa transactions according to Statista.
As institutional and retail investors become increasingly focused on the ESG risks in their portfolios it is hard to see how Bitcoin would pass even the least stringent of ESG criteria. At EQ we integrate ESG analysis into our research process. This would mean the benefits of Bitcoin would need to far outweigh the environmental costs. For the time being, this is a highly challenging argument.
Future state
Looking forward, we believe that cryptocurrencies will continue to be a hot topic of conversation and are an extremely interesting concept. However, the concerns around volatility, environmental impact and ever-changing regulatory regime mean we are not looking to add exposure to our client portfolios in the near future.