Why use an investment manager?
Managing money takes time, experience and specialist tools. If you apply a sensible cost to your time you might find that it would be cheaper to use a professional.
Here are some of the tasks needed to create and monitor a diversified portfolio:
Identify the best funds in each sector
Build a portfolio with the right risk profile
Keep track of changes at the funds
Rebalance regularly
In less than 5 seconds our calculator will show you a side by side comparison of selecting and monitoring a portfolio of funds yourself versus letting the EQ professionals do everything for you. The results will probably surprise you.

Asset Allocation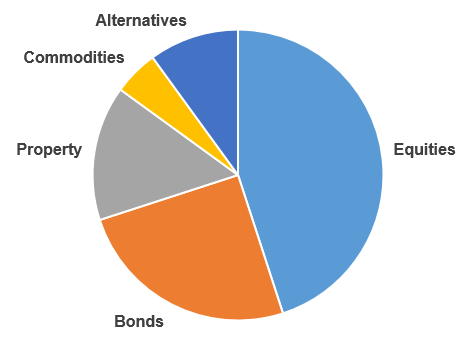 The most important decision we make as Portfolio Managers is the distribution between each of the main types of investment such as:
Equities (shares in companies based anywhere in the world)
Bonds (short, medium and long term debt)
Commercial Property (offices, shops, warehouses etc.)
Commodities (metals, oil and gas, agricultural products)
Alternatives (such as hedge funds)
The amount we invest in each will vary depending on the level of risk you are happy to take and on our opinion of the relative attraction of each asset. Typically we will reduce the amount invested in Equities for lower risk profiles.
We periodically adjust the amount allocated to each asset depending on our views on the various markets. Periods when the trend in stockmarkets is upwards are called Bull markets and the opposite Bear markets. It would be very helpful if we could predict accurately when Bull phases are coming to an end but markets don't work like that. They constantly reflect the views of all those participating, so attempts to predict the timing of changes in direction are futile. In fact they can seriously damage your wealth: the Dalbar Quantitative Analysis of Investor Behaviour measures the impact on US investors and the conclusions are stark.
Although we are sceptical of the potential to time accurately when markets will change direction we do take a view on their relative attractions. We focus on the Cyclically Adjusted Price/Earnings Ratio ('CAPE') developed by Nobel Laureate Robert Shiller. Shiller has shown that if you buy assets when they are cheap and wait long enough you will earn excellent returns. We supplement this by also looking at other measures, such as Momentum. Once markets start to move in one direction they usually carry on for a while.

Fund Selection
Our aim is try identify the very best fund managers in each specialist sector, whether that be Japanese Smaller Companies, or US High Yield Bonds or Property. Fewer than 1 in 10 active managers beat their benchmarks in the long term, so it is essential to be highly selective.
Identifying the best managers is more complex than most people realise. Numerous academic works have shown that simply looking at past performance is next to useless in terms of predicting the future, mainly because more than 90% of stock market price movements are believed to be random noise. Therefore, we have developed a bespoke screening system to make sense of the performance numbers and to act as an initial screen to weed out those who show no evidence of skill.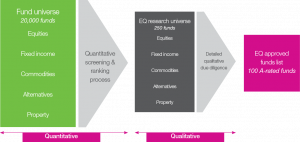 Fewer than 1 in 10 active managers beat their benchmarks in the long term
Then we meet the fund manager and quiz them on their techniques, trying to establish if their process is sound and repeatable. Over time we can build up a clear picture of their thought processes. This leads to the production of a detailed report which is then reviewed by our Fund Selection Committee.
Every fund manager will have periods of poor performance from time to time when their style is out of favour. Our job in those periods is to try and make sure that nothing fundamental has changed. Perhaps the manager is spending too much time on marketing, or the fund might have become too large to manage in the same style? In the investment world circumstances change continually and it's our job to keep reassessing.

Portfolio Construction
The final part of our investment process is to build a portfolio in line with the asset allocation guidelines that have been set from the small universe of funds that meet our quality standards. Typically we will hold at least 20 different funds in each portfolio to give us the optimal balance of quality and diversification.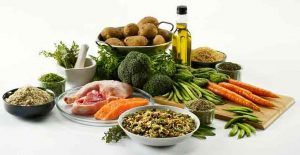 Selecting the right combination of funds requires a knowledge of their 'style' characteristics. If we build a portfolio that is biased sharply towards a particular style then this will affect the performance when that style is in, or out, of favour. Building a portfolio a bit like designing a gourmet recipe: it's not just the quality of the ingredients, its the way in which they work together.
Building a portfolio a bit like designing a gourmet recipe: it's not just the quality of the ingredients, its the way in which they work together
The most important style factors are:
Value vs. Growth – value stocks (those that trade on a low rating) outperform in the long run but can encounter long periods when they lag
Capitalisation – smaller companies generate larger returns in the long term but are more risky
Momentum – stockmarket trends usually persist (but when they do reverse it can be savage!)
Yield – high yield stocks seem to perform better
In order to do this analysis our team make full use of a number of industry leading analytical tools, including Bloomberg, Morningstar and Style Research. We also need to check that the risk profile of the portfolio is compatible with the parameters.

Monitoring & Rebalancing
Over time the allocation of assets within a portfolio will change as various markets move in different directions.
As part of our review process we will regularly rebalance portfolios. This is a very important process that helps to improve the risk/reward profile of the portfolios.
In effect it involves selling assets that have become expensive and reinvesting in those that are cheap.
We will also be alert to any changes in circumstances, both in the big picture and at the fund level. If a fund manager moves, or we sense that a fund has become too large to be managed efficiently then we will make changes.