Impact Investing
More and more people are discovering the benefits of caring about how and where their money is invested.
Socially responsible investing is not a recent phenomenon, it can actually be traced back several centuries but these initiatives were all based on the exclusion of controversial sectors such as tobacco or armaments. Impact investing is the next level up: it is based on the concept of 'positive screening', or actively selecting investments with the power to do good.


Impact investing can deliver strong financial returns
Positive Impact investing leads to selecting companies that are bringing solutions to real social and environmental problems to market, and actively trying to run their businesses in a sustainable manner. Such companies tend to avoid fines and other penalties, and have stronger relationships with their customers, suppliers and staff. They also tend to operate in sectors with high growth potential. Research by fund manager WHEB has shown that growth in their universe of 1,000 investable companies is higher than in the stockmarket generally.
Social Impact Bonds
Social Impact Bonds were invented in the UK by Social Finance. They are a form of finance in which the financial return is linked to the outcomes of a programme aimed at achieving social good, usually by using a Payment by Results contract. The first SIB was set up to reduce the reoffending rates at Peterborough prison. The Chancellor has announced that £20m per annum will be made available to help stimulate the market. Further information here
Social Impact Tax Relief
Social Impact Tax Relief, or SITR, is a special tax relief introduced by the UK Government to encourage investment in social enterprises. EQ undertakes research into SITR schems, find out more here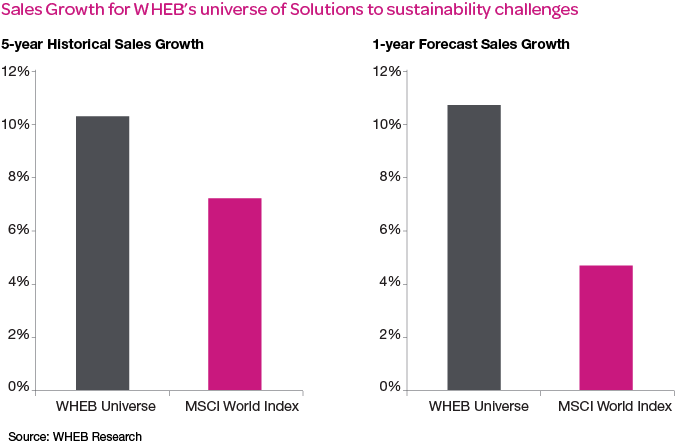 The EQ Positive Impact Portfolios
EQ's range of Positive Impact Portfolios have been designed with retail investors in mind. They can be used in ISAs, SIPPs or standalone investment accounts.




Main Sections:
Background
What is Impact Investing?
Impact Investing is an investment method that aims to give back to society or the environment, with an aim to have a positive, lasting impact within these areas. One of the main aims is to invest in businesses that have the power to do good, and thus benefit society.
What is the history of Impact Investing?
Initial initiatives did not strive directly to invest in businesses or organisations that would have a positive impact. Instead they were more focused on the exclusion of controversial sectors such as tobacco, gambling and animal testing.
Who are the Positive Impact Portfolios for?
These portfolios are for companies who wish to invest in industries and businesses whose work benefits both society and the environment, whilst also offering strong financial returns over the long term. In their endeavours, they are aware and concerned about the potential damage certain industries can cause.
Why is an ethical portfolio better than a 'sin portfolio'?
'Sin portfolios' refer to companies that have seen some highly profitable investments for centuries, such as tobacco, alcohol and firearms. However, these companies do not necessarily have a positive impact on society. Ethical portfolios have a positive impact on society and aim to do good, running their business in a sustainable manner. Selecting companies who trade ethically ensures these companies are upheld and funded.
Assessing Performance
How do positive impact funds perform when compared to conventional funds?
Cambridge Associates carried out a study and found that positive impact funds may actually outperform conventional funds. This is due to them having stronger relationships with their customers, suppliers and staff.
Is there a minimum investment?
Yes, the minimum investment is £15,000.
What level of risk is right for you?
There are three levels of risk available with the maximum equity exposure ranging from 45% to 55%.
What are the timescales for returns?
Stockmarkets are volatile and can be unpredictable so in all cases we advocate a minimum time horizon of five years.
How we invest
What is the process when building the Positive Impact Portfolios?
We build Positive Impact Portfolios through analysing and identifying which markets offer the best value right now. There are 20-25 funds within the portfolios that are reviewed quarterly, or following an alteration in markets or circumstances, and these are all required to be assessed through a rigorous selection process.
What is the fund selection process?
Through this selection, we assess the impact an investment achieves and their potential to deliver good financial returns. Once the funds have been selected, they go through a screening process.
How are funds assessed in terms of performance?
Not only do funds have to meet the selection criteria, they must also aim to deliver an attractive financial return to its sector of the market. We look at the fund's consistency of historic risk adjusted returns and compare it alongside its impact on society and the environment. This allows us to identify those with the best combination, those of which are selected for an intense review that includes interviewing the fund manager.
How are the Positive Impact Portfolios managed?
Once the appropriate asset allocation and the list of approved funds have been decided then the portfolio is constructed. Using analytical techniques we ensure the portfolio is properly balanced with a combination of ethical funds, and those that are more tightly-focused thematic funds.
How are the Positive Impact Portfolios monitored?
They are monitored on a daily basis and reviewed and rebalanced quarterly. As circumstances change, the fund selection and the balance of the portfolio will also be updated.
Assessing companies
What is impact assessment?
The screening process is called impact assessment which takes into account the fact that different fund managers screen their investments in different ways. This screening process is essential to our Positive Impact Portfolios in determining which companies and industries are truthfully having a positive impact on society and the environment.
What is negative screening?
Negative screening aims to exclude 'harmful' companies or industries in order to avoid potentially problematic social or environmental issues.
What is positive screening?
Positive screening aims to include companies that are actively involved in creating solutions to social and environmental issues.
What are the positive issues companies are assessed against?
We have developed a detailed scorecard in order to assess the screening methodologies of fund managers. Some of the positive issues that managers are rewarded more highly for include: education, health care, natural food production, recycling, social change, and water resources.
What are the negative issues companies are assessed against?
Some of the negative issues that managers are not rewarded as highly for include: alcohol, armaments, gambling, genetic engineering, nuclear energy, tobacco and pornography.
How does EQ Investors make sure this process is full proof?
Are doing what we want them to be doing.