Dual-focus on impact and performance
We conduct rigorous due diligence on each manager to ensure the portfolios perform both financially and ethically.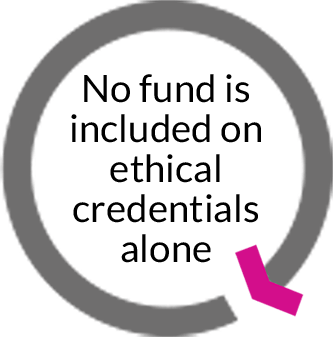 A. Impact assessment
We have developed a rigorous and systematic approach for impact assessment which takes into account the fact that different fund managers screen their investments in different ways.
We focus our investment selection towards those funds delivering solutions rather than simply avoiding problems, using a proprietary scorecard system that rewards fund managers more highly for positive than for negative screening.
Furthermore, to make sure our investment process works in practice we will double-check the underlying stocks to make sure fund managers are really doing what they say they are.
B. Performance assessment
Each fund must aim to deliver an attractive return for its sector of the market. We put each fund through a rigorous quantitative assessment which looks at the consistency of historic risk adjusted returns.
The fund is then plotted on a grid that measures its impact and performance assessment. Those with the best combinations are selected for an intensive review that includes an in-depth interview with the fund manager.
Each recommended fund becomes the subject of a detailed report that is then reviewed by our fund selection committee.
Engaging with fund managers
Our philosophy is about investing for the long term. We build long term relationships with our fund managers and engage proactively with them on the issues we care about.
Ethical investing is rarely black and white. Should we invest in a fund that has holdings in the oil and gas sector, but which includes innovations to reduce carbon emissions? In our view there is no simple answer to this.
Using a scorecard approach enables us to identify the managers that, on balance, are making the most impact addressing climate change, conserving natural resources, improving health and reducing inequality.
If we decide to invest then this is just the start of an ongoing conversation. If we see a holding that doesn't meet our expectations then we question it. And as a result of our dialogue we have seen managers divest in companies that we'd rather avoid.
Case studies
The following four examples show how the underlying investments within the Positive Impact Portfolios are making a difference.