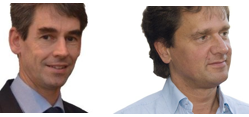 Dominic has worked in Frontier and Emerging Market equities since 1989, and worked for Regent Pacific, the company from which Charlemagne de-merged, from 1995 and 2002. He re-joined Charlemagne in 2013, after holding senior positions at Morgan Stanley and Goldman Sachs, where he was Head of EMEA equity sales. Dominic is an Economics and Statistics graduate from the University of Exeter.
</p><p>Stefan has specialised in Eastern Europe and Middle Eastern equities since 1987, and joined Charlemagne in 2001 as Chief Investment Officer. He has headed up the Frontier Markets business since 2009. He previously held senior roles at Flemings and Schroders, focused on Eastern European equities, and was latterly head of EM (Eastern Europe and Middle East). Stefan holds a degree in Business and Administration from the Fachhochschule der Deutschen Bundesbank.

Charlemagne Capital is an investment boutique focused on emerging and frontier markets. As well as long-only equity mandates (all of which are focused on emerging/frontier equities) they run long/short and market neutral equity strategies. During 2016, Charlemagne Capital were acquired by Fiera Capital, a firm specialising in non-traditional asset classes and unique areas of the market. Fiera Capital have a history of purchasing boutique investment managers, which are then left to run as autonomous subsidiaries, and will look to broaden Charlemagne's distribution network.