Venture Capital Trusts
Venture Capital Trusts (VCTs) were created in 1995 to boost investment in smaller unquoted companies, there is now a good length of track record with a wide disparity in returns. The tax incentives are generous and of particular interest for investors liable to higher rates of Income Tax who are seeking an income.
VCT Offers Currently Available
Name
Issue type
Closing Dates
Min
Investment
Raised/
Sought
*Discount
Prospectus
EQ Review
Evergreen VCTs - these have no formal plan to provide an exit (What does this mean?)
Downing FOUR Healthcare VCT
New VCT: New VCT
30 Sept 2017
£5,000
£7.2m / £10.0m
2%
Elderstreet VCT
Top-up
31 May 2017
£6,000
£15.3m / £20.0m
2.5%
Elderstreet VCT is an established generalist VCT having launched in 1998, however remains a concentrated portfolio of 24 underlying investments and small in size.
Pembroke VCT (B Share)
Top-up
30 June 2017
£3,000
£13.2m / £15.0m
3%
Pembroke VCT B Share sits within Oakley Investment Management, a private equity specialist. The VCT is generalist, investing in companies with a focus on consumer brands.
* Discount includes any discount offered by the promoter

Main Sections:
Background
What are Venture Capital Trusts?
Venture Capital Trusts (VCTs) are tax efficient investment vehicles made available by the UK Government. They were initiated in 1995 to promote funding for small and medium-sized companies who may otherwise struggle to raise capital in the market. Since then they have raised nearly £6 billion from private investors.
Who are VCTS designed for?
VCTs are not a suitable option for everyone, but can be appropriate for experienced investors who are willing to take on a degree of risk within a diversified portfolio. We consider them to be a complementary option for investors who:
are Higher Rate (40%) or Additional Rate (45%) Income Tax payers
wish to supplement their portfolio having fully contributed to both their pension and ISA
currently own a diversified portfolio and are willing to invest in an inherently risky asset class, with the added incentive of tax breaks
are comfortable with a long holding period
are resident in the UK
How have VCTs performed in the past?
Below we show the VCT share price total return data published by the Association of Investment Companies (AIC). Investors should also be aware that these figures represent averages and there is considerable disparity between individual VCTs.
| | | | | |
| --- | --- | --- | --- | --- |
| | 1 year | 3 years | 5 years | 10 years |
| Return on £100 | £106 | £133 | £157 | £179 |
Source: AIC website. Performance data to 30 November 2015 VCTs tend to pay out realised capital gains over time. The figures above represent the sum of cumulative dividends and current share price, but exclude the upfront income tax relief that is available to investors. Since all VCT dividends and capital gains are tax free, these returns are in effect net of tax. Of course there is no guarantee that past returns are indicative of the future.
How do Venture Capital Trusts function?
A Venture Capital Trust is a type of investment company, sharing all the same features including listing on the London Stock Exchange and a closed-ended structure with a limited number of shares. An independent board of directors is responsible for appointing the manager and monitoring performance. The differentiating factors of a VCT can be attributed to the restrictions imposed by HMRC, which must be adhered to in order to gain VCT status and offer tax breaks. More specifically, a VCT must have at least 70% of capital invested in qualifying investments within three years. In practice, the more mature VCTs will typically have a higher allocation. Download our guide to find out more
EQ's Approach
How is the management team of a VCT assessed?
An experienced and committed manager is an essential requirement. We will assess the length of relevant management experience, as well as the quality, structure and depth of resources within the team. We also seek evidence of the manager's commitment to both the firm and the VCT.
How is the ability to produce profit assessed?
To determine the skill and track record of a VCT manager in generating profits, we assess the Net Asset Value total return (the return of the underlying portfolio, without taking into account the discount or premium at which the shares trade). In addition, a key determinant of success is the ability of the manager to exit an investment, which we analyse through various quantitative measures such as Internal Rate of Return (a measure of investment return) and other metrics.
How are dividends for VCTs assessed?
Income generation is often a key consideration for VCT investors. For existing VCTs, we assess the dividend history, as well as the maturity of the underlying portfolio and its composition in respect of equity and loans. In addition, we evaluate whether the dividend is sustainable, ensuring it will not be to the detriment of capital preservation or growth of the net asset value.
How is the investment strategy devised?
We ensure that there is a clearly defined risk / return objective and an investment process in place to achieve this. This includes evaluating the investment policy and structure, the type of investments made within the qualifying portfolio and the objective and composition of the non-qualifying portfolio. This allows us to gain an understanding of the portfolio construction and any diversification benefits. It is crucial that the VCT has a strong pipeline of investment opportunities. By analysing previous tax year fundraises and subsequent investment activity, coupled with idea generation capabilities we can make judgements about the ability of the VCT manager to find appropriate opportunities that are in line with the mandate.
How does the buyback policy work?
The majority of VCT providers have initiated buyback policies with an aim to control the discount to net asset value. The ability to exit a VCT at a competitive price is an important consideration during our due diligence process. We assess the level that each VCT provider targets, and look at their track record in achieving this. Download our guide to find out more
Benefits of investing in VCTs
What are the benefits of investing in VCTs?
Through investing in VCTs, investors can gain pooled exposure to higher-risk small UK companies. Any decision to invest in VCTs should be based on the underlying investment merits and not solely on the generous tax reliefs.
How much tax relief do investors receive?
Investors receive 30% tax relief on VCT subscriptions, subject to a maximum of £200,000 per person per year. As this is tax relief, the amount cannot exceed the investor's overall tax liability for the respective tax year. The relief can be claimed immediately but is subject to the underlying shares being held for a minimum of five years.
Are dividends and capital gains tax-free?
The dividends paid by VCTs are exempt from income tax. This is especially important given that income generation is often a key consideration for VCT investors. Realised capital gains within VCTs are exempt from Capital Gains Tax and can be distributed to investors. However since gains are not liable, capital losses cannot be offset against Capital Gains Tax. Download our guide to find out more
Disadvantages of investing in VCTs
What are the risks of investing in VCTs?
VCTs invest in small, private companies and are therefore deemed higher risk investments, hence the provision of tax breaks for investors. While the VCT manager will seek to address these risks through portfolio diversification and a high level of due-diligence, investors should be aware of the following characteristics when choosing their investment:
What are the underlying investments?
VCTs provide capital to small private companies, an inherently risky asset class where the underlying investments are typically difficult to sell or value. As such, the closed-ended nature of VCTs is appropriate, but investors should be aware that there is an unpredictability associated with the timing and value that the investment manager may achieve at exit. Furthermore, smaller companies tend to be more vulnerable to failure during tough economic conditions.
What if I want to sell my VCT shares?
The minimum five year holding period to qualify for 30% income tax relief means that trading in VCT shares tends to be light. Demand for VCT shares on the secondary market is also relatively thin because this initial tax relief is not available to secondary purchasers. The implication of this is that VCTs will typically trade at a discount to their Net Asset Value (i.e. the value of the underlying investments). In an attempt to control this discount, the majority of VCT providers have initiated buyback policies for shareholders to realise their holdings. However, there is no guarantee that these will be available in the future, as they depend on the VCT having adequate liquidity. This may be difficult in adverse economic circumstances which inhibit successful exits from portfolio investments. Furthermore, VCTs need to sustain a viable absolute size to prevent fixed costs becoming too onerous.
Are there any fees?
The majority of VCTs will charge an annual management fee of 2-3% per annum, which is in excess of what an investor may pay for a conventional investment. In addition to this, most will charge a performance fee and a standard initial charge – all of which should be taken into account prior to investment
What is the holding period to qualify for tax relief?
In order to qualify for 30% income tax relief the VCT shares must be held for a minimum of 5 years.
Can VCTs lose their tax status?
VCTs are required to follow certain regulations put in place by the HMRC. If, for any reason, a VCT fails to meet requirements there is a possibility that investors will lose both the income and capital gains tax relief. Download our guide to find out more
Where your money goes
What are the different investment approaches?
Venture Capital Trusts can have a wide range of investment strategies. It's important to look beneath the bonnet and understand how each trust makes its investment decisions. The Association of Investment Companies identifies three broad types of VCT investment approach: Generalists, Specialists and Alternative Investment Market (AIM). Download our guide to find out more
Exiting VCT investments
How does an Evergreen investment work?
An Evergreen VCT does not have a specified wind-up date, and will therefore in theory exist in perpetuity. When an investment within the VCT is sold any profits will usually be distributed as part of a tax free dividend and the remaining proceeds will be recycled and invested in a new investment. The implication for investors is that if they wish to exit the VCT they must sell their shares in the secondary market, invariably at a discount to net asset value. There may also be inadequate liquidity unless the VCT is conducting a share buyback. However, they should also receive a return via dividends.
How does a Limited Life investment work?
Limited Life VCTs have a target wind-up date, which is typically between five to seven years from inception. This structure was introduced in an attempt to counter the issues in the secondary market, but has become less common as HMRC has increased regulatory requirements surrounding "qualifying investments" over the years. The benefit of this structure is a clear exit route for investors, who can be assured of a more predictable time frame in which cash will be returned to shareholders following the sale of the underlying investments. However, given the commitment to return cash to investors in this timely fashion, the VCT manager is restricted in the investments available and will typically focus more on capital preservation at the lower end of the VCT risk spectrum. In many cases, these investments will also involve an element of asset-backing. Download our guide to find out more
Investing in VCTs
How can I invest in a VCT?
There are 3 possible ways that a VCT can offer new shares to investors: 1. Top-up offer 2. New share class 3. New launch
How do I claim tax relief?
Investors will receive a certificate of entitlement to income tax relief for each VCT subscription. These will be issued by the VCT registrar and should be retained for future reference. Investors should enter the gross subscriptions on their tax return. Download our guide to find out more
Investing through EQ
Will pension caps affect investors?
We believe it is likely that an increasing number of investors will be affected by pension caps, due to:
The reduction in the annual allowance to £40,000 and even lower levels for higher income investors
The reduction in the lifetime allowance to £1 million in April 2016 from £1.25 million
The implication is that more investors than ever should be thinking about efficiently managing their personal tax liabilities. However, it is important that investors consider VCTs on the merit of the underlying investment itself and are willing to gain exposure and participate in the venture capital market – not just invest for the tax benefits.
Why should you invest through EQ Investors?
EQ conducts a detailed review of each VCT and this is published on our website. We also indicate which VCTs we rate most highly in each sector, to help you make selections. In most cases we can discount the standard charges, saving you money and enhancing your future returns. In summary, by investing through EQ you gain the benefit of:
Detailed, independent research
Discounted charges, partly by foregoing some
of the commission that is paid to EQ
Assistance with the application process
Ongoing information
VCT Structure
A VCT is a company, broadly similar to an investment trust, which has been approved by HMRC and is listed on the London Stock Exchange which invests in small unquoted companies. Under the VCT scheme, VCTs and their investors enjoy certain tax reliefs (summarised below).The VCT scheme has been designed to encourage investment in small unquoted companies. Individuals invest by holding shares in a VCT. The VCT invests in a spread of small unquoted companies, enabling investors to spread their risk, just as they do by holding shares in an ordinary investment trust company. There are different reliefs and restrictions depending on whether the investor subscribes for new shares (which is by far the most common approach) or buys existing shares in the market. Download our guide to find out more
VCT Investment Strategies
The investment approach depends partly on how the VCT plans to distribute returns to investors. There are two options
Evergreen: VCTs that plan to exist indefinitely and generate dividend income. Exit will only be possible by selling shares in the market. This type of VCT will largely in invest in 'real' businesses where the intention is to profit from a successful realisation in the future and/or a rising stream of dividends.
Limited life: VCTs that intend to liquidate their portfolios after five years and return the proceeds to shareholders. These VCTs will invest in enterprises which are designed to be self-liquidating, typically projects with a limited time period.
How to invest in VCTs
If you want to benefit from 30% initial tax relief you must subscribe for new VCT shares via a public offer. You can download the prospectus and application forms above. We expect demand for VCTs to outstrip supply for the forseeable future as the number of opportunities for tax efficient investing by higher rate taxpayers reduces. Download our guide to find out more
Important Information
The information set out above is included for information purposes only and is not an offer or an invitation to buy or sell or a solicitation of an offer or invitation to buy or sell or enter into any agreement with respect to any security, product, service or investment. Any opinions expressed do not constitute investment advice and independent advice should be sought where appropriate. All information is current as of the date of publication, subject to change without notice, and may become outdated over time. Links to third party sites or pages are for information purposes only and such sites and pages are not part of this website or the responsibility of EQ Investors Limited and have not have been reviewed or verified by EQ Investors Limited. Following links to or from any other sites or pages shall be at your own risk. Please note that tax rates and bases can change without notice. VCTs should be considered to be high risk investments suitable only for experienced investors who can afford to incur losses.
Download our VCT Guide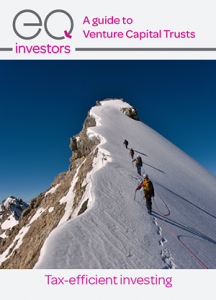 VCT Basics
VCTs offer a range of attractive incentives:
30% Initial tax relief (limited to the amount of tax actually paid by the investor and subject to subscribing for new VCT shares)
No tax payable on dividends received by investors
No CGT on gains on VCT shares
Maximum investment: £200,000 per tax year
Pros:
30% Initial tax credit
Tax free dividends
No CGT on gains
Highly regulated
Cons:
High running costs
5 year minimum holding period
Shares usually trade at a discount to net assets
Case Study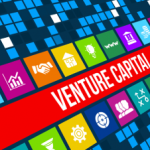 Jacob is looking to reduce his income tax liability
....more