There are a number of free websites that can help you estimate life expectancy At EQ we prefer to look at unbiased sources to help make impartial judgements. In the UK, the Office of National Statistics [1] (ONS) provides some excellent commentary about changes in trends, which is well worth a read. They also produce life tables.
Men and women in their 40s now should expect to live into their late 80s; those in their 30s should plan for the very real possibility that they will live to 100!
Life tables are a list of statistics about the probability of life and death at a given age. For example, the latest ONS data for the UK suggests that a 65 year old woman will, on average, live another 20.08 years to about age 85. However, the critical word is 'average'. Roughly half will live longer than that and one quarter will live at least 10 years longer. That has a big impact on the retirement planning decision.
Furthermore, research published at the end of last year by ONS showed that over the last 30 years life expectancy at age 65 has increased by 4 years for women and 5 years for men.Looking at the next 25 years they expect life expectancies to increase by another 3-6 years. In fact, they reckon that 1 in 3 babies born today will live to reach 100 [2]!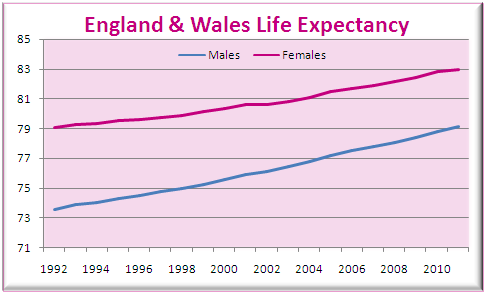 Then there's the impact of lifestyle to consider. Studies by the ONS and others have shown a direct link between wealth and lifespans, with the richest regions of the UK having an expectancy 10 years longer than the poorest.
In the USA particularly people have planned their finances based on their life expectancy and spent their wealth accordingly. However the real problems of misunderstanding this statistic are now being felt. People who thought they had planned well are becoming homeless as they become part of the 50% who live too long.
In the UK we are on the verge of incredible freedoms about how and when we spend our wealth – particularly pension savings. Some commentators are even calling for a 'pension debit card'! We welcome this new thinking, but caution the lessons learned from the States.
Action points
If you are planning to retire think carefully about what income you need (bills), want (leisure), and aspire to (luxury). The Money Advice Service [3] has some useful tools to help you with budgeting if you are unsure of where to start.
You may wish to use some of your pension savings to make sure that your basic needs are met for the rest of your life. An annuity (an insurance contract which guarantees to pay out an income no matter how long you live) is still the only device that guarantees to last exactly the right amount of time.
Once your basics are secure there are options available such as income drawdown which can be used to cover your wants and aspirations. This can be uniquely shaped to your situation, and remaining invested could help keep this sustainable.
Consider how long you are likely to live and don't forget the possibility that you might need Long Term Care in your later years.
You may want to hold money in reserve to contribute towards this as fees can be upwards of £800+ per week and state support is often limited.
Do use the tools available online and consider your family health experiences, but please remember to overestimate how long your money will need to last. The Basic State Pension of £113.40 p.w. does not go far.
You may find it useful to obtain a projection of your State Pension benefits [4] to see how hard your money will need to work to support your desired lifestyle.
EQ Wealth can provide a full financial planning service including cashflow modelling to help you plan your finances. This can be especially useful if you have a complicated situation and various needs. We are also well placed to guide you through the myriad of innovative income products which we expect to see launched in the next year.