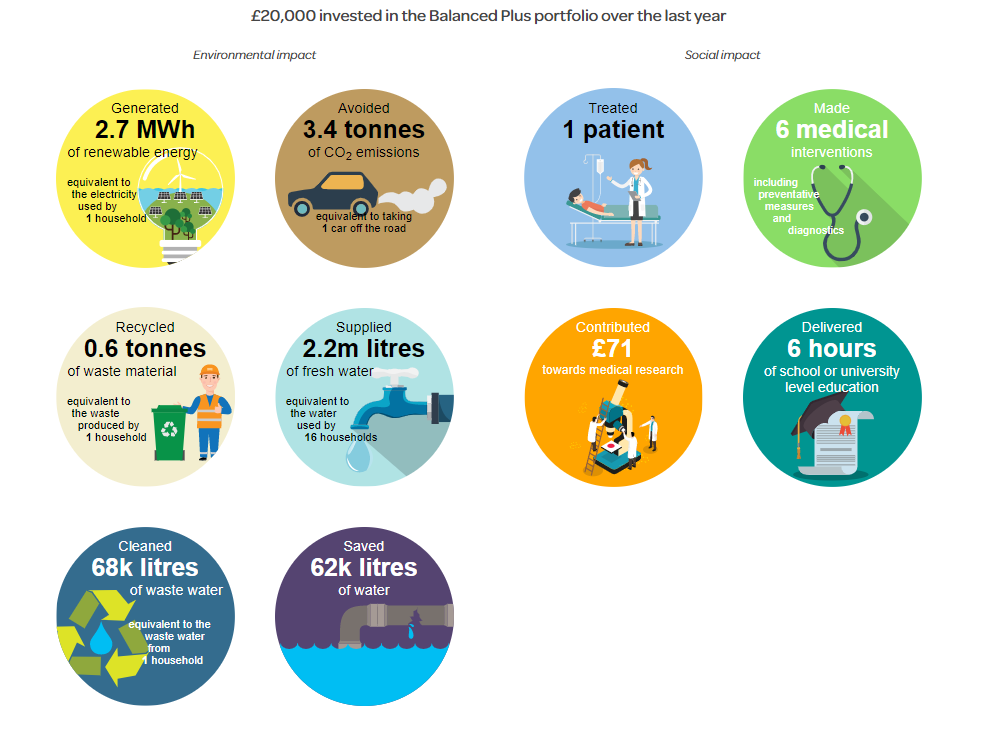 [1]
The impact measurement assumptions include:
Measurement:
The statement refers to the annual carbon emissions avoided by preventing an average car from driving.
We use 'taking a car off the road' as an equivalent measure for the carbon emissions avoided by companies in the PIP Positive Impact portfolio (Adventurous risk level).
We use EPA data on CO2 emissions of average passenger cars [4] to establish the equivalent.
We define 'avoided carbon emissions' as the emissions avoided through the sold sustainable products and services by businesses, compared to standard industry alternatives, in one year of business (2017-18). These would fall under Scope 3 carbon emissions of the business (large majority of total carbon emissions [5]).
The definition of 'avoided carbon emissions' applied for this calculation does not cover the Scope 1 and 2 year-to-year emission savings (= from direct assets and operations) as we do not believe this always to be an intentional, additional positive impact.
Our calculations only cover the equity portion of the EQ Positive Impact Portfolios. The calculations also only include corporate self-disclosed data on avoided emissions; we do not calculate our own estimates for businesses with carbon-avoiding technologies that lack impact data. Thus the impact shown for a 20,000 GBP investment equivalent impact is likely to be an underestimate.
Attribution:
The impact measurement methodology takes the view that a representative proportion of a company's impact can be associated with the amount of shareholding in a firm. This is based on the view that as a shareholder you partly own the business' activities, negative and positive. An investor thus can be associated with a representative portion of the total positive/negative impact created through their investments.
Your investments underlie the positive impact created by businesses that have business models dedicated to providing sustainable solutions to the largest world needs.
Other notes:
The effect of saving or emitting carbon dioxide can be compared globally and across industries as the gas contributes to the global phenomenon of climate change, no matter the place of emission or capture. Therefore, the equivalent chosen is relevant.
This is just one of the positive impacts that your ISA allowance would have in the EQ Positive Impact portfolios. To see how many households are provided with renewable energy or patients are treated, see the impact calculator [1].
For a more detailed view into EQ Positive Impact Portfolio's impact measurement methodology, please see the case study here. [6]
Impact calculator
Check out our impact calculator [1] which shows you exactly what impact your investments are having on the world.
Impact report
Download our impact investing report [7] to see how impact investing work.
Contact our team
Have a question about the EQ Positive Impact Portfolios? Please email enquiries@eqinvestors.co.uk [8], we're always happy to hear from you.