Paraplanner of the Year Award
Paraplanner of the Year Award
We were thrilled to learn that Daniel Atkinson, a member of our Technical Consultants team, has been named Paraplanner of the Year for 2014 by the prestigious Institute of Financial Planning.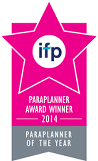 In order to gain the award Dan had to pass a technical assessment, write an essay and attend an interview in order to beat off some fierce competition.
Read more about this fantastic achievement here.