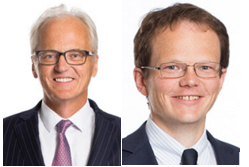 David Harding and Matthew Beddall
David is the Founder and CEO of Winton. After graduating from Cambridge University with a degree in Natural Sciences, specialising in Theoretical Physics, he embarked on a career in the capital markets, founding AHL in 1987. AHL became one of the world's leading CTA's, and was acquired by MAN group in 1994. David left MAN to establish Winton in 1997, where he remains an Executive Director and Chairs the Executive Committee.
Matthew is CIO and executive director of Winton. He initially joined Winton in 2000 as an intern, graduating from the University of Southampton in the following year with a first class honours degree in Mathematics and Computer Science. He then returned as a full time employee within the Winton research department, while completing an MSc degree in Applied Statistics from Birkbeck College, London. In 2008, Matthew was appointed CIO and chair of the Investment Committee.