First State Global Listed Infrastructure Fund
The fund focuses on identifying stocks that are under-priced with respect to their quality in sectors with Infrastructure characteristics such as long-duration cash flows and inflation linked revenues.
Overview
After screening for investible companies considered to deliver an infrastructure-like return profile, the investment process focuses on detailed due diligence facilitated by the large investment team, who conduct 500 meetings with company management as well as physical tours of company assets.
After scoring companies on 25 quality criteria specific to infrastructure stocks, the composite quality score is compared to a measure of how cheap or expensive the stock is, based on a discounted cash-flow model based incorporating near-term to longer-term growth forecasts as well as relative value metrics versus other stocks in their peer groups. Those looking the most attractive are built into a conviction-led portfolio, and they will try and keep the portfolio to 40 stocks, based on upside and how compelling they find the opportunity.
We like the fund due to its very well developed process and significantly experienced team, some of whom have worked in the sector since its creation in the 1990s. One of the first funds investing in global infrastructure equities, they have built one of the strongest track records in the sector, performing extremely well in up and down markets and with relatively low correlation to other asset classes, characteristics in which we view favourably in the sector.
| Fund type: | Asset class: | Sector: |
| --- | --- | --- |
| OEIC | Equities | Thematic |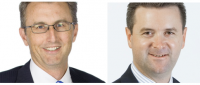 Peter Meany is Head of Global Infrastructure Securities at First State Investments and has over 20 years' experience in the sector. Prior to joining First State in 2007, he was Head of Infrastructure and Utilities Research and a Director of Credit Suisse Equities (Australia). Peter started his career at Macquarie securities during the initial development of the private infrastructure market and has worked in the sector since.
Andrew Greenup is Deputy Head of Global Infrastructure Securities at First State Investments and has over 15 years' experience within infrastructure investing. Prior to joining First State in 2005, he worked at Allianz Global Investors as a senior analyst, where he covered Australian equities, laterally focussing on the utilities and transportation sectors. Andrew started his career on the sell side as an equity analyst at Credit Suisse First Boston.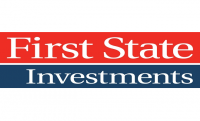 First State Investments forms the investment management division of the Commonwealth Bank of Australia, Australia's second largest bank by assets and largest by market capitalisation. Colonial First State was founded in 1988 and today manages £127.5 billion (as of December 2017) across all asset types for pension funds, institutions, distributors, advisors and platforms.