Janus Henderson Strategic Bond
A fixed income fund that invests in higher yielding assets including high yield bonds, investment grade bonds, government bonds, preference shares and other bonds.
Overview
The Henderson Strategic Bond fund is flexible in its allocation, using a combination of top down asset allocation across fixed income sectors, geographies and credit ratings together with specific bottom up credit selection. The focus for the fund will be on UK assets but the portfolio will also hold foreign securities, almost exclusively in developed markets. The team benefits from two dedicated desk analysts while the portfolio managers themselves are also heavily involved in the security research and selection process.
John and Jenna are recognised as one of the oldest running strategic bond strategies in the market. We like the fund as they are macro-aware with a flexible mind-set, often having longer running or thematic investment ideas. They focus on assessing downside risk on investments to minimise losses for investors.
| Fund type: | Asset class: | Sector: |
| --- | --- | --- |
| OEIC | Bonds | Flexible Bonds |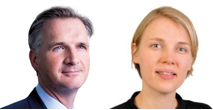 John Pattullo is the Co-Head of Retail Fixed Income at Henderson. With around 20 years of experience investing in the credit markets, John co-manages a number of funds with Jenna Barnard. Prior to joining Henderson in 1997, John spent four years as a chartered accountant at PricewaterhouseCoopers.  John has an MA (Hons) in Economics from the University of St Andrews. He is a member of the Institute of Chartered Accountants of Scotland and an Associate Member of the Society of Investment Professionals.
Jenna Barnard is Co-Head of Retail Fixed Income, co-managing a number of funds alongside John Pattullo. Jenna joined Henderson in 2002 as a credit analyst and progressed to Credit Portfolio Manager in 2004. Prior to joining Henderson, Jenna worked as an investment analyst with Orbitex Investments.  Jenna holds a first class BA (Hons) degree in Politics, Philosophy & Economics from Oxford University. She is a CFA charterholder, and an affiliate member of UKSIP. Jenna is a Member of the Society of Technical Analysts having passed the STA Diploma exam.

Henderson Global Investors was founded in 1934 by Alexander F Henderson. Henderson is an independent asset manager with assets under management of more than £80bn, with offices in 19 cities around the world.   With investment expertise across every asset class, Henderson offers clients access to all major markets around the globe, with core capabilities in Global Equities, European Equities, Global Fixed Income, Multi-Asset and Alternatives.